China's Ministry of Justice recently announced an updated evaluating system for lawyers, mandating that all who practice law must support the Chinese Communist Party's (CCP) socialist rule.
The Ministry of Justice notified all of its provincial branches on how to evaluate a lawyer's professionalism, which would be the standard used to determine whether to grant a lawyer his or her practicing license.
According to the notice released on March 27, the first criterion is that a lawyer "must support the leadership of the CCP, defend the rule of law under socialism, abide by the Constitution and laws, and adhere to the professional ethics and discipline of lawyers."
Secondly, all lawyers "must not have been subject to disciplinary action, administrative punishment, industry penalty, nor credit penalty during the past five years of practice."
This represents an escalation of the Party's efforts to solidify its control of lawyers, having previously required them to support the Chinese constitution.
The latest rules may also put many human rights lawyers' practice licenses at risk, because they are frequently detained because of their work.
On about July 9, 2015, Chinese authorities launched a nationwide crackdown on human rights lawyers and activists, known colloquially as the "709 Incident," in which hundreds were rounded up and detained, including prominent lawyers such as Wang Quanzhang, Wang Yu, and Li Heping.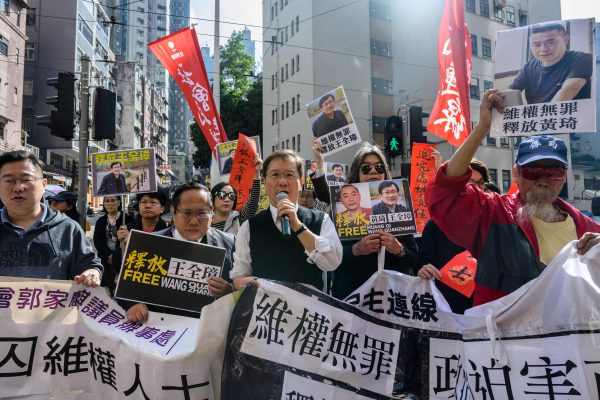 New Standard Against Rule of Law
Teng Biao, a prominent Chinese human rights lawyer, believes the Chinese regime's rules violate the basic nature of being a lawyer.
"A lawyer is an independent profession in a society with rule of law," Teng told the Chinese-language Epoch Times in an interview on April 6. "[Lawyers] should be independent of political parties, should be separate from political ideology. Then, they can dedicate themselves to defending the constitution, laws, and justice."
Teng added that the Party was forcing lawyers to follow communist ideology because it's fearful that lawyers, who often take on cases involving injustices perpetrated by Chinese authorities, would protest the Party's rule.
"The Party is trying to clean up the lawyers whose minds and speech cannot be trusted by the Party," Teng said.
Cheng Hai, a famous human rights lawyer in Beijing, told the Chinese-language Epoch Times on April 6 that the Party tried to adopt a similar policy in the 1980s, but it was abolished later.
Cheng was routinely harassed by authorities after he took on cases representing adherents of Falun Gong, a spiritual meditation practice that has been severely persecuted by the Chinese regime since 1999.
In 2013, Cheng was beaten by police, and was forbidden from defending 13 Falun Gong practitioners in court.
In February 2018, Cheng's law firm was shut down by Beijing's judicial department. Cheng told the Chinese-language Epoch Times at the time that he believed the reason authorities were going after him was that he tried to defend fellow lawyer Wang Quanzhang in court. Wang was detained on charges of "inciting subversion of state power" in 2015, and sentenced to four and a half years in prison.
Cheng then lost his license to practice in August that year.
Teng worries that with the new rules, human rights lawyers will no longer be able to do their work.
"If no human rights lawyers exist, or no human rights lawyer can work, everybody [in China] will be affected," he said. "The middle class, officials, and even rich businessmen will suffer."