A video circulated on China's social media showed that local authorities in Weifang, Shandong Province, ordered peasants to "remove trees" to make the land available for grain production. This comes as many in China fear food shortages will soon become a serious problem.
In the video, a peasant, who recorded it as a selfie, said, "We just received a notice that we are required to cut down these trees and grow grains instead, even if financially it ends up being a loss. Commodity prices are so high nowadays—fertilizers, pesticides, and prices are ridiculously high."
In the background, many trees had already been chopped down, some with roots exposed. Other peasants had removed a large area of mature trees.
At the same time, a speaker in the village was making an announcement, saying that trees are not allowed to be planted in farmland, and land cannot be used for fish ponds or fruit trees. The trees must be cut down within a limited timeframe, otherwise, they will be forcibly "killed" by the authorities.
Then, another man who identified himself as a man in Jining, Shandong Province, said that local authorities forced them to remove trees to grow crops as China is having a food shortage crisis.
"Chainsaws for cutting trees are now out of stock at local stores. In the past, we were told, 'if you want to get rich, first of all, plant some trees," now they told us we are forbidden to plant trees," the man said.
A local government official in the province told the Chinese-language Epoch Times: "Even fish ponds must be filled to grow crops. Anyway, you have to do what the Chinese Communist Party requires you to do."
Japan-based current affairs commentator Yang Si pointed out that most soil in Shandong Province is yellow soil and the area is prone to drought. Removal of trees can easily lead to soil erosion.
Moreover, the land where the trees had stood will have to get a more-than-average amount of fertilizers and pesticides to be able to produce a good harvest, he said.
"Peasants will have a hard time making any profit, due to the increasing costs of fertilizers and pesticides," Yang explained.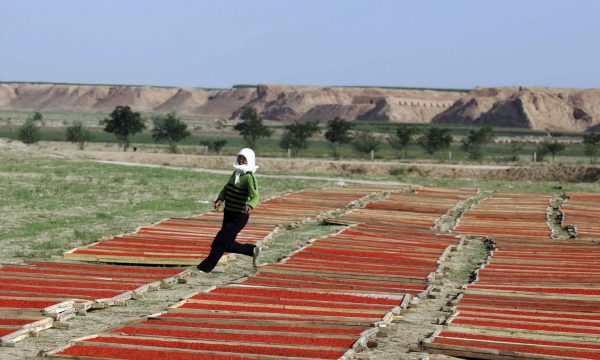 Impact of War
The Russian-Ukrainian war also impacted China's food imports.
In a March 17 article, China's Feed Industry Information Network reported that due to the war, Russia has suspended grain exports such as wheat and corn; while Ukraine has banned the export of wheat and bulk commodities. The article also admitted that China's self-sufficiency rate in grains, corn, and soybeans is relatively low.
By 2021, Ukraine replaced the United States to become China's largest supplier of corn, partially because of the U.S.-China trade war. According to Chinese customs data, 70 percent of China's corn imports came from Ukraine in 2021.
Ukraine is also China's main supplier of barley. Some 54 percent of Ukraine's barley exports were sold to China from 2020 to 2021, accounting for 28 percent of China's total barley imports.
According to data from China's General Administration of Customs, the country imported a total of 164.539 million tons of grain in 2021, a year-on-year increase of 18.1 percent. The imports accounted for 24.1 percent of the total grain output of 682.85 million tons. This means that China's dependence on foreign crop imports is as high as 19.4 percent.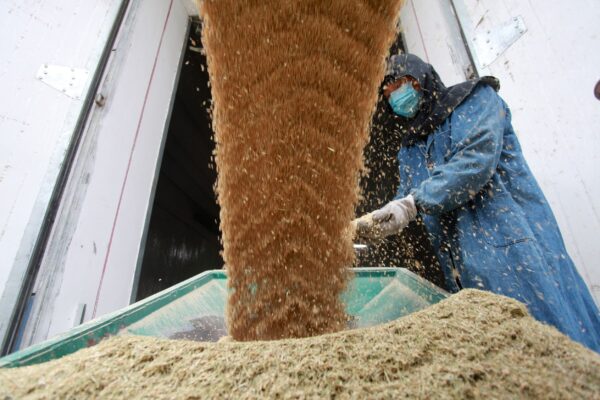 Xue Chi, a scholar on China issues, told The Epoch Times that China's food crisis is deeply rooted in the Chinese Communist Party's (CCP) incompetent governance.
"The CCP has never successfully established a modern agricultural production system. Its agriculture development is far behind its industrial development," Xue said.
"Not only is its agriculture industry unable to compete with developed countries, it cannot even meet the domestic demand. This is caused by the CCP system," he said.
Zhang Sutian, a U.S.-based independent commentator with 20 years of experience in the food industry, told The Epoch Times that the CCP's fraud and corruption are the main drivers of the food crisis in China.
Many grain depots are actually empty due to corruption, he said, but the situation has been covered up, a problem that is getting more and more serious year after year.
Zhang pointed to a previous incident when the Central Commission for Discipline Inspection dispatched a team to inspect the China Grain Reserves for the first time in May 2013. Soon after, 78 grain depots directly under China Grain Reserves in Heilongjiang Province "caught on fire."
China's grain reserves are equivalent to a huge bad debt, with too many interest groups involved, Zhang said.
Xue believes that historically, natural disasters, pandemics, and famines have often been intertwined, and this time there is no exception.
"On top of that, due to the CCP's deception, fraud, and all kinds of messy conducts, the food crisis in today's China is among the worst in China's contemporary history. Once the dark curtain is pierced through and truth exposed, the disaster will be out of control," Xue said.