NEW YORK—Hundreds paraded in Lower Manhattan through one of America's oldest Chinese communities to protest ongoing abuses in communist China that have been described by the international community as "crimes against humanity."
It marked the first time in almost five years that the parade was held in Chinatown, home to one of the densest Chinese immigrant populations in the country. Prior requests since 2017 had been repeatedly turned down, which the event organizers suspect was due in part to Beijing's influence.
The event, according to organizers, served a dual purpose: to put pressure on the Chinese communist regime to stop arresting and torturing people for their faith, and to raise awareness about these violations among the Chinese diaspora.
"You can just see for yourself what we are all about," Yan Pengfei, a 27-year-old computer graphics designer attending the parade, told The Epoch Times.
Most of the participants were adherents of Falun Gong, a spiritual discipline that has been the target of a 23-year-long persecution at the hands of the Chinese Communist Party (CCP). The meditative practice, based on the principles of truthfulness, compassion, and tolerance, attracted about 70 million to 100 million adherents in China by 1999. The regime, treating the practice's popularity as a threat, unleashed an expansive campaign of persecution that July 20, which continues today.
Since 1999, millions of Falun Gong adherents have since been imprisoned in various detention centers, prisons, and other facilities, where guards have used 
slave labor
, forced feeding, and other
torture methods
in a bid to make them renounce their faith. An untold number of those detained have also been killed for their organs to supply China's hungry organ transplant system, in a state-sanctioned practice known as
forced organ harvesting
.
'We Have to Stand Up'
Yan was only 3 when his mother took him to the United States in 1996. But one of his good friends in China was imprisoned for years over his belief, and only escaped the country about five years ago, during which time the man's wife had to take care of their son, now 9, all by herself.
"I couldn't imagine myself going through that," Yan said. "The government in China is really taking advantage of this compassionate group of people."
Yan has attended more than 20 parades over the years. Helen Peng, his mother, remembered that during the early years, they would drive or fly to all over the world—spending 10 hours on the road at times—to events calling for an end to the persecution. There was a burning urgency driving them, she said.
"We have to stand up," she told The Epoch Times. "If not us, who else?"
'What the CCP Opposes Is Definitely Good'
Peng started practicing Falun Gong in 1996 after her friend wrote to her recommending the faith. Afterward, the pains in her waist, which made basic house chores such as mopping the floor a painful exercise, vanished without a trace, according to her.

Her family had experienced the regime's ruthlessness firsthand. Her grandfather, who fought for the opposing Nationalist Party before the regime took power in 1949, committed suicide during the 10-year Cultural Revolution when he became the target of retaliatory "struggle sessions."

In 1989, when a student-led protest in Beijing calling for democratic reform in China

ended with military tanks and gunfire

, Peng watched Chinese official media proclaiming that "no one died" even when her medical colleagues who worked in the city's hospitals described to her "a river of blood" that extended to the facilities' basements.

Because she helped to coordinate Falun Gong exercise sites in the United States, Peng's name got onto Beijing's blacklist, and police harassed her family in China, she said. She wasn't able to go back to China to attend the funerals of her father and brother.

The freedom they enjoyed in America formed a sharp contrast to the atmosphere in China, full of fear and indoctrination, she recounted. When her mother came for a visit, Peng said, she echoed state propaganda vilifying the practice and tried to persuade Peng to give up her beliefs.

Peng said her neighbor, who was also part of the conversation, came to her defense, saying, "What the CCP opposes is definitely good."
Positive Energy
Cheng Song, a 33-year-old professional percussionist who performed during the parade, said he struggled to find words to describe his excitement.

"The smile on every fellow practitioner's face, the positive energy from everyone ... I don't think anything can compare to this," he told The Epoch Times.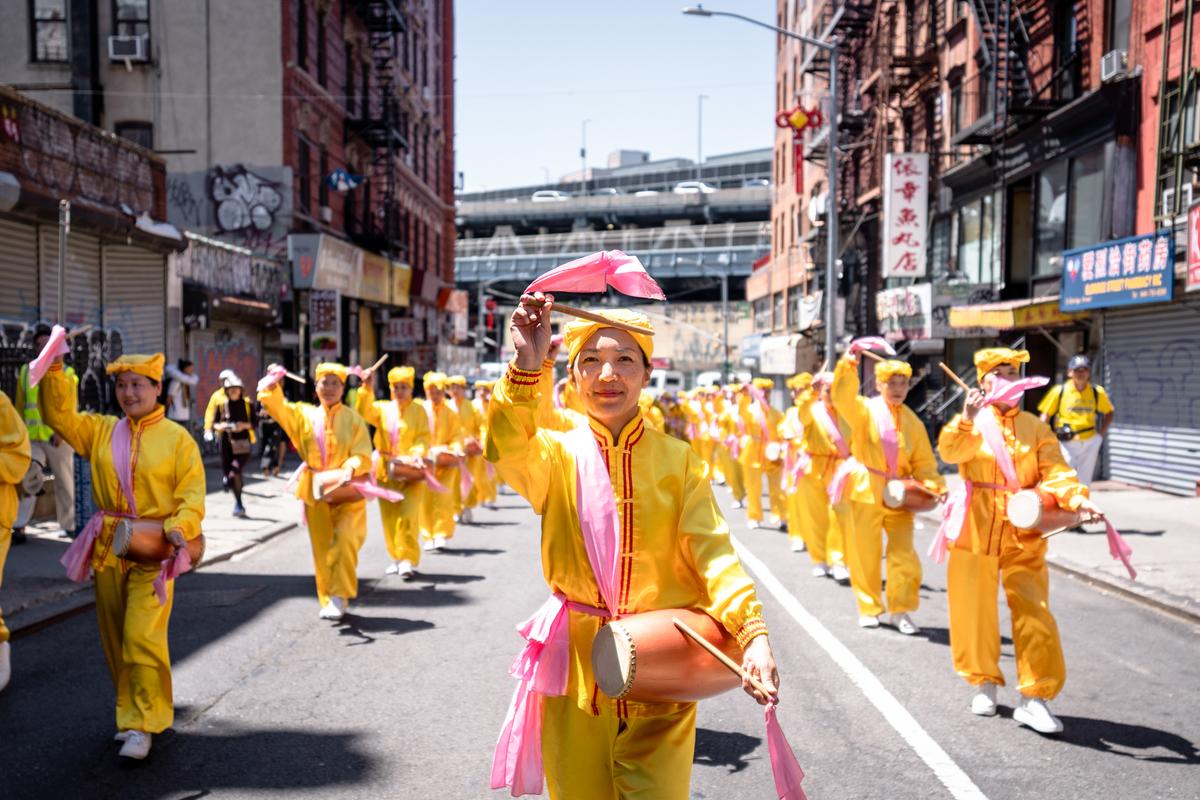 Cheng, originally from China, first heard about Falun Gong in Germany in 2016 when he was a student at Hamburg's Brahms Johannes Conservatory. He began practicing the discipline in 2019 while in China.
The police, who tapped his phone, summoned Cheng for interrogation twice. Each time, they had posed as the parent of a prospective student looking to take music lessons with him, he said. The two interrogations amounted to two sleepless nights, during which three or four officers, smoking boxes of cigarettes, threatened him with jail time.
Despite the pressure, Cheng had made his choice.
"Every person with just a bit of conscience would stand up and say no, and choose the side of justice," he said. The musician came to the United States late last year after pandemic travel restrictions had eased to escape the persecution.
The parade appeared to be leaving a mark on passersby.
"It's very touching and emotional to see how many people are trying to end the torture," said Estella Pena from the Dominican Republic, who held a Falun Gong flyer in hand. Her friend, Lia Brouwer, agreed. Brouwer's eyes were still red from crying as she'd learned about what the adherents went through, she said.
Miranda Pena said she plans to sign a
petition
to end communist China's abuses. She had previously read about the regime's systemic indoctrination in schools, and the suffering of people in that country has given her more inspiration to speak up, she said.
"[When] you read about it or see it, I think it kind of pops that bubble in which we live, and you're able to see how hard people are living," she told The Epoch Times. "It makes me want to fight or do something about [it]."