As the U.S.–China trade war has left China's financial markets in trouble amid an already slowing economy, China recently announced a plan to boost economic growth.
In a July 16 article, Economic Information Daily, a newspaper run by Chinese state media Xinhua, reasoned that because of "explosive growth" in "inelastic demand" for senior care, education, and health care, these fields should be further commercialized and exposed to market forces. People would spend more money in these areas, thus boosting the overall economy, the article claimed.
"Senior care, education, and health care … will hopefully become the 'three wagons' that drive our country's domestic demand," it read.
But for ordinary Chinese citizens, senior care, education, and health care are precisely the three areas that place the heaviest financial burden on their households, referred to colloquially as "the three great mountains."
Chinese netizens criticized the article's tone-deaf suggestion of turning what are basic services provided by social welfare programs in most countries into for-profit businesses.
Meanwhile, the public criticism has highlighted the domestic crises Chinese society faces.
Senior Care
China's population is quickly aging. According to official statistics, the number of people aged over 60 reached 241 million at the end of 2017—representing 17.3 percent of the entire population. Furthermore, 40 million elderly are disabled or have some form of dementia.
"It is commonplace among nursing homes that people fail to find even one empty bed," the article by Economic Information Daily admitted. "The conflict created by the explosion of demand and the shortage of supply is sharply escalating."
China's senior care system is overburdened. But instead of offering solutions, the article urges people to exploit the high demand to make profits, calling senior care "the next 'lucrative mine' [for making money] after the real estate market."
Education
In the area of education, the article cited the growth of off-campus cram schools as a sign that the "education market" could be further developed.
There are currently more than 220,000 cram schools in China, attended by about 137 million students—around 70 percent of all school-aged children, according to the state-run ChinaNews.com.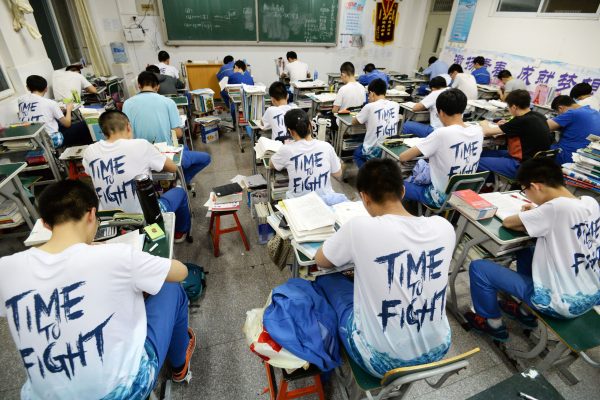 Cram school fees could cost tens and hundreds of thousands of yuan (thousands to tens of thousands of dollars) each school semester—an amount too expensive for many families.
According to the article by Economic Information Daily, the annual amount an urban household spends on education has grown an average of about 20 percent yearly in recent years.
But many students have to attend cram school in order to get a chance to excel in an incredibly competitive education system. Previous Chinese media reports described school teachers who would refuse to teach topics thoroughly in class, in order to pressure students into attending after-school cram sessions.
Health Care
In July, the Chinese box-office hit "Dying to Survive" propelled public discussion about a problem many middle-class families face: being unable to afford expensive drugs has become a desperate reality for people with serious illnesses.
China has a national insurance system, but citizens are often wary about taking domestic drugs that are covered by insurance due to their poor quality. Foreign drugs are expensive because many have high import tariffs.
Meanwhile, treatment for serious illnesses is often not covered by insurance.
According to a 2015 survey by the central government's State Council, among more than 70 million farmers in China who were identified as "being in poverty," about 42 percent said they became poor due to economic burdens caused by sickness.
The authorities want to grow the health sector nonetheless. In its outline of the country's 2030 health plan, the State Council proposed growing the private health service industry to a scale of 16 trillion yuan (about $2.4 trillion), nearly tripling the scale of 5.6 trillion yuan (about $830 billion) in 2016.
The article explaining the authorities' eagerness to market vital needs as profitable businesses sparked outrage among netizens.
"Education, medical treatment, and senior care are rights and welfare citizens deserve to enjoy," netizen "ah xing ff" commented on the Economic Information Daily article. "Does it [the government] even let people survive?" The netizen expressed a sentiment that many others did: If demand keeps growing as the article suggests, prices could go up even further.