Commentary
While China and Russia coordinate nuclear-capable bomber flights against the United States and its Quad allies—Japan, Australia, and India—the Quad is tied in knots, talking about fishing patrols, making unilateral concessions on Taiwan, and turning a blind eye to Russia's invasion of Ukraine.
On May 24, the same day that Quad heads of state, including U.S. President Joe Biden, held their meetings in Tokyo, six Chinese and Russian bombers flew over the Sea of Japan and environs. The flights directly threatened the other Quad heads of state, including Fumio Kishida of Japan, Anthony Albanese of Australia, and Narendra Modi of India.
Japan's Air Self-Defense Force scrambled fighter jets in response to the bombers, warning them off the country's airspace.
Beijing aims to threaten, degrade, and test Japan and Taiwan's air forces. The number of belligerent flights has increased in tandem with China's economic growth and military spending.
In February, China's People's Liberation Army (PLA) Navy went further, sailing into Australia's exclusive economic zone (EEZ) and firing a military-grade laser at an Australian air force plane conducting legitimate surveillance close to home.
In the context of such belligerence, the Biden administration is doing too little and sometimes even backsliding into unilateral concessions.
On May 22, national security adviser Jake Sullivan made such a concession to Beijing, perhaps to "improve" the chances of securing a summit between Biden and Chinese leader Xi Jinping. Sullivan announced that Taiwan wouldn't be joining Biden's new Indo-Pacific trade pact, the Indo-Pacific Economic Framework.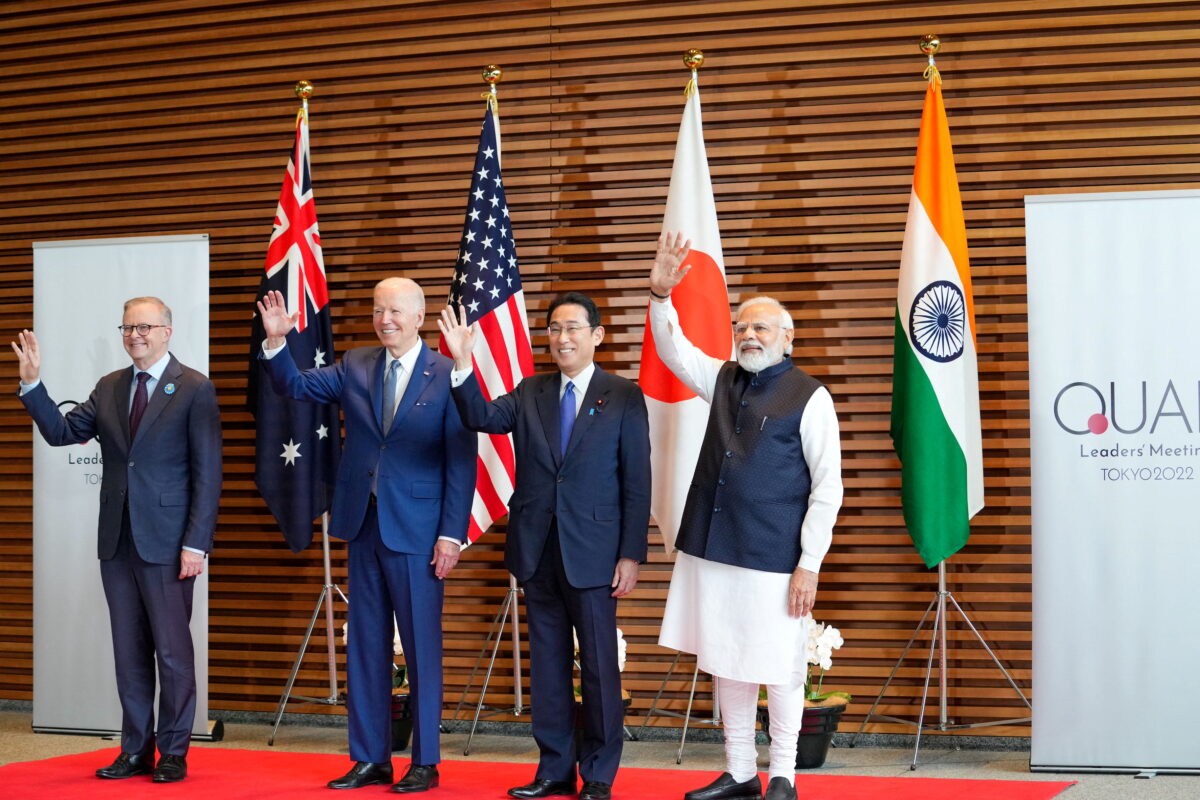 Predictably, throwing Taiwan under the bus had the opposite of the intended effect. Instead of announcing a summit, Xi got Russian President Vladimir Putin to join in bomber flights near both Japan and Taiwan.
Beijing wants countries in the Asia-Pacific—including India, Australia, Japan, and Taiwan—to feel so greedy for a part of China's economic growth and so threatened by its nuclear-capable hypersonic missiles and long-range bombers that they cede leadership of all of Asia, piece-by-piece, to Beijing.
There aren't many takers at the moment, although a few countries—such as Laos, Cambodia, and most recently, the Solomon Islands—are succumbing to what likely includes Beijing's widespread tactic of bribery of heads of state. This is according to court convictions, reporting, and my sources, who are in a position to know.
Beijing has presented the allegedly corruption-induced agreement with the Solomon Islands as a model for other Asia-Pacific islands, including Kiribati and possibly Tonga and Vanuatu. The agreements would cover economic, military, and cyber cooperation, putting these countries squarely into Beijing's sphere of influence, including naval basing rights and the opening of their telecommunications systems to electronic spying by the Chinese Communist Party (CCP).
Beijing is threatened by the Quad because the United States and its allies offer a better alternative—and without corruption. In two words, the Quad is offering freedom and sovereignty.
The CCP's response to this choice for integrity is to try to scare countries with the threat of nuclear war, as they did this week. In their small way, the Quad and its allies are at least not showing much fear and inching forward in defense of the region. At the meeting, the Quad announced that it would start satellite-tracking illegal fishing in Asia, most of which emanates from Chinese ships that have turned off their transponders.
What's really needed, however, isn't just tracking, but all NATO and Quad-plus (those present at the Tokyo meeting by video also included South Korea, New Zealand, and Vietnam) coast guards on joint patrols in an arc of freedom from the Bay of Bengal off of India through the South China Sea and the Philippine Sea, all the way to the Sea of Japan and beyond. China has the world's largest fleet of illegal fishing vessels, which ply the EEZs of countries far from Asia, including around Africa and South America.
With the rise of China's blue water navy, coast guard, and maritime militia, all of which are ultimately part of—and controlled by—the PLA, China's naval forces will increasingly deploy globally for the protection of illegal fishing and hydrocarbon exploitation in direct conflict with Quad members' attempts to enforce the world's EEZs. The requirement of a NATO-Quad EEZ police force is a regrettable but necessary acceptance of risk against Beijing.
Fishing surveillance and unilateral concessions on Taiwan won't defeat Russian and Chinese bombers. The Quad will have to step up its game if it wants to hold the line.
Views expressed in this article are the opinions of the author and do not necessarily reflect the views of The Epoch Times.