CARSON, Calif.—Los Angeles County sanitation workers say the cleanup and repairs in the wake of last week's sewer pipe collapse are making good progress.
On Dec. 30, a 48-inch sewer pipe burst and sent an estimated 8.5 million gallons of sewage through the Dominguez Channel into Los Angeles Harbor, and flooding the neighborhood of 212th Street and Moneta Street in Carson.
In the days following the spill, the flow was restored to the damaged sewer pipe after sanitation workers installed eight bypass systems to stop the flow on 212th Street and redirect it toward the main sewage pipe, according to the Los Angeles County Sanitation Districts.
The segment of sewer pipe "failed during a record rainfall event while its replacement was under construction," the sanitation agency's General Manager Robert Ferrante said in a Jan. 5 statement.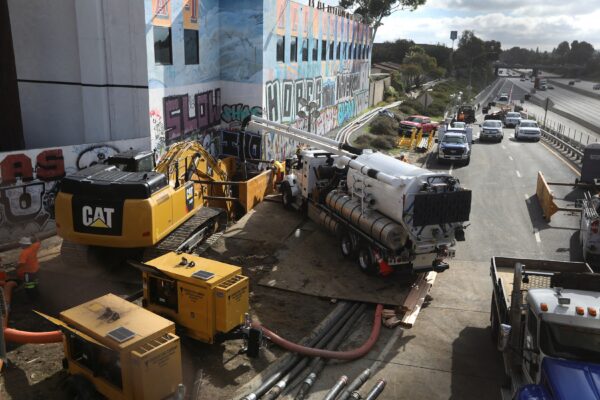 LA County Sanitation Districts' spokesman Bryan Langpap told The Epoch Times that the sanitation crew is working to do some preparatory work to ready the damaged area for a new length of pipe, which should come in next week.
"We have kind of a pit or an excavation [where the pipe is damaged]," Langpap said. "And what we want to do is pour some concrete in there so that that area is waterproof which makes that area more robust. And when the pipe comes in … we need a nice, secure, strong area so that we can jack the pipe into the downstream sewer that exists there. We're ready to go with that work."
Langpap also said the sanitation agency's crew is inspecting nearby sewers.
"If we find sewer that's in poor condition, we're going to add that to this emergency repair work so that that gets addressed at the same time or soon," he said.
The agency's crew cleaned the streets of the 212th Street neighborhood "so that residents can safely access their properties" for the next few days following the spill; on Jan. 3, a third party was hired to do another round of cleaning in the neighborhood.
Langpap said the sanitation district is making arrangements to get residents' cars detailed and will work with a landscaping company to fix any damage done to residents' lawns.
On Jan. 3, Ferrante, along with Carson Mayor Lula Davis-Holmes and community leader Dianne Thomas, also met with residents on 212th Street to hear the public's concerns.
Some residents expressed their frustration with the city's infrastructure as well as its leadership handling of situations like these.
The sewage leak comes after the city of Carson in October declared a local state of emergency over a foul smell emanating from the Dominguez Channel; the smell caused some residents headaches, nausea, and other symptoms, with some having to temporarily relocate to hotels to escape the smell.
Langpap said that there are currently no plans to relocate residents of 212th Street.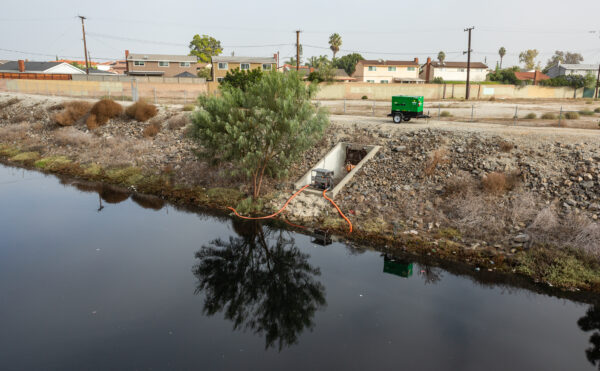 The city of Carson reimbursed residents for air conditioners and hotel stays during the height of the stench; as of late December, the stench had decreased and become more bearable, resident Ana Meni told The Epoch Times.
Meni said she was disappointed with the lack of transparency from the city.
"City leaders need to take this seriously, and they need to be considerate of us as a community," she said. "Be upfront with us. Is it safe to live here or is it not? Is it the infrastructure that disintegrated? Is this is going to be a continuous problem?"
Meni said the city does infrastructure assessments and should have the answers.
"The residents have the right to know what is truly going on in our environment," Meni said. "Let the residents make this decision of whether they want to live here, but also be forthcoming to people who are considering buying in the city of Carson.
"Gentrification is happening like crazy in Carson. It's misleading to people who are potentially thinking of moving here, not knowing the environmental disasters that are just lurking below the surface."
Several shores in areas including Long Beach, Orange County, and San Pedro were closed due to the sewage spill.
Orange County beaches and beaches along the San Pedro coastline—excluding Cabrillo in San Pedro—reopened on Jan. 3, while shores in Long Beach remain closed as of Jan. 5.