Effective Jan. 1, 2022, California's minimum hourly wage increased to $15 for employers with 26 or more employees and $14 for employers with 25 or fewer employees—the highest hourly wage in the nation.
In 2016, former Gov. Jerry Brown approved Senate Bill 3, a "new minimum wage phase-in requirement" that incrementally increased employees' hourly income by $1 per year until reaching the $15 cap.
"This law increases the minimum wage over time consistent with economic expansion while providing safety valves to pause wage increases if negative economic or budgetary conditions emerge," the California Department of Industrial Relations said in a Dec. 14 statement.
Labor rights groups like Fight for $15 spearheaded the movement nearly a decade ago when the state's minimum hourly wage was $8.
Although California law requires a state minimum wage, cities and counties within the state offer higher minimum wages due to local ordinances.
Last month, the city of West Hollywood approved a citywide minimum hourly wage of $17.64 beginning at the New Year.
According to the city's website, the law created a phased approach every six months for minimum wage increases until it caps at $18.77 by July 1, 2023.
"The minimum wage needs to be much higher," Charlie Englehardt, manager of Lifehouse Tonics + Elixirs in West Hollywood, told The Epoch Times. "It's impossible to live in [Los Angeles] on minimum wage."
Englehardt, who makes about a dollar more than her fellow employees, said she and her employees struggle to make ends meet while living with multiple roommates.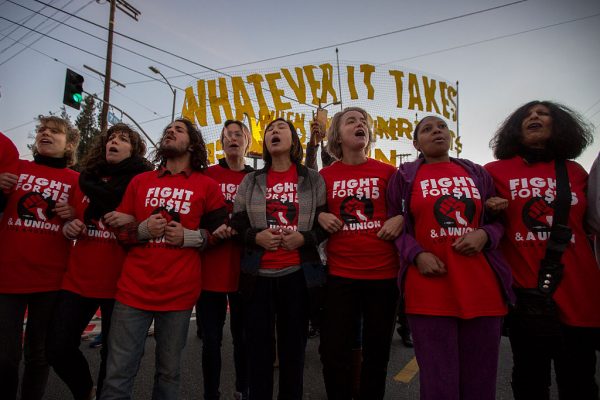 While employees such as Englehart celebrate the state-required pay increase, business owners fear the law will bring unintended consequences to entry-level and low-wage workers across the state.
"The problem with a minimum wage increase is inflation carries with it," Roozbeh Farahanipour, president of the West Los Angeles Chamber of Commerce and owner of Delphi Greek Restaurant in Westwood, told The Epoch Times. "If you increase the minimum wage, the cost of living gets higher, and the quality of life goes down."
Additionally, with every dollar added to the minimum wage, business owners must account for worker's compensation and federal and state taxes—an extra $1.40 for each job, Roozbeh said.
According to an inventory of U.S. city and county minimum wage ordinances by the University of California–Berkley Labor Center, approximately 30 other cities and counties in California can expect to see higher minimum wages in 2022.
In early December, Joe Sanberg, a Los Angeles investor and anti-poverty activist, filed with the state attorney general's office the Living Wage Act of 2022, a ballot initiative to increase the state minimum wage to $18 per hour by 2025.
Also, the filing states the wage would adjust to "keep pace with the cost of living in California."
"If you work full time, you should be able to live with full financial security, and that's not the case in California," Sanberg said in an interview with the Los Angeles Times last month. "We were a leader in pushing for a $15 minimum wage, but now we have to move the ball forward and farther. It's overdue for $18."
According to the filing, essential workers, parents, and seniors in California struggle financially despite working full-time jobs.
Additionally, it states that over 6.3 million Californians lack the resources to provide for their basic needs. One-third live in poverty, and most low-wage workers can't support a family despite relying on the safety net created by the state's social security.
If the ballot initiative acquires enough signatures, voters could see The Living Wage Act of 2022 in November's election.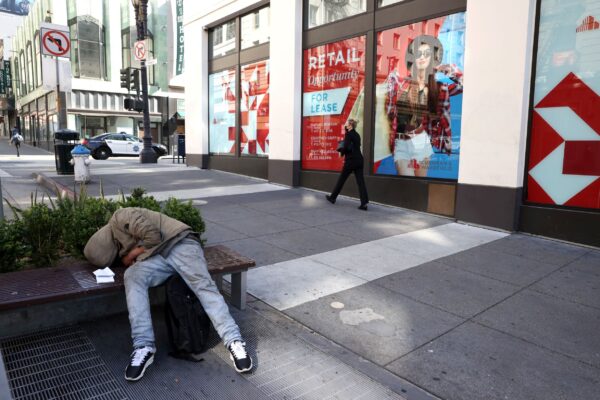 John Kabateck, state director of the National Federation of Independent Businesses (NFIB), a nonprofit advocacy group for small and independent businesses, said California leaders who are focused on increasing the minimum wage don't understand the sheer economics of its impact.
"Proponents of a minimum wage are in effect proponents of mediocrity in our society," Kabateck told The Epoch Times. "Although the minimum wage increase is already in law, it's one more heaping brick in the backpack of the average mom and pop shop owner right now."
Kabateck said compaction, or a ripple effect, is one of the biggest problems of minimum wage increase, and the economic toll it takes on employers is often misunderstood.
Compaction, as Kabateck defined, is when an employee in leadership pleads with the business owner for a raise after an associate worker earns a pay increase by way of state law.
"It puts the employer in a difficult position," Kabateck said. "And if they are ill-equipped to afford that, something in the business will suffer."
Kabateck added that small business owners entered an era of uncertainty and fear during the "fragile and unpredictable" times, noting cost increases of epic proportions from every corner of the world caused by record inflation that continues to skyrocket amid supply chain disruption.
"And to make matters worse," he said, "there is a horrible spate of organized retail theft across the state and nation."
Meanwhile, many businesses are still recovering from the unmatched impacts of the COVID-19 pandemic.
NFIB Research Center recently conducted a small business economic trends survey "assessing the impact of the health crisis on small business operations, economic conditions, and the utilization of targeted small business loan and tax credit programs."
According to the report, staffing shortages pose a challenge for 72 percent of small businesses, with 26 percent currently experiencing a "significant staffing shortage" and 22 percent with "moderate staffing shortage."
Moreover, nearly half of the business owners surveyed have offered more hours to part-time employees, 67 percent are offering employees work overtime, and 91 percent of owners are working more hours to fill in the gaps.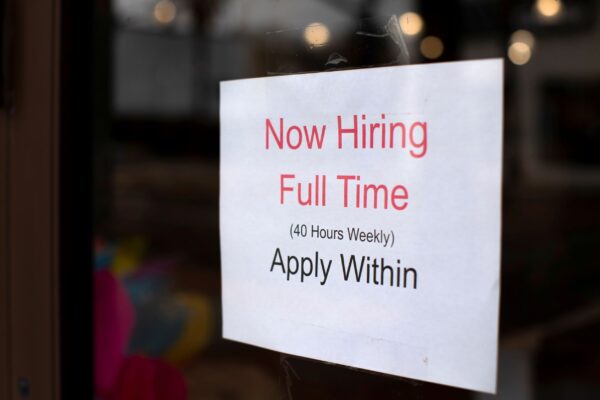 According to Kabateck, employers told his advocacy group that they're scaling back on utilities and operational costs, not hiring new contractors, and not renewing vendors.
"This $1 increase that is upon us for the new year is nonetheless going to be—once again proof positive—a law of unintended consequences for the very people wage increase advocates are trying to help," he said. "And that is the entry-level low-wage workers across the state."