Builder confidence in the housing market remained buoyant in February, according to the latest National Association of Home Builders (NAHB) Housing Market Index (HMI), with the last three monthly sentiment readings hitting its highest levels since December 2017.
The composite index, which reflects confidence in the market for newly-built single family homes, came in at 74 in February, which is a one-point drop from January's figure but an annual growth of 19.35 percent compared to last February's print.
The results, which are expressed on a scale of 0 to 100, are adjusted to smooth out seasonal fluctuations. A reading above 50 suggests optimism in the housing market, while a lower print suggests pessimism.
"Steady job growth, rising wages and low interest rates are fueling demand but builders are still grappling with increasing construction and development costs," said NAHB Chairman Dean Mon, in a published statement.
The HMI survey asks respondents to rate both current and six-month-forward market conditions for the sale of new homes, as well as the traffic of prospective buyers of new homes. NAHB then publishes the readings in the three categories and as a fourth composite measure.
In February, the index gauging current sales conditions fell one point to 80, the one measuring sales expectations in the next six months was one point lower at 79, and the prospective buyer traffic indicator also decreased one point to 57.
Significantly, the gauge of prospective buyer traffic rolled over from more pessimistic to more optimistic in September and then grew steadily over the next three months.
"At a time when demand is on the rise, regulatory constraints along with a shortage of construction workers and a dearth of lots are hindering the production of affordable housing in local communities across the nation," said NAHB Chief Economist Robert Dietz. "And while lower mortgage rates have improved housing affordability in recent months, accelerating price growth due to limited inventory may offset some of that effect."
Other housing data that points to ongoing economic strength is the issuance of new building permits. These are now near cycle highs in the United States, meaning during the current record-long business cycle boom, now into its 11th year.
"If you get a building permit to build a house, then that's going to turn into construction activity, which is going to turn into buying household durable goods like refrigerators," explained Nick Reece, senior financial analyst and portfolio manager at Merk Investments, in an emailed statement to The Epoch Times. "You normally don't see an economy going into an imminent recession with building permits on a cycle high."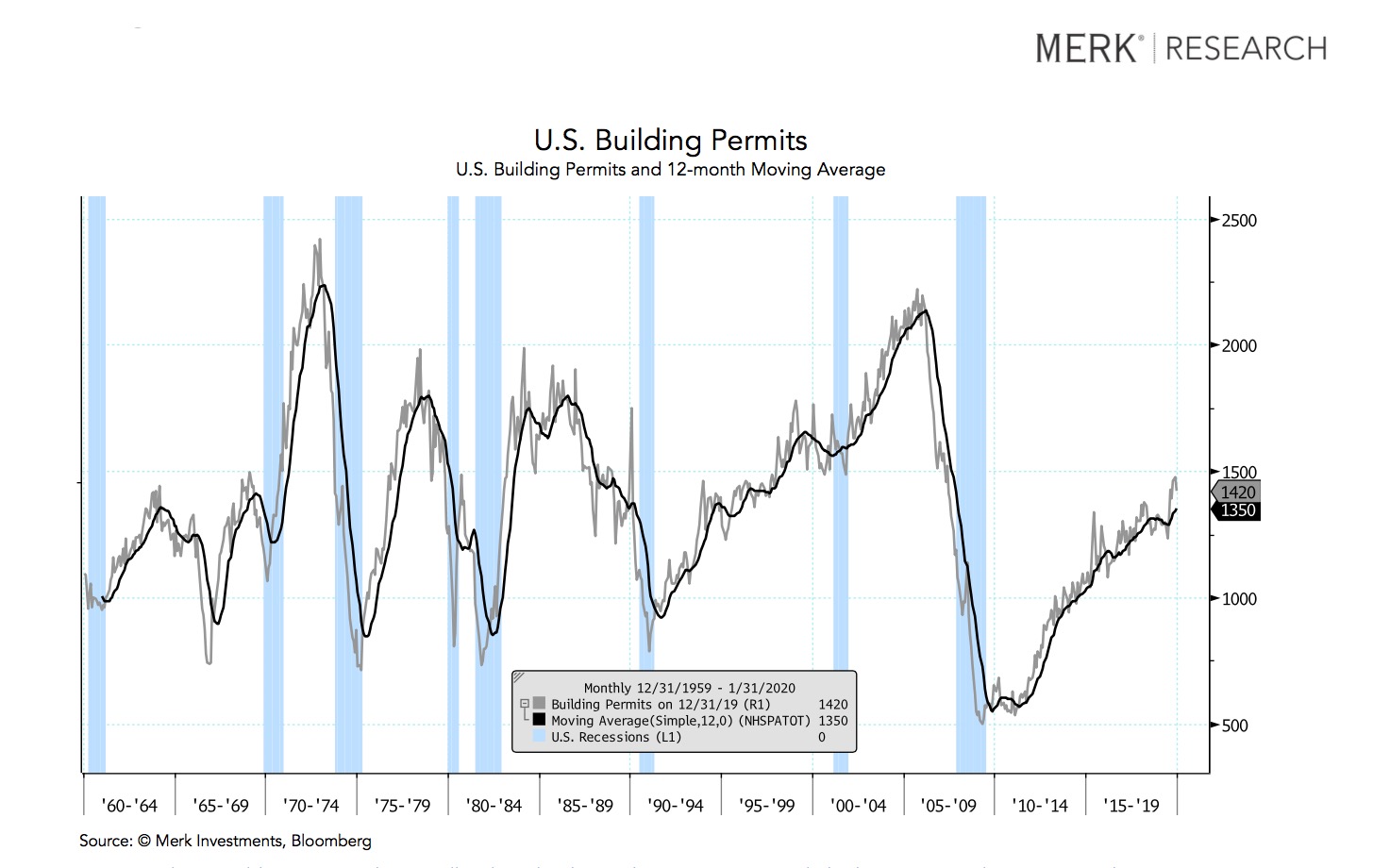 Georgia Bruggeman, Founder and CEO at Meridian Financial Advisors, told The Epoch Times in an email that new building permits are her go-to leading indicator for anticipating economic downturns.
"New housing requires a huge amount of resources in terms of lumber, copper, steel, glass, new appliances, new furniture," Bruggeman explained, adding that in her view, new housing permits would fall significantly ahead of serious economic trouble.
"A meaningful drop in this activity will hit the economy before we actually go into recession," she said.