People tend to think of cars as being either mainstream or luxury. But the truth is that there's a lot of room for products that fall in between those two extremes, a space that automakers don't often choose to occupy.
This makes Buick an exception in this middle ground as a brand that provides attractive looks and comfortable interiors using quality materials, yet keeps its prices lower than those that sell themselves as being at the high end of premium.
The Buick Enclave Essence, which is the entry-level model of Buick's three-row SUV, is a good example of this as it's now in competition with a new release from another General Motors brand, the Cadillac XT6. However, with an all-in price of $57,438 before fees, this Enclave appeals to a different sort of buyer than the more expensive XT6 by offering appealing combinations for families with younger children, who might see ease of use as a higher priority.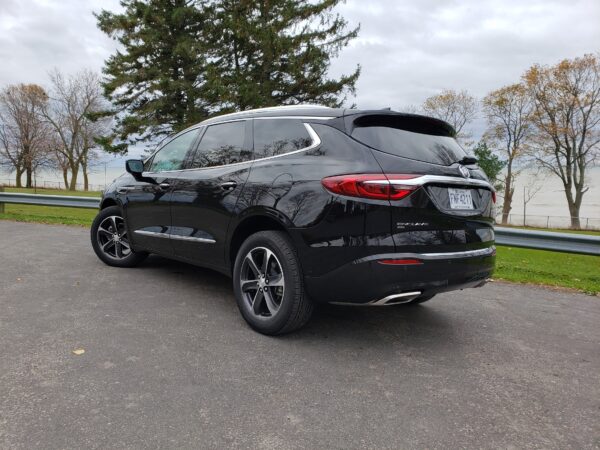 Every Enclave model comes with the same engine: a 3.6-litre V6 producing 310 hp and 266 lb.-ft. of torque available at 2,800 rpm, a lower point than in many naturally aspirated engines. It's matched to a nine-speed automatic transmission, and while all-wheel drive is standard on higher-priced models, on Essence it's a $3,000 option.
The priority here seems not to be on high-performance as much as comfort, which shows through the relaxed throttle response and the steady run through its gears as the engine's power output gradually increases. Its handling feels weighty and substantial, yet it is also pleasantly quiet and moves smoothly over roads that are less than perfect.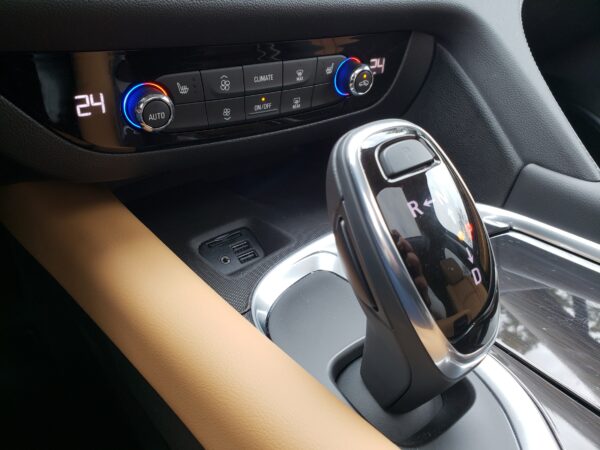 For its size, the Enclave offers acceptable fuel economy. Natural Resources Canada rates the 2020 Enclave at 13.6 L/100 km in city driving, 9.6 on the highway, and 11.8 combined, which is slightly above average for a six-cylinder engine in this size category. However, this test drive showed an average of 11.2 L/100 km, and while much of it was highway driving, it was often through traffic.
The simplicity shown in the Enclave's drive style extends to the rest of the cabin, which is finished nicely with leather and wood and keeps the number of buttons and controls to a minimum. The seats are comfortable, and the 8-inch infotainment touch screen has a quality appearance with high-resolution graphics, built-in Android Auto and Apple CarPlay functionality, and other General Motors functions such as an available Wi-Fi hotspot when purchased with an OnStar subscription.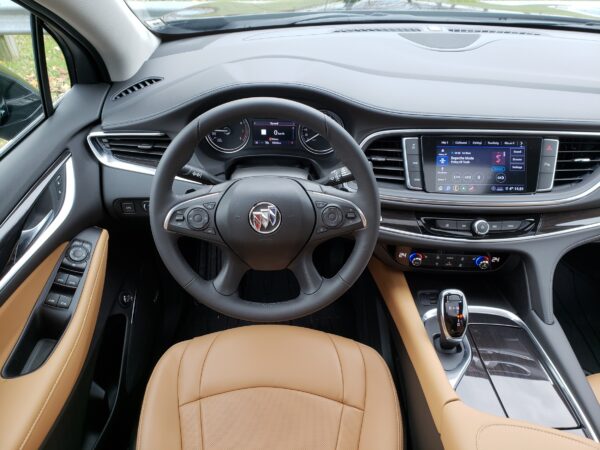 Both the second and third rows have some thoughtful touches for families. Next to the second-row captains' chairs, cup holders mounted into the top armrests that are easy for small hands to reach. Each side of the third row has a USB port, which allows older children to keep their handheld devices charged while on the road. Plenty of light comes into the rear of the cabin through the optional two-pane sunroof, although the manual sliding shades are prone to bunching up if not retracted slowly.
Included among the safety features are the General Motors rear seat reminder system and Teen Driver, which allows new drivers to be restricted to a certain geographic area and top speed, along with blind spot monitoring, lane change alert, and rear cross-traffic alert. Forward collision mitigation and active cruise control are only available on higher-priced models.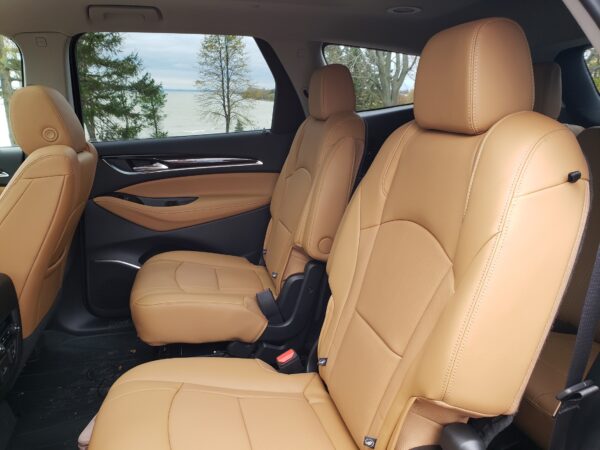 There are some things that buyers considering the Enclave should keep in mind. One is that many of the cold weather features that Canadians tend to enjoy such as a heated steering wheel, exterior mirrors, and second-row seats are not available on the Essence trim, which is unfortunate as these features can be found on less-expensive large SUVs with other brands. Power-folding third-row seats is also a higher-priced feature, and the ones here must be folded manually using a pull strap. The seats in both rows, while they combine to create a fully flat loading space, are heavier than average and not very easy to move around.
It rained often during this test drive, which covered the side mirrors and backup camera with raindrops and obscured the view. In combination with the Enclave's size, this made it necessary to take extra care at times when parking.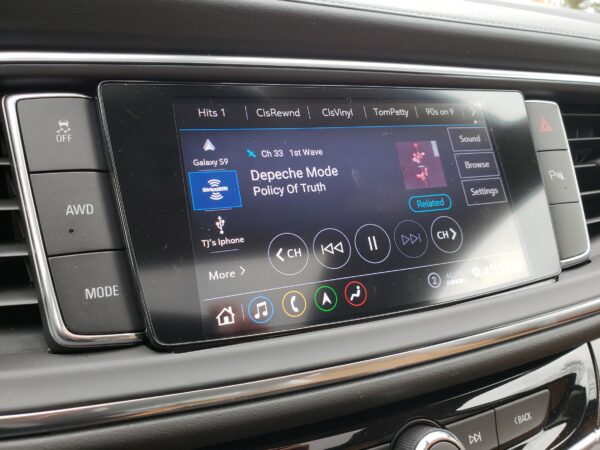 A Sport Touring package is available at a cost of $1,495, and while it doesn't add any features mechanically that give the Enclave a sportier character, it does incorporate the unique front grille and attractive 20-inch wheels shown on this test unit.
While there are many three-row SUVs on the market, few of them offer the combination of comfort, quality, and brand recognition for less than $60,000 that can be found in the Buick Enclave Essence. Provided families are prepared to live without some preferred cold-weather and safety features, they may find the Enclave Essence to be an appealing middle-ground option.
Stephanie Wallcraft is a multiple award-winning automotive journalist based in Toronto and is President of the Automobile Journalists Association of Canada.