Boulder Flooding: 80 People 'Unaccounted For' on Friday in Colorado City (+Photos and Videos)
September 12, 2013 1:44 am Last Updated: June 24, 2015 8:28 pm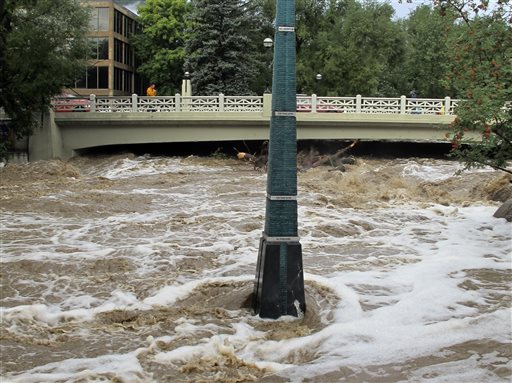 2080 people are "unaccounted for" on Friday morning after flash flooding in Boulder, Colorado, according to officials.
Boulder County spokesman James Burrus said 20 people in the county were unaccounted for Friday. But he noted, "Unaccounted for doesn't mean missing. It means we haven't heard back from them." ABC later reported that 80 are unaccounted for.
Officials planned to release the names later.
RELATED: Boulder, Colorado Flooding: Sheriff Talks Rescue Progress on Saturday, Sept. 14
The National Weather Service warned on Friday morning that a flash flood threat still exists for this afternoon and evening for a range of cities and towns in Colorado, including Boulder. 
"Rain will continue to diminish this morning with a break of rain until this afternoon," according to the service. "Another wave in New Mexico will move into the area by later this afternoon and evening with another batch of rain and a few thunderstorms expected over the watch area. With the breaks … this may allow the atmosphere to become more unstable with heavy rain possible again."
The flash flood watch was in effect until 9 p.m. MDT this evening, but is now extended until 7:30 a.m. on Friday.
Thursday night, officials warned residents that flash flooding was happening and to get to higher ground.
Evacuations were ordered for about 4,000 residents living along Boulder Creek.
Travel into and out of the city "nearly impossible and not recommended," according to the National Weather Service. People are encouraged not to travel at all and to help anyone who is stranded near them.
Severe flooding across the state has killed at least three and stranded hundreds of others.
——————–
Story continues below these photos from today, and there are photos from yesterday further down in the story.
Schools in Boulder are closed, as well as offices and facilities
The sheriff has warned residents not to drive, to leave the roads open for emergency vehicles. 
The hospital is still able to care for in-patients, but non-emergency surgeries, procedures, and appointments have been canceled. 
Gas and electric has been shut off in areas. 
Story developing; check back for updates
Follow @ETBreakingNews for breaking news from around the world.
——————–
MORE:
100-year-flood in Boulder, Colorado After Torrential Rains
Evergreen and Morrison, Colorado: Bear Creek Swells, Floods Reported
Estes Park Flooding: Floods in Colorado Town Forcing Some Evacuations (+Photos and Videos)
Fort Collins and Loveland Closed Due to Big Thompson, Poudre River Flooding
Colorado Floods: Parts of I-25, Hwy 7, I-70, US 85, US 36, US 24 Closed
The Associated Press contributed to this report.