Beverly Hills City Council voted unanimously on Jan. 4 to support the recall of embattled Los Angeles County District Attorney George Gascón.
"Over the last 12 months, Los Angeles County has seen a dramatic increase in widespread crime including follow-home robberies, smash-and-grab incidents and the tragic death of beloved Beverly Hills philanthropist Jacqueline Avant," Beverly Hills spokesman Keith Sterling said in a statement following the decision.
The city also pointed to several of Gascón's special directives that it said were "of great concern to the City."
These included Gascón's decision to eliminate cash bail for some crimes, his policy not to prosecute suspects for some misdemeanor crimes, and his decision to seek reduced sentences related to hate, guns, and gangs.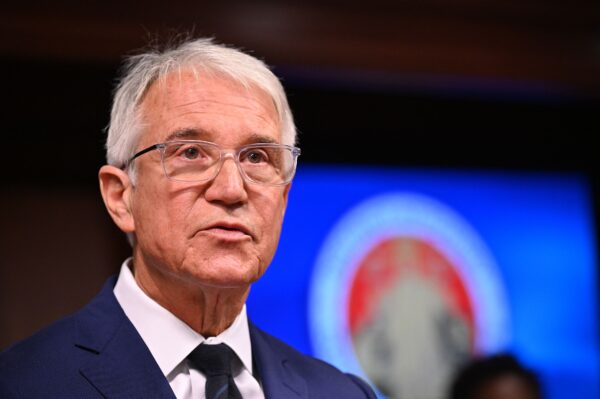 The group leading the recall, which was started mostly by victims of crimes, on Dec. 6 launched the second attempt to remove him from office. The recall group expects to raise $2.7 million before the official signature collection begins. Organizers have filed the petition with the Los Angeles County Registrar for approval and public circulation, according to spokesman Tim Lineberger. They expect to find out as soon as this week whether the petition is approved.
The first recall in 2021 failed after organizers didn't collect enough signatures. The latest campaign needs to collect about 570,000 signatures in 160 days after a petition is approved by the county.
If enough signatures are collected, the recall will be placed on the ballot before Los Angeles County voters.
Representatives of the official recall effort and another group called "Recall Gascon Now" were joined by about 80 residents who pleaded with Beverly Hills City Council to support the recall.
During public comment, "Recall Gascon Now's" co-chair Mihran Kalaydijan told councilors that Gascón was failing to keep Angelenos safe, particularly those in the Jewish and Armenian communities, according to the group's statement.
Beverly Hills Police Chief Mark Stainbrook said in December 2021 that the current system was creating a revolving door for criminals.
"We're catching criminals. The problem is we're catching them over and over again, and they're being released very quickly without bail, and they're not staying in prison," Stainbrook told Fox News following Avant's shooting death on Dec. 1.
A suspect in Avant's death was arrested an hour later during another attempted burglary nearby. At the time, Stainbrook told reporters that the suspect had an extensive criminal record and was on parole.
Beverly Hills was one of the first cities last year to approve a vote of no confidence in Gascón after passing a resolution in March 2021. Since then, 31 cities have passed votes of no confidence.
Representatives from Gascón's office, the Beverly Hills Police Department, and the city council were not immediately available for comment.