A second video has been released following the arrests of Belarusian opposition journalist Roman Protasevich and his girlfriend Sofia Sapega on Sunday.
The pair were on their way to Vilnius, Lithuania, from Athens, Greece, when Belarus authorities alerted their flight of a bomb threat, and President Alexander Lukashenko ordered a MiG fighter jet to escort the plane to land in Minsk.
According to the European Humanities University, a Belarusian university in Lithuania where Sapega is studying, Sapega was going back to Vilnius to defend her Master's thesis after her vacation in Greece with Protasevich.
In the video, first posted on a pro-government Telegram channel on May 25, Sapega was sitting in a chair, speaking at a fast pace, and looking around as though reciting something.
"I am Sapega Sofia Andreevna, I was born on Feb. 10, 1998. I am [a] citizen of the Russian Federation, I live in Lithuania, Vilnius. On May 23, 2021, I flew on the same plane with Roman Protasevich. I am also editor of Telegram channel 'Chernaya Kniga' which publishes private information about internal affairs officers," the 23-year-old student said in the video.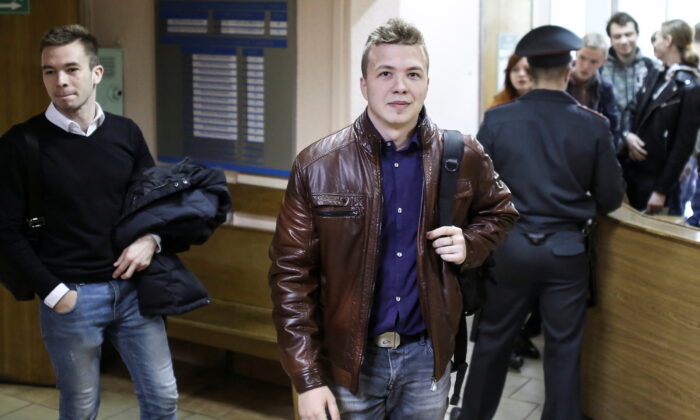 Sapega's mother Anna Dudich told Reuters on Tuesday that she was worried about her daughter's health and safety.
"This is the main thing which I fear now," Dudich told Reuters, adding that Sapega "is a very tough girl in a moral sense" and she will get through.
Dudich said her daughter had been going out with Protasevich for less than six months and that she was "in the wrong place at the wrong time."
"My hopes are now probably based on a miracle and on the knowledge that my daughter is definitely not guilty of anything," she said. "She simply showed up in the wrong place at the wrong time."
Neither Dudich nor Sapega's lawyer have been able to contact Sapega since her detention, and have not been informed of any charges against her, but her lawyer was told on Tuesday that Sapega's detention had been extended to two months.
Russian Foreign Ministry said in a statement that Sapega was arrested "in connection with the suspicion of having committed, between August and September 2020, offenses under several articles of the Belarusian Criminal Code."
Another video showing Roman Protasevich admitting to the involvement in organizing mass protest has been released a day earlier.
"I am now in the Minsk detention center Number 1. I can state that I don't have any health issues, including heart or any other organs' disease," Protasevich said in the video.
"Police officers treat me properly and according to the law. Also, I now continue to cooperate with the investigation and give a confession on organizing mass protests in Minsk," he said.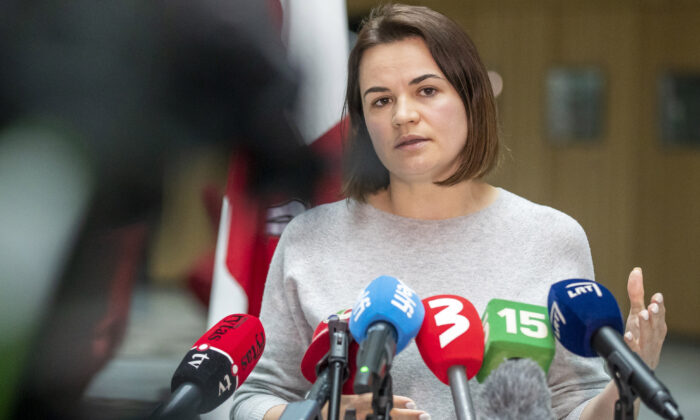 Sviatlana Tsikhanouskaya, Belarus's exiled opposition leader, said that the two detainees were "clearly" under duress.
"This is terrifying. I'm worried about Roman Protasevich & Sofia Sapega. I am worried about all political prisoners," Tsikhanouskaya wrote on Twitter.
"Clearly, Roman is beaten in prison, he & Sofia are under psychological pressure. Lukashenka terrorizes the whole country. We must fight the regime's impunity."
Speaking to EU Parliament on Wednesday, Tsikhanouskaya accused Lukashenko of turning Belarus into "a North Korea of Europe—non-transparent, unpredictable, and dangerous."
British Prime Minister Boris Johnson has said on Tuesday after the release of the first confessional video that it was "deeply distressing" to watch and warned of "consequences" after one of his cabinet ministers said she wouldn't be surprised if the confession had been coerced.
Both the UK and the EU have summoned their respective Belarusian ambassadors, requested airlines to avoid Belarusian airspace, and said they would consider further sanctions.
U.S. President Joe Biden and Canadian Prime Minister Justin Trudeau have also said they are looking at options to further sanction Belarus.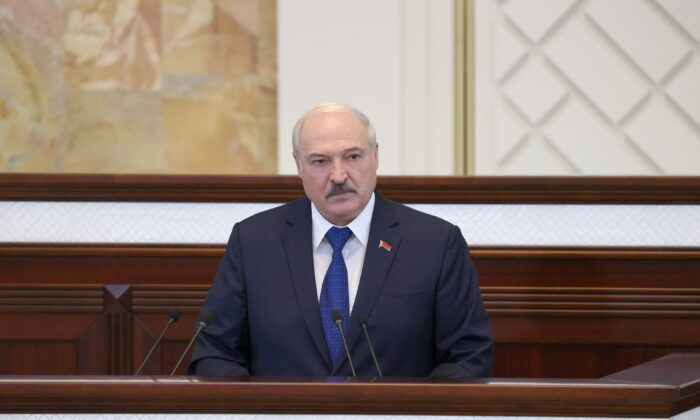 Lukashenko on Wednesday claimed that the bomb threat, which the Belarusian authorities used to ground Protasevich's flight, came from Switzerland.
"The information about the bomb came from abroad, from Switzerland. And Athens, Vilnius, and Minsk had got the message at the same time," he said.
Belarusian authorities said on Monday that the threat came from the Hamas terrorist group. Lukashenko said on Wednesday that it doesn't matter where the threat came from, but the plane was near a Belarusian nuclear power plant.
"Hamas or not Hamas, it doesn't matter today," he said.
"The crew had time to decide. There were 123 passengers from various countries and six crew members in the air, in danger. And in the flight area, for your information, you know it well—the Belarusian nuclear power plant is placed. The plane diversion happened near the plant," he said.
The six-term president told Parliament that "ill-wishers" from both outside and inside the country were waging a "modern hybrid warfare."
Kremlin spokesman Dmitry Peskov told reporters that members of the Kremlin "see no reason to mistrust Belarus counterparts" regarding the bomb threat.
"As far as we understand, they didn't land the plane on their own initiative, they followed the rules in the event of a threat, and here we see no reason to mistrust Belarus counterparts," he said.
Reuters contributed to this report.