China announced that it revoked the press credentials of three Wall Street Journal (WSJ) reporters on Feb. 19, marking the country's largest expulsion of foreign media in decades.
Beijing made the decision in retaliation over the publication's Feb. 3 column headlined "China Is the Real Sick Man of Asia," Chinese foreign ministry spokesperson Geng Shuang said on Wednesday.
In a Wednesday press conference, Geng said the Chinese side has lodged repeated "stern representations" to WSJ over the article, which he said contains a "racially-discriminatory title" and discredits the Chinese government. He said the publication did not make an official apology as the Chinese regime demanded, and threatened to take further measures if necessary.
We "do not welcome media that speak racially-discriminatory languages and maliciously slander," he added.
The agency's deputy bureau chief Josh Chin, and reporter Chao Deng, both U.S. nationals, as well as reporter Philip Wen, an Australian, were told to leave the country in five days, according to WSJ. The outlet noted that none of the three reporters had any involvement with the commentary piece.
The expulsion came just hours after the U.S. State Department designated five Chinese state-run media outlets as foreign missions and operatives of the Chinese government. These include state broadcaster CCTV; its overseas subsidiary China Global Television Network (CGTN), China Radio International; China Daily Distribution Corporation; and Hai Tian Development USA, the U.S. distributor for the Chinese Communist Party's mouthpiece, People's Daily.
The new designation will require the companies' U.S. operations to register with the State Department on personnel changes and their current real estate property holdings, as well as obtain prior approval before purchasing or leasing any new office space—in the same way foreign diplomatic missions do.
Geng did not make a link between the new State Department designations and the expulsions, but said that China "deplores and rejects the wrong decision."
William Lewis, the publisher of WSJ, said in a statement that the company was "deeply disappointed" with the Chinese foreign ministry's move.
But he also said the publication regretted that the aforementioned article had "clearly caused upset and concern amongst the Chinese people."
"Our opinion pages regularly publish articles with opinions that people disagree—or agree with—and it was not our intention to cause offense with the headline on the piece," he said.
U.S. State Department Secretary Mike Pompeo criticized the decision, saying the "correct response [to the article] is to present counter arguments, not restrict speech."
"Mature, responsible countries understand that a free press reports facts and expresses opinions," he said in a statement on Wednesday. He said the United States hopes to see Chinese people have "the same access to accurate information and freedom of speech that Americans enjoy."
A total of at least nine reporters were forced to leave China since 2013, although the country has not outright expelled a foreign correspondent since 1998, according to the Foreign Correspondents' Club of China (FCCC).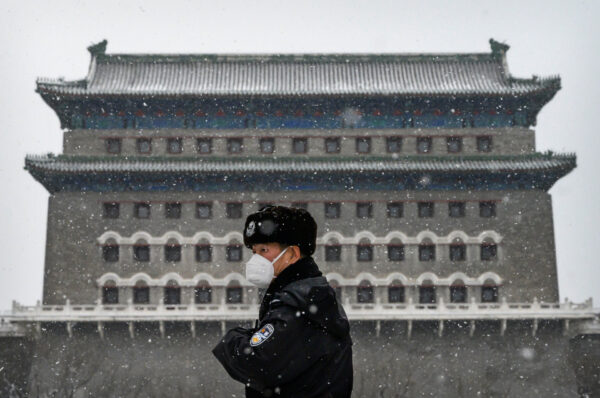 In 1998, China expelled a Japanese and German journalist for allegedly possessing state secrets.
In a statement, the FCCC strongly condemned China's move to cancel the reporters' visas and press cards, saying it was an "unprecedented form of retaliation against foreign journalists in China."
"The action taken against The Journal correspondents is an extreme and obvious attempt by the Chinese authorities to intimidate foreign news organizations by taking retribution against their China-based correspondents," it said.
Chun Han Wong, a Singaporean reporter who was working at WSJ's Beijing bureau, was also effectively expelled out of China in August 2019 after authorities refused to renew his press credentials. Weeks earlier, Chun had written an investigative report detailing an Australian probe into the money laundering activities of Ming Chai, a cousin of Chinese leader Xi Jinping.
Sen. Ben Sasse (R-Neb.) on Wednesday also rebuked Beijing for the decision, noting that the newspaper, like many other foreign media, is blocked by China's internet firewall and therefore unavailable to Chinese audiences.
"Here's the proof that Beijing is sick: the same Chinese Communist Party that sat on the sidelines for weeks while coronavirus plagued Wuhan sprang to action when Chairman Xi's feelings were hurt by a headline that nobody in China had the freedom to read," he said in a press release.
"The Wall Street Journal owes the Chinese Communist Party nothing. Chairman Xi owes the Chinese people an apology for his coronavirus cover-up."