B Vitamins Come With Anabolic Steroid Surprise, Says FDA
July 30, 2013 6:00 am Last Updated: July 29, 2013 6:46 pm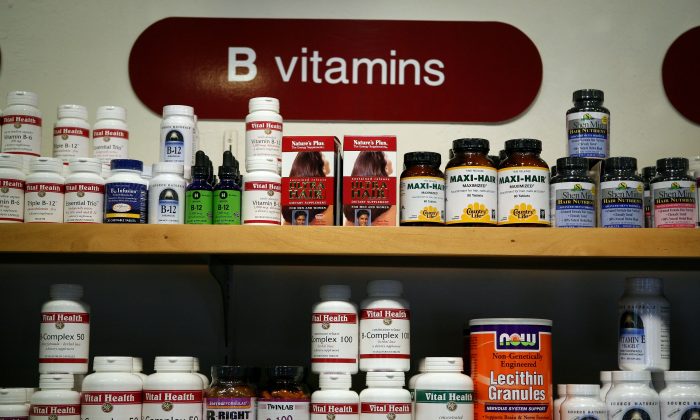 Health conscious consumers turn to B vitamins for improved energy and metabolism, but in some cases they may see more results than they bargained for. According to federal regulators, one brand of B vitamins is spiked with anabolic steroids.
On July 26, the U.S. Food and Drug Administration (FDA) announced that Healthy Life Chemistry by Purity First B-50 contained steroids methasterone, and dimethazine, according to lab tests.
These designer steroids are typically found in muscle-building formulas. Methasterone is a controlled substance, on the World Anti-Doping Agency's list of prohibited drugs since 2005.
Healthy Life Chemistry is linked to 29 complaints where users cited fatigue, pain, and liver and thyroid trouble. Males reported impotence and low testosterone from using the supplement, and females reported unusual hair growth and missed periods. Some users needed hospital care.
The product is manufactured by Mira Health Products Ltd. of Farmingdale, N.Y., and sold on various websites and in retail stores. According to the FDA, Mira Health declined a voluntary recall of the product and failed to warn consumers about the potential for injury. 
"Products marketed as a vitamin but which contain undisclosed steroids pose a real danger to consumers and are illegal," said FDA drug evaluation and research director, Howard Sklamberg in a statement.
Regulators warn that anabolic steroid use can result in a host of serious long-term consequences, including a rise in cholesterol, increased risk of heart attack and stroke, masculinization of women, testicle shrinkage, and infertility.
The FDA advises doctors to ask patients about their supplement use, particularly those exhibiting symptoms associated with steroids, such as liver injury, kidney failure, and blood clots.