April is the greening time, when choirs of birds announce the flourishing of bud and bloom, when the good old earth sheds its dull patchwork mantle of gray and brown and bustles with blossoms and new life.
April is also National Poetry Month, and this year marks the 25th anniversary of this event.
Begun in 1996 by the Academy of American Poets, this annual
event
"has become the largest literary celebration in the world, with tens of millions of readers, students, K-12 teachers, librarians, booksellers, literary events curators, publishers, families, and of course, poets, marking poetry's important place in our lives."
For many years, the number of Americans who read poetry was in decline, but a 2017
survey
by the National Endowment for the Arts found that a sea change had taken place. Poets dead and alive had regained some of their audience, with some 28 million adults reporting that they'd read poetry that year. Bolstered by events like National Poetry Month and by its increased popularity on social media, poetry remains a part of the literary life of many Americans.
Despite this welcome news, the vast majority of American adults read no poetry. Perhaps some dull literature courses in high school or college left them cold toward this art form. Perhaps at the recommendation of a friend, they attempted to engage with some modern poem they couldn't understand, and so gave up poetry as silly and incomprehensible. Most likely, many Americans don't read poetry simply because they never think to do so.
Which is too bad.
Poems can be vitamins for the soul, strengthening courage and resolve. They can lead us to see the world through different eyes, connect us with nature and other human beings in unexpected ways, rouse us to action, and bring us to laughter or to tears.
If you're a stranger to the realm of verse, here are some tips to help you enter that kingdom.
Short and Simple
Rather than begin your journey with some long and difficult poem, aim instead at those pieces with just a few lines. Edwin Markham's "Preparedness" is a favorite of mine, one my middle-school students used to memorize:
For all your days prepare, And meet them ever alike: When you are the anvil, bear— When you are the hammer, strike.
Phyllis McGinley is little read nowadays, but I still love her verse for its sparkle and wit. Here are two of her short poems:
"The Old Reformer"
Few friends he kept that pleased his mind. His marriage failed when it began, Who worked unceasing for mankind But loathed his fellow man.
"The Old Philanthropist"
His millions make museums bright; Harvard anticipates his will; While his young typist weeps at night Over a druggist's bill.
And here's a Gelett Burgess poem that's easy to memorize and will bring a laugh from the Pre-K set:
I never saw a purple cow, I never hope to see one, But I can tell you anyhow I'd rather see than be one.
Kids and Grandkids: Read Aloud
Reading such poetry together with children is not only a great way to connect with them and share some fine moments together, but it also brings adults into contact with poetry as well.

As I wrote the above words, I realized that I often read nursery rhymes with my young grandchildren, but that I less frequently share poetry with the older ones. Hundreds of pieces are out there begging for just such an audience, from the humorous cadences of "Casey at the Bat" and "Jabberwocky" to dramatic works like "The Charge of the Light Brigade" and "O Captain! My Captain!"
Reading poetry aloud to young people will deepen our own appreciation of the meter and rhyme. It also demands we bring some drama to that reading.
Note to self: Gather those tweens and teens together on our next visit, and sock it to 'em with some rhymes.
Own the Poem
When we read a poem aloud, even when we are alone, we make those lines more a part of ourselves. Unlike novelists or other writers, nearly all poets write their words to be spoken, to be enunciated, to be tasted and savored.

Memorizing poetry also makes us owners of verse, and recitation can turn an ordinary occasion into a memorable event. Over a decade ago, at a luncheon where several of my family members and their grown children had gathered, my son-in-law Mike recited the end lines of Tennyson's "Ulysses," which he'd committed to memory in high school.

Come, my friends, 'Tis not too late to seek a newer world. Push off, and sitting well in order smite The sounding furrows; for my purpose holds. To sail beyond the sunset, and the baths Of all the western stars, until I die. It may be that the gulfs will wash us down: It may be we shall touch the Happy Isles, And see the great Achilles, whom we knew. Tho' much is taken, much abides; and tho' We are not now that strength which in old days Moved earth and heaven, that which we are, we are; One equal temper of heroic hearts, Made weak by time and fate, but strong in will To strive, to seek, to find, and not to yield.

Mike has a fine, deep voice, and I can hear his rendition in my mind all these years later.
Passions and Prejudices
A student once told me she didn't care for poetry. I asked her what sort of music she enjoyed, and she rattled off the names of vocalists and bands, most of them unfamiliar to an older guy like me. "Aren't the lyrics poetic?" I asked. She agreed, but pointed out that they were set to music. "Mary had a little lamb," I then said. She paused, looking at me quizzically, and then said slowly, "Its fleece was white as snow." "And everywhere that Mary went," I said. "The lamb was sure to go," she finished.
"Poetry," I said, and she laughed.
Poetry is a mansion with many rooms. Some of these rooms strike us as uncomfortable, dark, and grim while others are as welcoming as a day at the beach. In my case, though I've read Chaucer's "The Canterbury Tales" and Dante's "Divine Comedy," I generally dislike long poems; the 70 lines of Tennyson's "Ulysses" are about as far as I like to go. Another example: with the exception of Keats, I'm not a fan of the Romantics, though I admire Shelley's "Ozymandias."
And again with exceptions, free verse, so popular now for a century, holds little attraction for me, especially those poems that are both long and incoherent. In Charlottesville, Virginia, I once attended a reading where a young man shared his poem about a motorcycle. On and on and on he read. Here is a sampling, not verbatim, of his words: "Roaring/ Shards of glass/ Stars rolling overhead/ Gray highway and the drip of gasoline." Fortunately, this event took place in a room above a bar, and our torture was alleviated by pitchers of Budweiser.
All poets are set on wooing us, on winning our hearts. If they fail to win yours, you are not obliged to spend hours deciphering the meaning of a poem or to pay it homage because others declare its genius.
Try Writing Your Own Verse
If you wish to appreciate the power of poetry, try writing it.

Though I'd written bits and pieces of poetry in my youth, as so many young people do, the only time I seriously gave versification a shot was in my 50s. During that time I wrote 70 to 80 poems, a few of which found a publisher, most of which were either too personal to put in the mail or too poorly written to even consider such a course of action.

Here is a sonnet I wrote then about a girl I scarcely knew, but whose eyes—so baffled by life, so innocent, so wondering—I have seen in only one other young woman my entire life:

"Ora Pro Nobis"

The dead die when we living let them die; We breathing clasp to hearts our breathless dead; We place them gently in their graveyard beds. In silent tombs they speak our names. They cry To us: "Remember me! Remember me!" Ah, Cissy, I remember you. Your eyes Which last saw light at seventeen still lie In me like jeweled cuts of sun-cut sea. I dream your eyes, their baffled quiet grace; Others forget, but I do not forget; You prick my prayers, poor altars of regret; My mind's sharp eye calls back your sea-sun gaze. Pray all, I pray, who read these lines of song, For her whose eyes are gone when I am gone.

What I most loved about writing poetry was that wherever I went I could carry the poem with me, tinkering with the word order as I took a walk, contemplating the beat and rhythm as I drove on the interstate, wondering, as Oscar Wilde once declared, whether to insert a comma or remove it.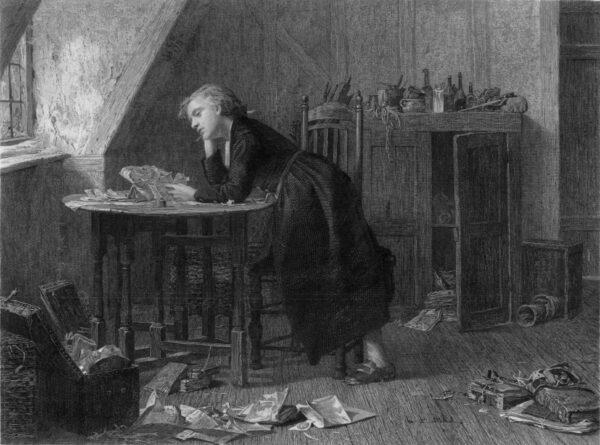 Soul Food
Reading and writing poetry connects us to the past, deepens our appreciation of the present, and gives us hope and strength to face the future.

And just as our bodies need food and water, so too do our minds, hearts, and souls. Music, the arts, films, conversations: these and other "foods" help nourish our interior selves, and poetry can do the same. To partake of this bread and wine for the soul, you have only to visit your local library or bookstore, or explore online sites, and you'll find poems about every subject and to suit every taste.

Enjoy the feast!

Jeff Minick has four children and a growing platoon of grandchildren. For 20 years, he taught history, literature, and Latin to seminars of homeschooling students in Asheville, N.C. He is the author of two novels, "Amanda Bell" and "Dust On Their Wings," and two works of non-fiction, "Learning As I Go" and "Movies Make The Man." Today, he lives and writes in Front Royal, Va. See JeffMinick.com to follow his blog.