Entrepreneur Andrew Yang, whose campaign is focused on a plan that would give each most American adults up to $1,000, announced during the Democratic presidential debate on Sept. 12 that his campaign would randomly select 10 families and give each of them $12,000 over the next year.
Yang, 44, made the announcement in his opening statement.
The families will be selected via an online raffle that people will be able to enter during the next week.
"We have to get the country working for us again, rather than the other way around," he said. "It's time to trust ourselves more than our politicians. That's why I'm going to do something unprecedented tonight."
"If you believe that you can solve your own problems better than any politician, go toYang2020.com and tell us how $1,000 a month would do just that," he added.
Sen. Amy Klobuchar (D-Minn.) laughed out loud on the stage while South Bend, Indiana Mayor Pete Buttigieg paused before his opening statement, smiling before saying, "That's original, I'll give you that."
The money will be distributed in chunks of $1,000 each month in an attempt to demonstrate how his plan, dubbed the Freedom Dividend but known as an example of universal business income, would work if he were elected and it was implemented.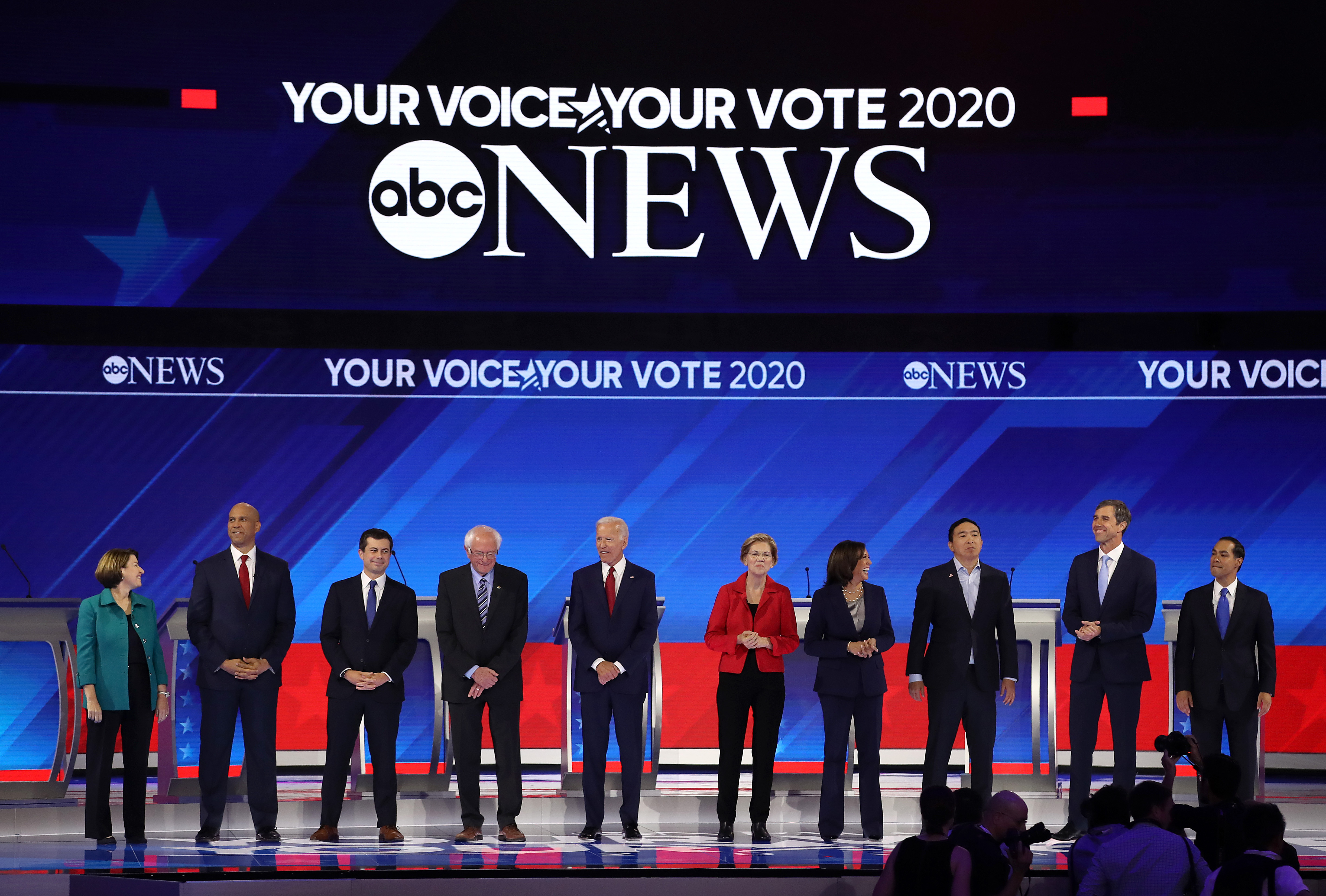 Yang's plan would work in conjunction with existing government funds, meaning people who are already getting $1,000 or more from social security, food stamps, or other programs would not get any money. They could also choose to leave some or all of the programs and get the dividend.
However, if a person is getting benefits but they are less than $1,000, the dividend would make up the difference.
Yang previously pledged his own money to two families in Iowa and New Hampshire who are getting the $1,000 a month for a year, as well as a family in Florida.
"Most politicians, they use campaign donations for TV or for high-class consultants," a campaign spokesperson told Politico before the debate. "We are taking a different approach. We want to help people and we want to help families."
The premise of the plan is based on projections that automation will disrupt a number of industries that provide jobs to people will little or no higher education, Yang explained on the Joe Rogan podcast, including truck drivers and retail workers.
Some of the money for the program, Yang said, could be raised through a European-style value-added tax.
Yang is currently polling near the end of the pack in terms of the 10 candidates who were on stage, but he comfortably qualified for the debate and has seen some gains in recent months. In one recent poll, he was fifth with 5 percent, and he scored 3 percent in several other polls.