American Pork in Chinese Hands: Panel Allows Purchase of Smithfield Foods
September 10, 2013 6:18 am Last Updated: December 15, 2013 7:24 pm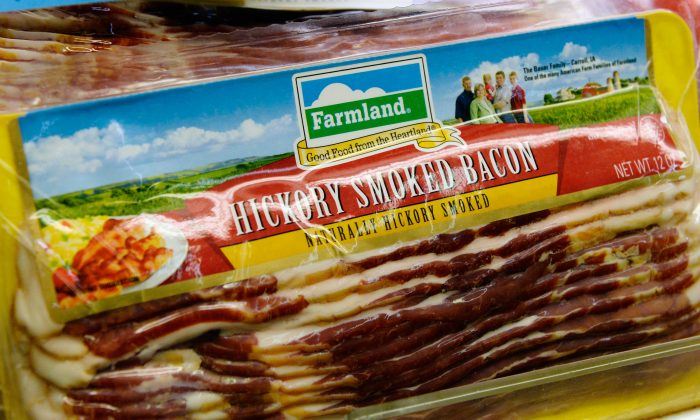 A Chinese company will be allowed to buy America's biggest pork producer, a U.S. panel decided Sept. 6.
The Committee on Foreign Investment in the United States (CFIUS) approved the purchase of Smithfield Foods Inc. by Shuanghui International. 
CFIUS is an inter-agency committee authorized to review transactions that could result in control of a U.S. business by a foreign person ("covered transactions"), in order to determine the effect of such transactions on the national security of the United States, according to the Department of Treasury website. 
At a purchase price of over $7.1 billion including debt, the impending sale of Smithfield's family of brands including Armour, Cook's, and Farmland will be the single biggest takeover of an American company by a Chinese entity. 
Shuanghui would own over a quarter of all U.S. pork processing, and 15 percent of hog production.
Information filed with CFIUS may not legally be disclosed to the public. 
"It's troubling that taxpayers have received no assurances that these critical issues have been taken into account in transferring control of one of America's largest food producers to a Chinese competitor with a spotty record on food safety," said Sen. Debbie Stabenow (D-Mich.), chairman of the Senate Agriculture Committee, in a Sept. 6 statement.
Shuanghui's takeover aims to satisfy a Chinese market hungry for American pork, but many fear that future plans include selling Chinese pork in America. 
Article Continues after the discussion. Vote and comment
[tok id=c50090904942eeaca731b14f7af8e87d partner=1966]
On Aug. 30, the U.S. Department of Agriculture (USDA) announced an end to a ban on processed chicken imports from China, allowing products to be sold in the United States without a country of origin label.
Most of Smithfield's board members are ready to go ahead with the transaction, but one group of shareholders is still holding out. Since the deal was announced this spring, investor group Starboard Value has been urging other shareholders to pass up Shuanghui for a better deal. Starboard owns less than 6 percent of Smithfield shares.
Starboard said the Smithfield sale could make more if assets were split among several entities, instead of going to a single purchaser. The New York-based hedge fund believes that there are "numerous interested parties for each of the Company's operating divisions."
"It is our belief that the proposed merger undervalues Smithfield and that with more time an alternative proposal to the board at a superior price for shareholders could be available," Starboard wrote in a Sept. 3 letter.
Smithfield shareholders are expected to vote on the deal by Sept. 24. According to terms with Shuanghui, Smithfield has until Nov. 29 to decide.