The fourth major flooding event of the year in the Australian state of New South Wales (NSW) has put 85,000 under evacuation orders, the premier said.
NSW Premier Dominic Perrottet told reporters on July 6 that there were 108 evacuation orders and 56 evacuation warnings across the state, affecting 50,000 more people than on the previous day.
Flood Recovery Minister Steph Cooke warned residents against returning home before being given the green light by the State Emergency Services (SES).
"Whilst it might be tempting for people to return home, we're really asking you to respect those evacuation orders," Cooke said. "There's a reason why they are in place."
NSW SES Commissioner Carlene York warned residents whose houses survived the flood events earlier this year not to be complacent.
"Just because it got to the front doorstep on the last floods doesn't mean that it won't escalate overnight," she told reporters on July 3, adding that dams are over 100 percent capacity.
Further, there are large amounts of water in the river systems and extensive rain in other areas bringing flash flooding, York warned.
The commissioner also reminded residents of at-risk areas to have a radio with batteries at the ready in case of a power outage.
Continued Produce Shortage
Farmers are warning that the latest weather event will likely place further pressure on the cost of living through added food inflation.
Producers have renewed concerns about food supply chains that consumers have already seen through higher prices or lack of supply on grocery shelves.
Farms located in the Sydney basin are being hit the hardest, with widespread flooding putting tremendous pressure on those in the Hawkesbury, Nepean, and Hunter valleys.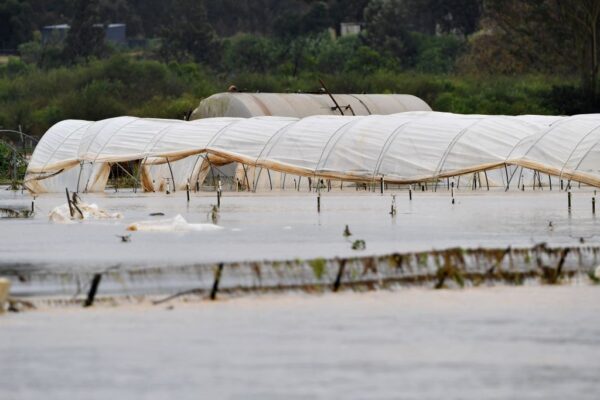 A hit to the supply of vegetables such as lettuce previously forced fast-food restaurant chain KFC to provide a lettuce and cabbage mix in its burgers and wraps.
National Farmers Federation economist Ash Salardini told News Corp that the sudden spike in demand for cabbage had likely helped to push up overall food costs, along with other local factors.
"When lettuce got expensive, people started using cabbage, and prices have gone up for that reason," he said.
"Also, food is seasonal—at the moment it's the right season in northern NSW and Queensland, but it's too cold in Victoria, and floods and other disturbances to the workforce [have] limited supply."
Meanwhile, some consumers have tried to save money by snapping off broccoli stems before purchasing the vegetable at grocery stores. Broccoli prices reached almost AU$12 per kilogram (US$3.70 per pound) at the beginning of July.
The surging price of broccoli has been blamed on a lack of supply caused by disruptions, particularly in Queensland, after the March floods.
Impacts Are Far Greater Than the Obvious
Warren Waddell, secretary of the NSW Farmers' Greater Sydney Horticulture Branch,  said that aside from immediate impacts, such as the loss of crops, there would also be far greater issues in the coming months due to the torrential rains.
"If you can't get that crop off that's been damaged from this season's flooding you won't crop next year either," he told 2GB radio. "So it's a double whammy."
As a fruit grower, Waddell said the flooding has caused significant root rot in fruit trees, and diseases were thriving.
"[Diseases are] difficult to control. … It's not like four or five days [after the rain stops], you can just access your orchard and protect it from disease," he said. "You're talking months before you're able to get onto firm ground again. So you're just cornered."
Despite the challenges, Waddell said the farming community is one that's not unused to hardship.
"Farmers, historically, are very resilient. They work on an averages scenario," he said. "Producers and so on have their formulas in terms of how many years of drought they can survive."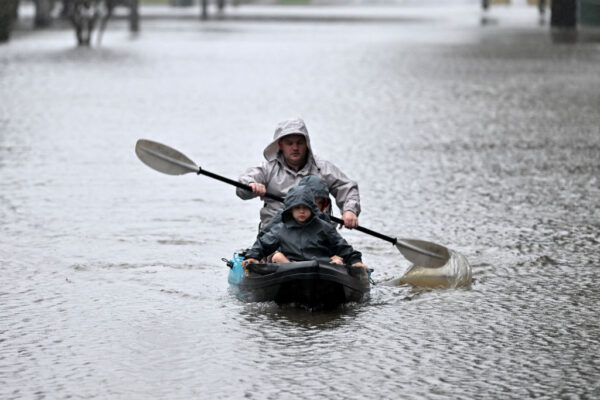 But he said there was "no doubt" that farmers were really being tested this year, as the number of challenges they've faced has been "above average."
Additionally, unlike other challenges, there's little people can do to stop rainfall.
"You can take steps … when it [comes] to pest control and vermin. There are steps that we can take with infrastructure. When in drought conditions, you can take steps to conserve water, and so on," Waddell said.
PM Criticised
Australian Prime Minister Anthony Albanese has been criticised by Shadow Treasurer Angus Taylor for being "more concerned about his reputation" on the global stage than "making sure people in NSW have a place to sleep."
In 2019, then-Prime Minister Scott Morrison was under fire for going on holiday while the country was facing extensive bushfires.
But while Albanese "made a real scene" of Morrison's response to the bushfires in 2019 and 2020, Albanese "couldn't even pick up the phone," Taylor said.
Albanese returned to Australia from Europe on the evening of July 5, after trips to the NATO summit, Ukraine, and more.
Perrottet didn't add to the criticism, saying the prime minister had called as soon as he could.
The NSW premier joined Albanese to tour the flood-stricken areas on July 6.
Steve Milne, Henry Jom, and Nina Nguyen contributed to this report.