A sign in an Australian supermarket warning customers not to break the stems of broccoli before purchase has sparked concerns that cost of living pressures are impacting families.
This follows comments from the National Farmers' Federation—Australia's peak national body representing farmers—that fruit and vegetable shortages will remain until September as months of continual flooding and rainfall delays crop growth causes vegetable price hikes.
In a photo shared on Twitter by Melbourne-based radio station 3AW on June 27, a sign in front of a broccoli basket from an undisclosed supermarket store reads: "ATT (attention) customers. You must not break the stems of the broccoli. This is classed as theft. All broccoli purchases will be checked at the registers. Thanks management."
One twitter user wrote: "Technically not theft if you're leaving it and taking what you pay for." Another wrote: "Pay our farmers more, then I'll leave the stems on!!"
"You are ruining a product because other people are unlikely to buy just the stem. How is it not inappropriate to do," another user argued.
As of July 1, broccoli prices are sitting at $11.50 per kilogram, a slight decrease from $11.90 per kilogram reported two weeks ago.
Some customers have also claimed that breaking off stems and leaving the stalk saves them money, according to response from a social media post.
The Epoch Times has reached out to Coles Group for comment.
The price hike is being felt across the fruit and vegetable sector with fast-food giant Kentucky Fried Chicken (KFC) having reported to replace lettuce for cabbage in their wraps and burgers.
"It's really hard for everyone on the supply chain, no-ones winning including retailers. Farmers, retailers, we have all the issues consumers are having at the moment," Catherine Velisha, the managing director of Velisha Farms in Werribee, Victoria, told Channel Nine's Today program on June 12.
Food Inflation Affecting Aussies
Food inflation is now slightly higher than the general rate of inflation, National Farmers Federation economist Ash Salardini told Newscorp. This is due to a range of factors including the rise of petrol costs and worker shortages.
For instance, the annual inflation rate in Australia surged to 5.1 percent in Q1 of 2022 from 3.5 percent in Q4—surpassing market estimates of 4.6 percent, according to Trading Economics.
Data from the Australian Bureau of Statistics (ABS) has also shown all food and non-food grocery products increased in the March quarter.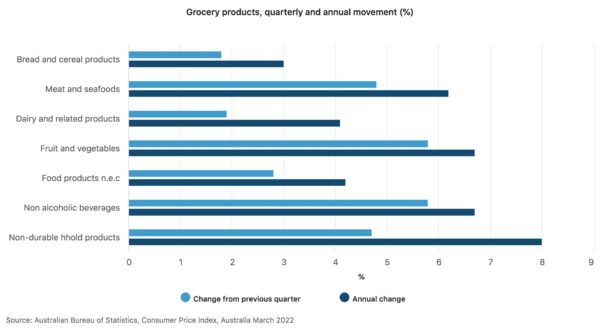 Salardini said the sudden spike in demand for cabbage had likely helped to push up costs, along with other local factors.
"When lettuce got expensive, people started using cabbage, and prices have gone up for that reason," he said.
"Also, food is seasonal—at the moment it's the right season in northern NSW and Queensland, but it's too cold in Victoria, and floods and other disturbances to the workforce has limited supply.
"Unless something else happens, in two to three months we should have more normal supply and because most vegetables are produced domestically, once domestic issues are resolved, we'll get back on track," Salardini said.
The surging price of broccoli has been blamed on a lack of supply caused by disruptions in Queensland particularly.