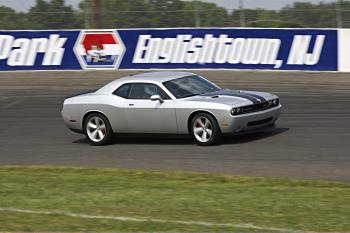 The Modern Muscle Car
Dodge recently introduced the 2009 Challenger to the media at an event in New York City. What better place to introduce a great car than in a great city such as New York. Broadway loved the Challenger, with thumbs up action as I motored down the street, then over to 42nd Street past the beautiful complex of Grand Central Station.
The folks at the Ritz-Carlton near the Battery were always there to assist me after the drive, and to heap additional praise on the new muscle car from Dodge, and to welcome me home after a fun day of driving.
With three models to chose from: SE, RT, and SRT, Dodge feels they have a vehicle that is accessible for every customer. The SE is priced under $22,000, the RT just under $30,000, and the beautifully loaded SRT8 at $39,000.
From the cutting edge technology available on the Dodge Challenger SE, to the ultimate performance of the Dodge Challenger SRT8, there is a full menu of options.
The new Dodge Challenger is a recreation of vintage American muscle cars blended with nostalgic flair, adding modern engineering and technology.

Whether it is a five-passenger or two-door coupe, the Hemi-powered car offers a precision shift, six-speed, manual transmission. This new generation 5.7-liter V-8 delivers increased fuel economy (on average 4%) with improved horsepower (more than 30 hp) and torque (up to 20 lb.-ft.).
It goes from zero to 60 mph in less than six seconds. The SRT 6.1 liter Hemi V-8 goes from zero to 60 in five seconds.
There are more than 25 safety features and security features including supplemental side-curtain air bags, advanced multi-stage bags, electronic stability program, and anti-lock brakes.

The Challenger is equipped with cutting-edge technology including uconnect GPS with torch-screen radio and navigation, uconnect phone featuring Bluetooth technology, Keyless Go push-button start, and remote start. Challenger is ready for the excitement of the track or a peaceful cruise to dinner at a little out-of-the-way diner.

"Our all-new 2009 Dodge Challenger is a modern-day muscle machine representing the best from past to present," said Mike Accavitti, Director, Dodge Brand and SRT Global Marketing, Chrysler LLC. "Nearly 40 years following the debut of the original, we are bringing Dodge Challenger back and loading it with essentials including hardware, styling and technology desired by today's buyer."
EPA Fuel economy numbers on the SE and RT:
3.5L: ST 17city/25 highway
5.7L auto: 16 city/25 highway
5.7L manual: 16 city/25 highway
Durhl Caussey writes an automobile column that is read around the world. He may be reached at this paper or dcaussey@sbcglobal.net .