Amid the Chinese regime's ramping up of its largest leadership reshuffle before the 20th National Congress, the recent appointments of two Chinese Communist Party's (CCP) cadres aroused great concern in the international community over China's worsening human rights situation.
The National Congress is theoretically the highest body of the CCP and is held once every five years, at which changes of top-level Party leadership and Party Constitution are discussed and finalized. The 20th National Congress is to be held in the fall of 2022, with the exact date not announced.
On Oct. 19, the CCP's Organization Department, which oversees senior staffing and is one of the most powerful organs of the CCP, announced the promotion of Wang Junzheng to the post of the Party Secretary in Tibet, the highest post in the region. Wang was the Party Secretary of Xinjiang Production and Construction Corps (XPCC), a paramilitary group in Xinjiang, accused of serious human rights violations, before this promotion.
A week later, on Oct. 26, state-run mouthpiece People Daily reported that Chen Quanguo was elected again as Party Secretary of China's western Xinjiang Region at a plenary session of the region's Party Committee.
Both Wang and Chen are on the sanction lists of multiple Western countries, including the United States, the United Kingdom (UK), and the European Union (EU) for their human rights violations in Xinjiang and Tibet.
Chen Quanguo, 66, served his first tenure as Party Secretary in Xinjiang from 2016 to 2021. Before that, he was known for his "iron-fist" style ruling of Tibet from 2011 to 2016 when he was the Party Secretary of the region.
One of his publicly known practices in Tibet was setting up police stations every 500 meters, according to researchers.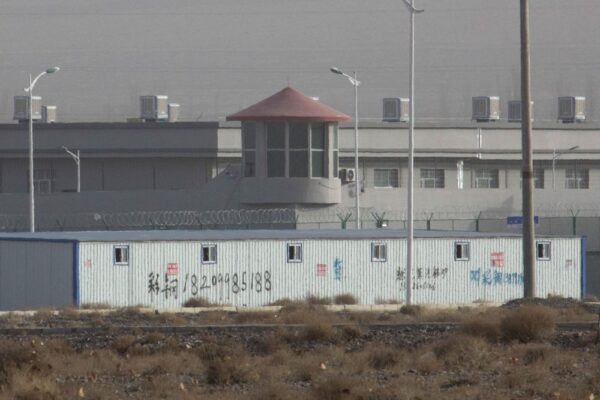 In 2018, a group of Western envoys in Beijing requested "an explanation of alleged rights abuses against ethnic Uyghurs" in a letter to Chen Quanguo, Reuters reported in November 2018.
In a joint statement to the UN Human Rights Council, signed by Freedom House and 18 other signatories on Feb. 13, 2019, these organizations requested the UN to investigate "credible allegations that up to one million Turkic Muslims are being arbitrarily detained in 'political education' camps across Xinjiang." The detainees of the education camps are "subjected to forced political indoctrination, renunciation of their faith, mistreatment, and in some cases torture," said the statement.
Due to "serious rights abuses against ethnic minorities" in Xinjiang, the U.S. Department of the Treasury on July 9, 2020, sanctioned Chen Quanguo, three other CCP officials, and one CCP government entity for their connection to rights abuses.
Now Wang, 58, has been promoted to the CCP's top post of Party Secretary in Tibet, where Chen previously served.
Similar to Chen, the United States, UK, and EU, and Canada, sanctioned Wang in 2021.
Australia-based Chinese law expert Yuan Hongbing said that the Chinese regime has kept Chen in Xinjiang and promoted Wang to Tibet because they have been connected to human rights abuses and sanctioned by the international communities.
"The CCP needs them in place to show it's countering the sanctions," Yuan said in a recent interview with the Chinese edition of The Epoch Times, "What Xi Jinping cares about is if they are loyal to Xi and if they are useful to demonstrate the CCP's tough stance against the West."
Ning Haizhong, Luo Ya, and Daniel Holl contributed to this report.