Ukrainian President Volodymyr Zelenskyy has insisted that he'll prioritize the "territorial integrity" of Ukraine in talks that are set to take place in Turkey this week, after previously suggesting that he was ready for a compromise.
In a video address to the Ukrainian people late on March 27, Zelenskyy said the talks will focus on "sovereignty and territorial integrity"
"We are looking for peace, really, without delay," he said. "There is an opportunity and a need for a face-to-face meeting in Turkey. This is not bad. Let's see the outcome. Our priorities in the negotiations are known.
"Ukraine's sovereignty and territorial integrity are beyond doubt. Effective guarantees of security are a must. Obviously, our goal is peace and return to normal life in our country as soon as possible."
The Ukrainian president also said he would work for a new round of sanctions against Russia this week. Sanctions "are needed as long as Russian troops remain on the territory of Ukraine," he said.
However, Zelenskyy's comments differed from those made earlier in the day to Russian journalists, when he said that Ukraine is prepared to discuss adopting a neutral status and also compromise over the status of the eastern Donbas region as part of a peace deal with Russia.
However, such a pact would have to be guaranteed by third parties and be put to a referendum, Zelenskyy told the journalists in a 90-minute video call.
Russia's media watchdog Roskomnadzor preemptively told Russian media outlets not to report on the video discussions.
Zelenskyy also said Russia's invasion had caused the destruction of Russian-speaking cities in Ukraine and that the damage was worse than what was observed during the Russian wars in Chechnya.
"Security guarantees and neutrality, the non-nuclear status of our state. We are ready to go for it. This is the most important point," Zelenskyy said.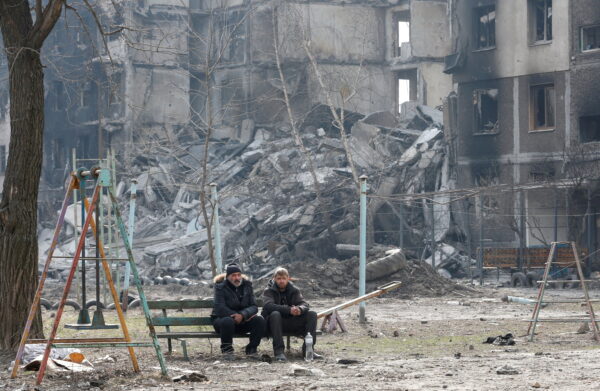 Peace talks between Russia and Ukraine are set to take place in Istanbul, from March 28 to March 30, chief Ukrainian negotiator David Arakhamia said on March 27.
Turkish officials previously said on March 19 that talks were nearing agreement on "critical" issues that could lead to a ceasefire, so long as the two sides don't backtrack on progress made thus far.
But even ahead of the latest set of talks, Ukraine's head of military intelligence, Kyrylo Budanov, has said that Russian President Vladimir Putin is aiming to seize the eastern part of Ukraine and split the country into two, as happened with the Korean Peninsula after World War II.
"In fact, it is an attempt to create North and South Korea in Ukraine," he said. "Then there will be one relevant scenario left for the Russians, how to survive."
Ukrainian foreign ministry spokesperson Oleg Nikolenko also brushed off talks of any referendum in eastern Ukraine, telling Reuters that "all fake referendums in the temporarily occupied territories are null and void and will have no legal validity."
Putin's so-called special military operation, which he says aims to "demilitarize and denazify Ukraine," is now entering its second month and has seen nearly 4 million people forced to evacuate the country, according to U.N. estimates.
Reuters contributed to this report.