Ukrainian President Volodymyr Zelensky issued a statement to the nation after Russian leader Vladimir Putin ordered Russian military troops into eastern Ukraine.
Putin on Monday announced that Russia recognizes the independence of Luhansk and Donetsk regions in eastern Ukraine, which are being held by Russian-backed separatist groups. Soon after that, Putin signed a decree issued by the Kremlin that says the Russian Defense Ministry is now authorized to send troops into the area to "maintain peace."
The United States, in response, announced it will issue sanctions via an executive order from President Joe Biden. Press secretary Jen Psaki issued a White House statement that said Biden's order will "prohibit new investment, trade, and financing by U.S. persons to, from, or in the so-called DNR and LNR regions of Ukraine."
"This E.O. will also provide authority to impose sanctions on any person determined to operate in those areas of Ukraine."
The U.N. Security Council scheduled a rare emergency meeting for late Monday at the request of Ukraine, the United States, and six other countries. At the meeting, U.S. Ambassador to the U.N. Linda Thomas-Greenfield called Putin's announcement "nonsense."
"[Putin] has since announced that he will place Russian troops in these regions. He calls them peacekeepers," Thomas-Greenfield said. "This is nonsense. We know what they really are."
Zelensky, in a presidential address to the nation, criticized Russia's recognition of the Luhansk and Donetsk regions.
"Ukraine most certainly considers these last Russian actions as the violation of the sovereignty and territorial integrity of our country," he said.
"All responsibility for all the consequences connected with the decision mentioned above lies on the Russian political leadership. The recognition of independence of the occupied territories of Luhansk and Donetsk regions might mean the unilateral withdrawal of Russia from Minsk agreements."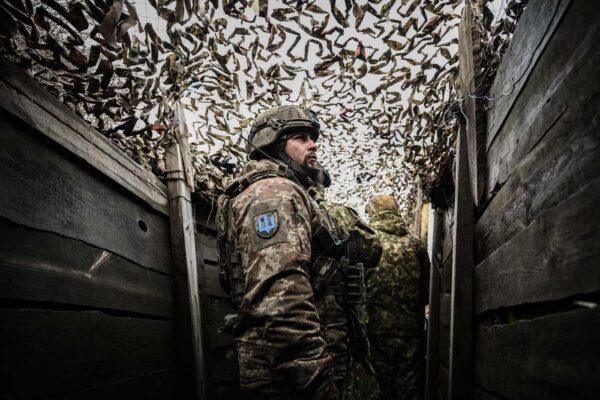 In 2014, Russian troops seized and annexed Ukraine's Crimean Peninsula. Shortly after, Russia began supporting separatist fighters in the Donbas region in eastern Ukraine that have been fighting Ukrainian government forces since. The ongoing war has killed over 14,000 people since 2014.
"With today's and possibly tomorrow's decisions, Russia is legalizing its troops, which have been de-facto present in the occupied areas of Donbas since 2014. A country that has supported war for eight years cannot maintain peace," Zelensky said.
"There are now absolutely no reasons for chaotic actions. We'll do everything to keep it this way further on. We stick with the peaceful and diplomatic way. We'll only walk this way. We are at our land, and we are not afraid of anything and anyone. We don't owe anything to anyone. We won't give away anything to anyone. We are confident in this."
The White House said earlier Monday that Biden had agreed "in principle" to meet with Putin, but only if the Kremlin refrains from launching an assault on Ukraine. Even before any invasion, however, both Biden and the European Union said they would move ahead with targeted sanctions in response to Putin's decrees.
Western nations have expressed concerns that Russia will order an invasion of Ukraine, and estimate that more than 150,000 Russian troops are gathered along Ukraine's border.
Russia has denied it has any plans to invade Ukraine and has accused western allies of NATO expansion threatening Moscow's security as Ukraine seeks to be granted membership.
The Associated Press contributed to this report.