Zahira Bawa and Jenah Bawa of Leamington Confirmed as 2 of 6 Britons Killed in Nairobi Westgate Attack
September 23, 2013 2:53 pm Last Updated: September 27, 2013 11:12 am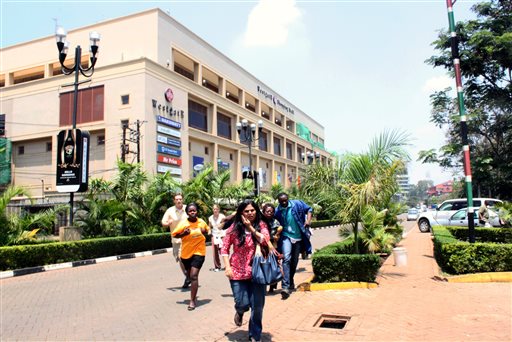 Zahira Bawa and her daughter Jenah, 8, of Leamington in Warwickshire, England were two of six Britons killed in the terror attack on Nairobi's Westgate mall.
Jenah's grandmother Shakuntna Bawa, who also lives in Leamington, told the Coventry Telegraph that Louis Bawa, Zahira's husband, flew out to Nairobi after the family hadn't heard from the pair since the initial attack on Saturday.
"We knew that they were missing but we heard yesterday that unfortunately they had been killed," said Shakuntna Bawa. "I feel pretty shocked – the whole family is in shock. I can't say anything else at the moment, it's very sad – but what can we do?"
The attack turned into a hostage situation that still hasn't been completely resolved. At least 68 people have been killed, and over 175 were injured.
Louis Bawa, speaking in Kenya, said that he was "absolutely breaking up" when outside the mall waiting to see if his wife and only child were safe.
"All I'm hoping is that they are safe, that they are hiding," he said, reported the Daily Mail. Louis Bawa hasn't spoken publicly since it was confirmed Zahira and Jenah were killed. 
Shakuntna said that Louis was let in to identify the two bodies after many hours and confirmed their deaths. 
"I have not seen Jenah for five years ever since the family moved to Kenya, but she was beautiful," the grandmother said.
Louis and Zahira, who was born in Kenya, married in 1998. Louis is a marketing executive with Dubai-based DCI Mobile.
The British government said Monday that six British nationals were killed in the attack, an increase from the previous official number of four.
David Cameron, the prime minister of the United Kingdom, said via Twitter on Monday that "tragically the latest reports are that 6 British nationals have been killed in the Kenya terror attacks," after he had chaired a meeting of COBRA.
A third British national killed in the attack has been identified as Ross Langdon, an architect who had Australian-Britain dual citizenship. The other three have not yet been identified.
MORE on Kenya Attack:
Ruhila Adatia-Sood One of 68 Dead After Terror Attack at Kenya's Westgate Mall
Mbugua Mwangi Dead: Nephew of Kenya's President Killed in Nairobi Mall Attacks
Kenya: Kristina Pratt, President Kenyatta's Sister, Escapes Nairobi Mall Attack
Juan Ortiz-Iruri, Peruvian Health Consultant, Killed in Nairobi Mall Attack
James Thomas, South African Consultant, Killed in Nairobi Mall Attack