Former Attorney General Michael Mukasey has called out CNN's Chris Cuomo over his coverage of special counsel Robert Mueller's investigation, accusing him of "misleading" his audience.
Mukasey, who appeared as a guest on Cuomo's show last week, defended Attorney General William Barr's handling of the release of the Mueller report, in particular, Barr's decision to rule that the special counsel did not provide sufficient evidence to support an obstruction-of-justice case against President Donald Trump.
Mueller had not reached a prosecutorial judgment on the allegation of obstruction of justice in his report, which prompted Barr to address the issue.
Cuomo argued that he didn't believe Barr should have made a decision on the obstruction of justice issues and instead should have left the decision to Congress on whether to "indict" Trump on an obstruction-of-justice offense.
Mukasey, who served as attorney general under President George W. Bush, told the television host that he disagreed and that it was Barr's job to decide whether to prosecute any alleged crimes, adding that "the Justice Department doesn't conduct investigations for the purpose of referring things to Congress."
"They conduct criminal investigations with two possible results. Either you charge or you don't charge," Mukasey said.
Former AG lays into Chris Cuomo:

Former Attorney General Michael Mukasey shuts down @ChrisCuomo on the "Mueller Report"

Mukasey:
"…you're misleading a lot of people…"#Cody45🐯pic.twitter.com/AsxKiyrLnv

— Cody (@buzzman888) April 29, 2019
Cuomo continued his argument, saying, "But what your friend did is not just by the book. He took it on himself to decide this rule. He didn't have to do that."
"Of course, he had to do it," Mukasey responded.
To which Cuomo responded: "Why?"
"Who was going to decide whether to indict or not?" Mukasey asked.
"Congress, as a political matter. Leave it to them," Cuomo said.
"They decide whether to impeach or not. They don't decide–," Mukasey pointed out.
"And Mike, you're skipping the big point, which you taught me about very early on," Cuomo continues.
"That is the big point," Mukasey replied.
"They can't indict him. That is the opinion from the OLC so there's nothing to decide on that level. It's purely political. It always would be," Cuomo said.
"Congress doesn't indict. Congress can impeach," Mukasey reiterated.
Cuomo then said he was using the word "indict" as "a metaphor," which prompted Mukasey to reply, "But you—you're misleading a lot of people."
"You have a big audience. Getting smaller by the minute now, but it's bigger," Mukasey added.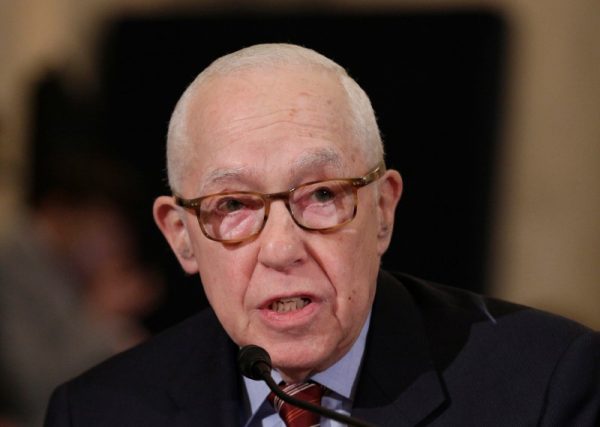 Later in the interview, Cuomo argued that Barr's initial letter was misleading, accusing the attorney general of protecting the president.
"That's why he did it. That's why he wrote the letter the way he did. That's why he gave the press conference the way he did. That's why he misled us to what that report would look like the way he did," Cuomo said.
In response, Mukasey fired back at the CNN host, saying, "That letter came at a time when, no criticism of you, but your network were devoting days of people sitting around and talking about a report that they didn't — whose content they didn't know, that they hadn't seen, in essence, panels of people sitting around a table inhaling their own exhaust and getting high on it."
"The country was in a state of absolute hysteria. You had a countdown clock in the corner of not one but several networks about the release of the report. He did the responsible thing," he added.
Mukasey said Barr's letter was not misleading as it accurately reflected the "bottom line of [Mueller's] report"—that there was no collusion between the Trump campaign and Russia, as well as, the special counsel could not indict but could not exonerate the president.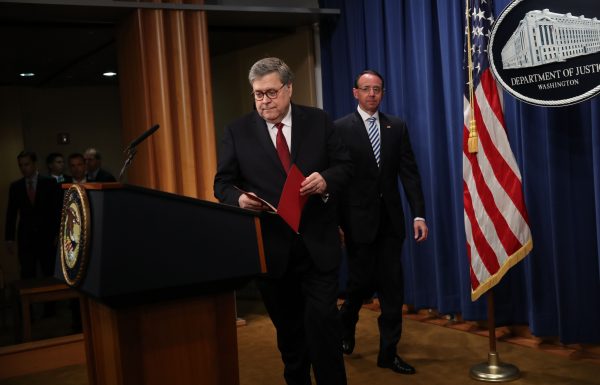 The Justice Department released a redacted version of Mueller's report on April 18. The nearly 500-page report details how the special counsel concluded that there was no collusion between the Trump campaign and Russia to influence the 2016 presidential election.
The report also found that the special counsel did not find enough evidence to substantiate that the president obstructed justice.
Democrats and the liberal media have repeatedly criticized Barr for supposedly protecting the president and accusing him of taking steps to spin Mueller's report.