Every time Jack Ross crosses the Polish border into Ukraine, he knows there is a high probability he could lose his life.
The British aid volunteer has travelled to the war-torn country eight times since Russia's invasion.
There, his aid vehicles have been attacked, his team shot at and, on many occasions, he has narrowly escaped ferocious shelling.
With the conflict now coming up on the 12-month mark, Ross says like many of his fellow aid workers, he is determined to keep going.
"When you come to Ukraine, you have to accept that you might die," the 24-year-old told The Epoch Times.
"If it happens, it happens. If it's my time, it's my time. But what I'm keen to do is just to try and help as many people as possible.
"I think life's very good in the United Kingdom. We take a lot of things for granted.
"When you come over here, and you see people in genuine need, people who literally have nothing, it's hard not to want to come to help."
The Portsmouth-born aid worker, who runs charity Vans without Borders, is one of dozens of Brits who have put their lives on the line to help deliver humanitarian aid since the conflict broke out almost a year ago.
To date, there have been no official figures on the number of aid worker casualties in Ukraine.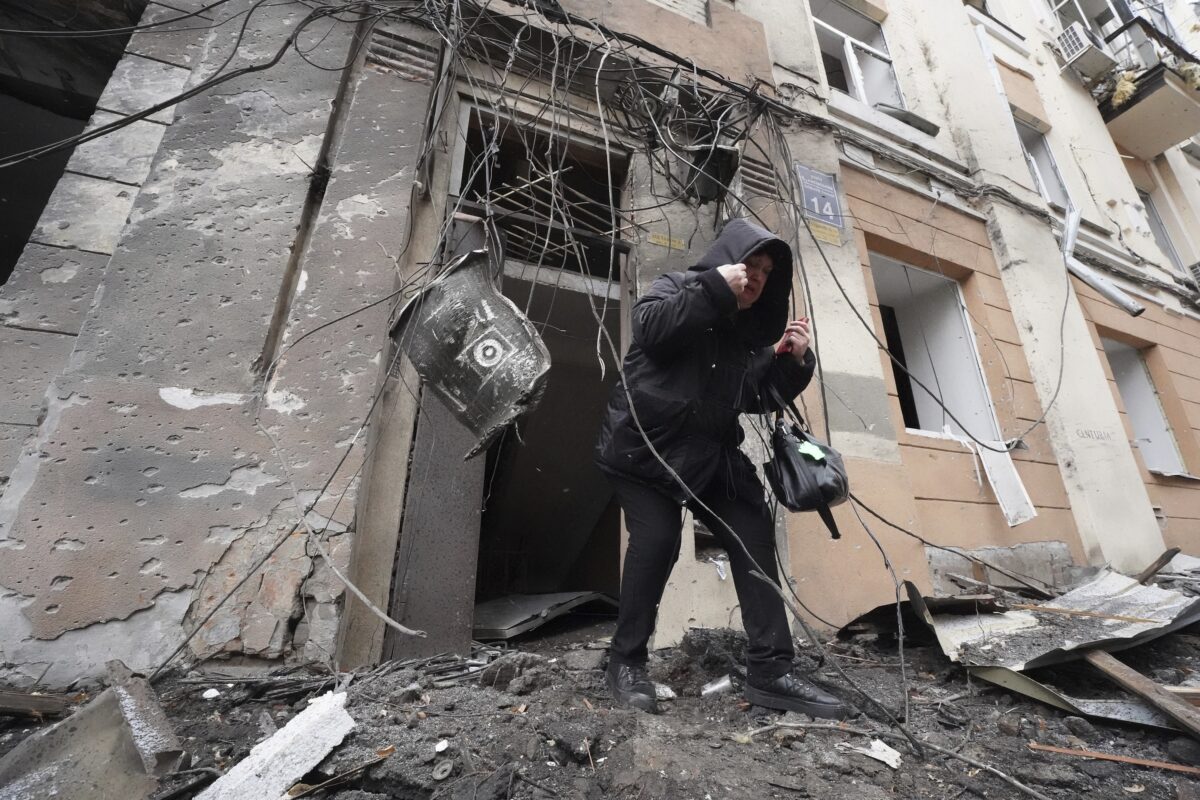 However, the most recent Aid Worker Security Report (pdf) said it expected deaths, injuries, and attacks "to rise significantly" owing to the war.
Last month, two British aid workers were confirmed dead after being reported missing in the east of Ukraine.
Chris Parry, 28, and colleague Andrew Bagshaw, 47, had travelled to Soledar to help with human evacuations when their vehicle was reportedly hit by a shell in January.
On Saturday, it was confirmed their bodies had now been handed over by the Russians as part of a prisoner of war exchange, according to Andriy Yermak, the head of the Office of the Ukrainian President.
Minimising the Risk
Ross had just arrived in the country on his latest aid mission when Parry's and Bagshaw's deaths were announced.
"We've had a few close shaves," he explained. "One of our guys only got shot at once, and that was by a Ukrainian checkpoint because he was driving after curfew. He was OK, van wasn't hit.
"When we were in Dnirpro we had a brick thrown at our van by who we think were Russian sympathisers.
"Again, in terms of shelling—constant. We've been in multiple areas where you can literally feel your teeth rattling. That's how close the explosions are."
He added: "We believe we were targeted when we went to the village of Mildura by Russians because we were helping the Ukrainian villages.
"Then people from a neighbouring village under Russian occupation came in started taking photos of us.
"Two minutes later shells started coming into the village and a rocket flew over the top of it and landed about a kilometre away. So we were quite lucky to get out of there."
Since starting the regular aid voyage six months ago, Ross said he has cut down the numbers in his aid team visiting Ukraine, mostly for safety reasons.
"The first time we came over, there was just three people," he told The Epoch Times. "The next time was 15 people. Next time, we had 15, [then] dropped down to 10. And now we work with a core of our six people."
Ross added: "What we've realised is, it's good to bring a lot of people over.
"But where everyone has a range of abilities, it's not safe to bring everyone to the areas we go to.
"So I can't in good conscience take someone who has no war zone experience […] to an area where a bomb could go off 100 metres from them.
"And they have a complete panic attack and breakdown because it puts them at danger and puts the team in danger because someone's going to have to go pick them up, throw him in a car, and drive.
"So we work with a very small team of people who've been doing this almost as long as me and try and just maximise our efforts over here."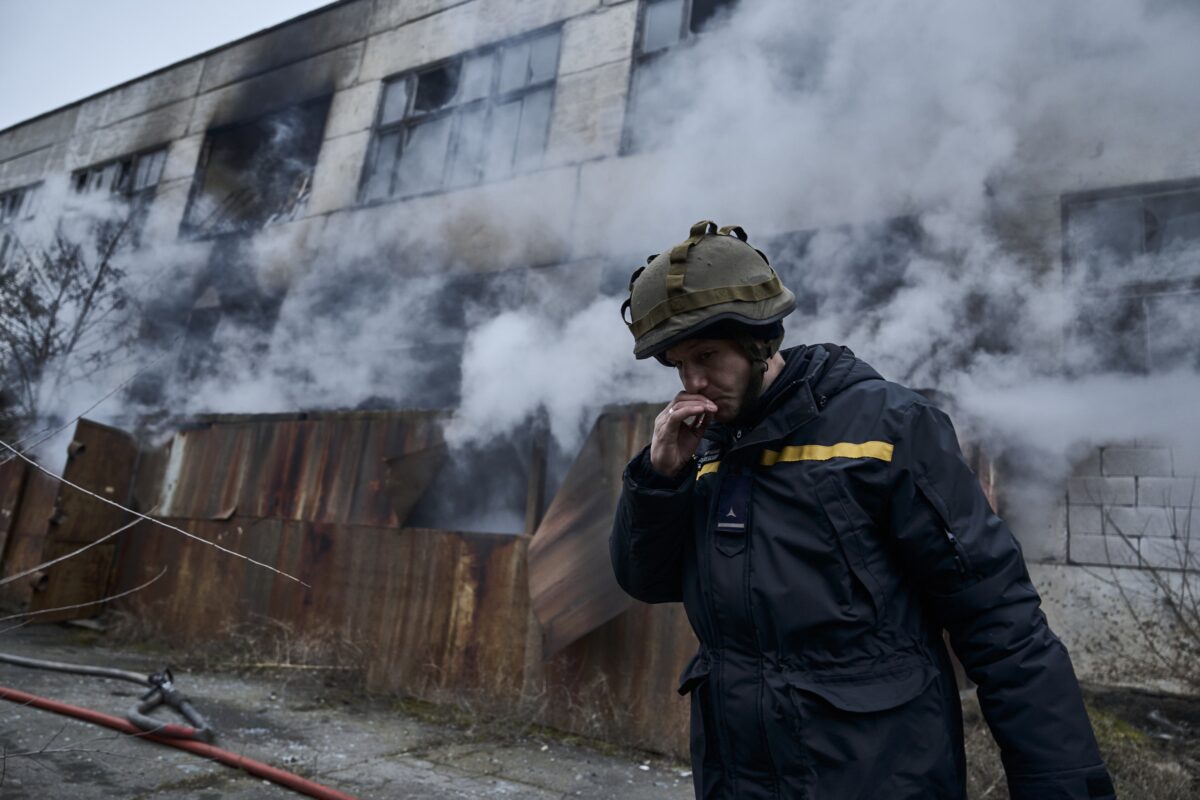 Foreign Fighters
Closer to the frontline there are the Britons who are helping Ukraine in a different way.
According to the country's Foreign Minister, Dmytro Kuleba, 20,000 people from 52 countries signed up to join the International Legion of Defence of Ukraine in the aftermath of the Russian invasion.
Many of those fighters are from the UK.
One of those is Bill—a pseudonym—whose identity cannot be revealed for security reasons.
In his 50s, he left his UK home in early January to make the crossing to the conflict zone to help with the military fight.
"Initially, it was an offer to go and help with humanitarian issues," Bill told The Epoch Times.
"And then as time went on I actually met individuals who were in the military [from] there.
"As you're there, you see what the Ukrainian people are suffering, you see the devastation. And you understand this is not going to go away."
Bill travelled to Ukraine with a number of people with previous military experience, also from the UK.
He said: "Individuals who had worked with security services in the United Kingdom, and others who would have expertise on ordinance or unexploded IEDs and things like that.
"I was there to train in surveillance techniques. And there were probably a number of classes with specialised units and military intelligence.
"The other one was actually how to actually identify and defuse homemade IEDs. And to show how simple they were to make.
"And I mean, these people … they're prepared to kill to take their country back."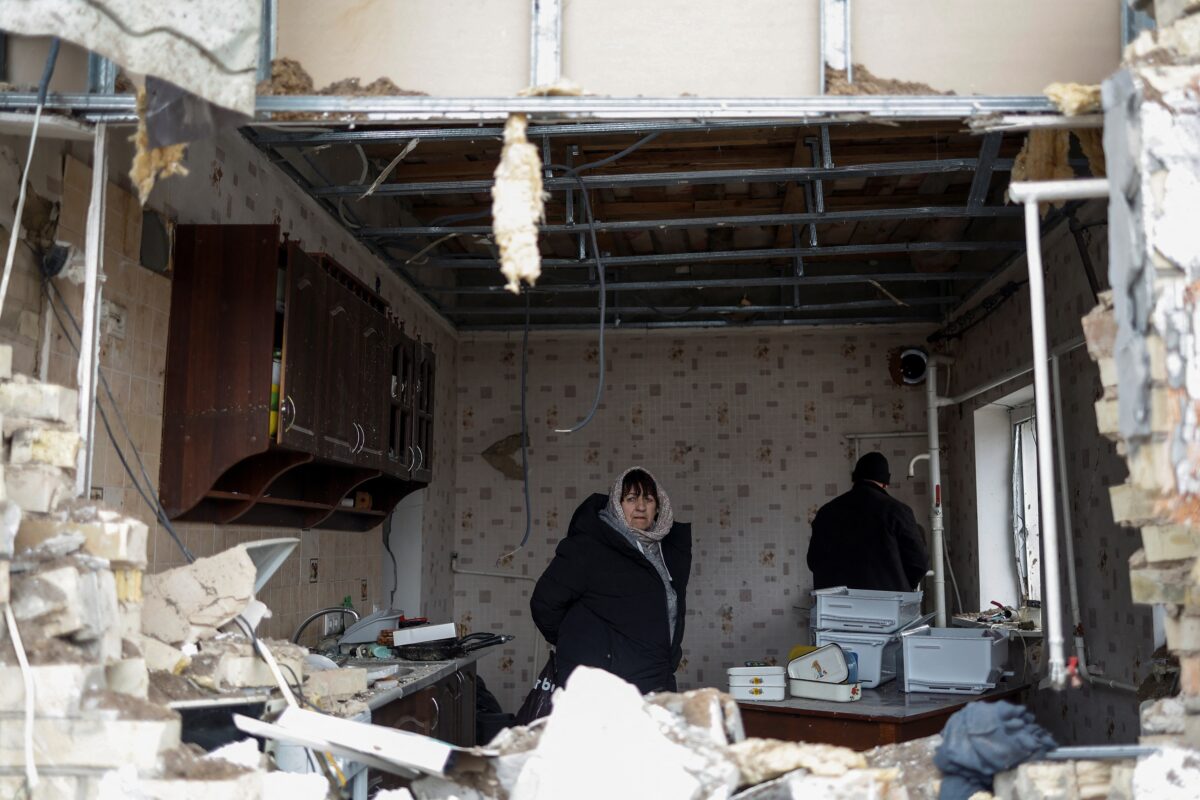 After spending three weeks training with Ukrainian forces, Bill travelled back to the UK, but intends to return in six weeks ahead of a suspected Russian offensive expected to take place to mark a year since the invasion.
On Sunday, Oleksiy Reznikov, Ukraine's defence minister, said that his country expected Russia's invading forces to launch a new offensive in the Donbas and southern areas where it currently occupies close to 20 percent of Ukrainian territory later this month.
Bill added: "Ukrainian forces have actually regained most of the ground that they had lost with the invasion, they have pushed the Russian forces right back almost to the initial border.
"But they are expecting a big counter defensive over maybe the next two or three weeks.
"So I will go back again, yes … probably within the next six weeks or so."
It is not clear how many fighters, including foreign troops, have been killed or injured since the war broke out on Feb. 24, 2022.
In November, Mykhailo Podolyak, an adviser to Ukrainian President Volodymyr Zelenskyy, said between 10,000 and 13,000 troops had died, according to the BBC.
Neither Ukraine nor Russia tend to release figures for casualties, and Podolyak's comments have not been confirmed by the Ukrainian military, according to the outlet.
In October, the most senior U.S. general, Mark Milley, said around 100,000 Russian and 100,000 Ukrainian soldiers had been killed or wounded since the start of the war.
Those figures have not been verified by either Ukraine or Russia.
As of Jan. 29, 2023, over 7,000 civilian deaths have been recorded in Ukraine, according to he Office of the United Nations High Commissioner for Human Rights (pdf). Of them, 438 were children.
PA Media contributed to this report.