YORBA LINDA, Calif.—The City of Yorba Linda is utilizing goat grazing to clear hillside weeds on land maintained by the city to remove plant fuel that can feed wildfires.
The goats will be clearing 22 acres surrounding Bryant Ranch, as part of a weed abatement project, from June 1 to mid-July.
"While there are many methods for abating weeds, many communities have grown to love using goat grazing as a natural method for removing fuels in hilly terrain that is too difficult for hand crews and machinery," City spokesman Geoff Spencer told The Epoch Times in an email. "A herd of goats can quickly eat their way through even the thickest vegetation growth. In many ways, these goats are professionals, but they are just doing what comes naturally—eating!"
The project is part of a pilot that launched in 2021 where the city used weed-eating goats to successfully clear dry brush from the city's West Bastanchury property. The program cost nearly $13,000 which included machinery, hand crews, and goats.
"We've targeted the Bryant Ranch area for this next phase of our pilot program because these sites fit the ideal mold for using goat grazing to clear weeds," Spencer said. "This beautiful corner of Yorba Linda is nestled in the hills of east Yorba Linda but is also a Fire hazard zone."
To kick the project off, residents are welcome to attend a "Goat Meet and Greet" at Bryant Ranch Park on June 1 at 2 p.m. This is a returning event to inform the community about the eco-friendly benefits of goats. Residents can expect to see goats, which will be available to pet.
Educators and a fire engine from Orange County will also be at the event to teach people how to protect their homes and neighborhoods from the dangers of wildfires.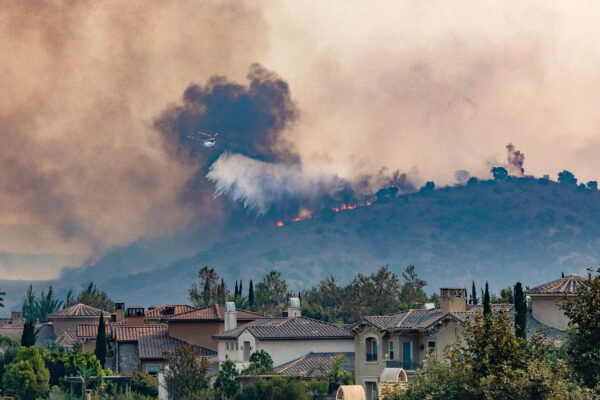 Homeowners adjacent to the property will receive notices of the goats' progress and informational postings will be in the in the area to announce the project.
The city is still in the process of confirming the goat-grazing contract with the desired private contractor, ELM. Shepherds and staff from ELM will be supervising and guiding the goats during the process.
The cities of Anaheim, Irvine, Laguna Beach, and Laguna Niguel have similarly used goat grazing for wildfire prevention efforts.