Xinjiang Man Breaks Tightrope Walking World Record
April 29, 2009 3:58 am Last Updated: October 1, 2015 9:51 pm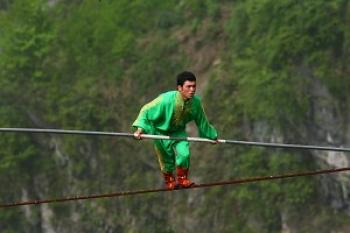 On April 25, 25-year-old Ugihur Samit Ijon broke the world record for completing the steepest long-distance dawaz, or tightrope walking. Dawaz is a traditional skill among the Xinjina Ugihur ethnic group. Samit has already set the Guinness World record for the longest time upside down on a tightrope and the longest distance walked backwards on a tightrope.
Samit, the seventh-generation successor of dawaz and the nephew of the Ugihur prince of dawaz, Adil Hoshur, successfully completed his extreme slope tightrope walk on Tianmen Mountain in Zhangjiajie. The tightrope he walked on was over 700 meters (2,296 feet) long, secured at an altitude of up to 440 meters (1,443 feet) with a slope of 39 degrees.
Samit's first attempt to walk between two summits on Tianmen Mountain on October 18, 2008 failed due to his lack of strength, slippery soles and a wobbly wire. During the first attempt, Samit fell and hanged to a wire 50 meters (164 feet) from the tightrope before being rescued by a crew.
After half a year of intense training, Samit attempted the walk again. To increase his chance of success, the aerial wire was secured more tightly to minimize sway and the balance cane was increased from 6 meters (19.6 feet) long to 7.6 meters (24.9 feet) long. Samit also wore boots made with thick rubber and a beady surface for more wear-resistance.
At 1:22 a.m. on April 25, Samit started his tightrope journey under the watch of thousands of audience members. Despite pacing at a speed slower than his first attempt, Samit had to make several pauses to recollect himself. At 2:29 a.m., Samit successfully completed the steepest-sloped long-distance dawaz.
Read original article in Chinese.