'Hostile Foreign Forces' Not to Blame for Xinjiang Riots, Say Critics
September 9, 2009 11:40 pm Last Updated: October 1, 2015 9:25 pm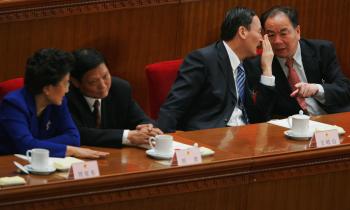 Chinese scholars and freelance writers are coming forward to criticize the Chinese regime for blaming the July riot in Xinjiang Province on outside influences. These critics say that Chinese government propaganda on the issue led to the mass demonstration of Han people in Urumqi. Many protesters asked Wang Lequan, the Communist Party secretary of the region, to step down.
The Beijing Cultural Palace of Nationalities is currently featuring a photo exhibition documenting the government crackdown of the July 5 Urumqi riot. The exhibition also includes a video applauding the government for keeping Urumqi under control, and blames hostile forces abroad for sparking the unrest. Most visitors to the exhibition are organized groups.
Peng Dingding, an economist in Beijing, believes that the exhibition will only serve to create more misunderstanding about the event.
"The public should be asking what the government was doing and what the Public Security Bureau was doing when this incident took place," Peng said during an interview with the Radio Free Asia. "The problem lies with local authorities. The mayor and the director of Urumqi Public Security Bureau should be removed from office for not taking effective preventive measures. When the incident first erupted, the police were initially deployed to protect the regional Communist Party and government buildings, instead of first addressing the serious violence in the streets."
The recent mass demonstration of the Han people on Sept. 4 in Urumqi did not target Rebiya Kadeer, leader of German-based World Uyghur Congress, but Wang Lequan, the top leader in Xinjiang. But Peng says local Han were already exhibiting a lack of faith in the government two months earlier.
"In fact, the signal was sent out as early as July 6 and 7 when the Han people carried sticks to protect themselves on the streets. The sticks represent the public's lack of confidence in the government," he said.
"The public can clearly sense the authorities' inability to control the situation after the July 5 incident," said Yang Hengjun, a well-known Internet writer. "They are still angry with Wang's slow reaction. If authorities don't hold Wang accountable, the public will."
It was reported that the authorities had tightened their information blockade in Xinjiang after July 5, restricting telephone and Internet communication, as well as media coverage.
Analysts believe these strict controls caused a panic as the public felt as if they had no channel to receive or respond to information on the event. Since the public had no outlet to vent their dissatisfaction with authorities, they eventually took to the streets to demonstrate.
"So many people participated in the demonstration because information is so strictly controlled. People need to vent in some way," Yang said.
Woeser, a well-known Tibetan writer, believes that the current situation in Xinjiang presents complex issues, "It might get better if central authorities moved Wang out of Xinjiang," she suggested. "However, the long-term solution should be one which enhances dialogue on the issue and adjusts ethnic policy."