As a local CCP virus outbreak in Urumqi, capital of China's far-western region of Xinjiang, continued to spread, authorities scrambled to locate the source.
Locals started panic-buying and cleared supermarket shelves as authorities gave little information while enacting travel restrictions and lockdowns of residential areas.
Authorities announced more COVID-19 patients and asymptomatic carriers on July 20.
Meanwhile, 10 medical teams from 10 provinces arrived in Urumqi to assist in conducting nucleic acid tests on certain city residents.
On Sunday, authorities upgraded two districts in Urumqi—Tianshan and Saybag—into "high-risk areas," meaning there is a possibility of contracting the CCP virus if people travel there. Three other districts—Toutunhe, Xinshi, and Shuimogou—were designated "medium-risk areas."
Source
The Xinjiang-government-operated newspaper Xinjiang Daily reported on Sunday that China's  State Council sent three working teams to Urumqi on July 18 to investigate the source of the outbreak.
On Monday, authorities confirmed that a patient who was diagnosed in Kashgar city in southern Xinjiang was infected with the virus while she was in Urumqi.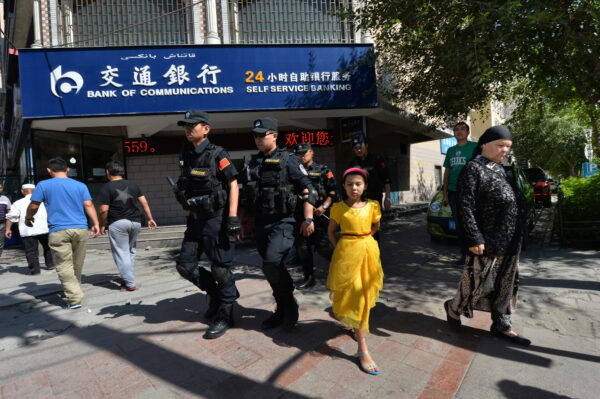 Meanwhile, authorities emphasized that all patients and asymptomatic carriers did not visit other countries in recent months. Xinjiang police also detained a local woman who spread information contradicting the official announcement.
Officials were unable to confirm the source of the virus outbreak, but claimed that the first diagnosed patient was a 24-year-old woman who works for a shopping center at Zhongquan Square in Tianshan district. Authorities said the woman was treated at a local hospital on July 10 after exhibiting symptoms, including a sore throat.
A manager at an Urumqi theater told The Epoch Times that a wedding ceremony attended by about a thousand guests was likely the ground zero of this outbreak.
"The epidemic started from Erdaoqiao. Now, this neighborhood is fully locked down," the manager at Theater of Delicious Foods, Songs, and Dances in Urumqi said on the phone.
The theater is located on the fourth floor of Erdaoqiao Bazaar, a mall. Erdaoqiao is a Muslim business area in Tianshan district. Businesspeople from different cities in Xinjiang as well as Central Asia trade there.
According to the manager, the patient zero was a guest who attended a Muslim wedding held at the theater on July 5. The married couple are Uyghur Muslims whose families operate a business in other Chinese provinces. The wedding guests came from different regions of China, he said.
The Epoch Times could not independently verify the information, but other sources indicated that the theater was being considered a potential ground zero.
On July 16, insiders from Urumqi sent a neighborhood notification to The Epoch Times, in which authorities notified a residential area that anyone who had visited the Erdaoqiao theater, as well as the nearby MGM bar and Bahtiya Ballroom on July 5; those who attended wedding ceremonies in Tianshan, Saybag, and Shuimogou districts; or had visited Kashgar and Ili cities must report themselves to local governments and take nucleic acid tests at hospitals.
The notification said two symptomatic carriers were found at the Erdaoqiao theater and Bahtiya Ballroom. School students should avoid going to Urumqi, the notice added.
Meanwhile, Director of the Urumqi Center for Disease Control and Prevention Rui Baoling said at a July 18 press conference that the outbreak started at a get-together, but did not provide further details.
Some Chinese netizens posted on several social media platforms that the patient zero guest was an asymptomatic carrier from Beijing, but The Epoch Times also could not independently verify this information.
Underreporting
Urumqi announced the 24-year-old woman's case on July 16. This was the first time the public was informed of a new outbreak in Xinjiang.
That day, Zhejiang Province, all the way on the eastern coast of China, also announced an infection, a man who arrived in the province on July 10 from Urumqi. The man received a notification from Xinjiang authorities on July 14, in which he was required to take a nucleic acid test, according to the announcement. He then took a test in Zhejiang on July 15 and was confirmed to be an asymptomatic carrier that day.
Chinese authorities typically require a person to do testing if he is considered a close contact or had recently visited an area designated as "high-risk." Given the man's mandated testing, Urumqi authorities were likely aware of a local outbreak at least on July 14, but did not announce information until July 16.
On July 16, doctors at the Xinjiang Infection Hospital—a facility in Urumqi designated to treat COVID-19 patients—told The Epoch Times that they were not allowed to leave the hospital and that many patients were being treated there.
Fearing repercussions for talking to the media, the doctors refused to provide further details, but said that people with other diseases should avoid visiting hospitals in Urumqi.
On July 16, Urumqi enacted some lockdown measures, with authorities stopping metro and bus services, and canceling most of flights.
On July 17, the neighboring Changji city also stopped all their bus services, though local authorities did not announce any infections there.
On July 18, Urumqi, a city of 3.55 million, declared a "wartime state" to control the spread of the virus.