SHANGHAI/SEOUL—North Korean leader Kim Jong Un visited China from Sunday to Wednesday on an unofficial visit, China's state news agency Xinhua reported on Wednesday.
The visit was Kim's first known journey abroad since he assumed power in 2011 and is believed by analysts to serve as preparation for upcoming summits with South Korea and the United States.
Beijing has traditionally been the closest ally of secretive and isolated North Korea, but ties have been frayed by China's recent backing of tough U.N. sanctions in response to North Korea's nuclear threats.
Xinhua published a photograph of Kim and Xi shaking hands in front of the flags of the two nations.
Speculation about a possible visit by Kim to Beijing was rife earlier this week after a train similar to the one used previously by Kim's father to visit the Chinese capital, along with heavy security and a large motorcade.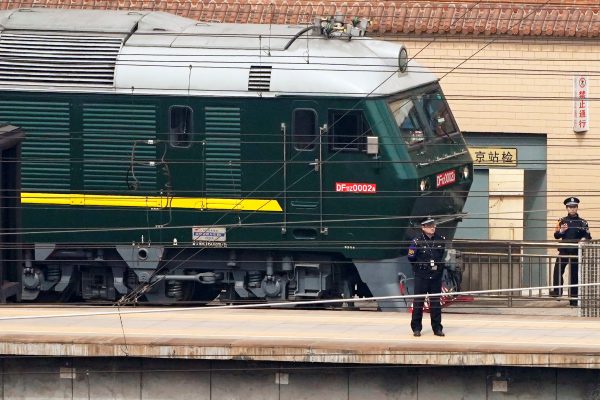 South Korea's Yonhap news agency reported that Kim visited China from Sunday to Wednesday with his wife, Ri Sol Ju. It cited North Korea without elaborating.
Xi had accepted an invitation from Kim to visit North Korea, Yonhap said.
Discussions between North Korea and China could be a positive sign before planned summits involving the two Koreas and the United States, a senior South Korean official said on Tuesday.
Kim Jong Un's father, Kim Jong Il, met then-president Jiang Zemin in China in 2000 before a summit between the two Koreas in June that year. That visit was seen at the time as reaffirmation of close ties between the Kim regime and Jiang Zemin's China.
North Korea would not exist as it does today without the technology transfers, diplomatic protection, and money that the People's Republic of China has given to the Kim dictatorship for decades. https://t.co/lD0raaHLI4

— Marion Smith (@smithmarion) March 27, 2018
The excited press chatter surrounding #KimJongUn's "mysterious" visit to #Beijing belies a certain ignorance about the longstanding patronage of #NorthKorea by #China. https://t.co/zSfB3t7va9

— Marion Smith (@smithmarion) March 27, 2018
Recommended Video:
U.S. Imposes More North Korea Sanctions