Chinese residents in Xi'an city continue to seek outside help since China's anti-COIVD-19 policy staged a stringent lockdown, causing food scarcity for more than twenty days.
According to a Jan. 11 report in the state-run China Youth Daily, 62-year-old decoration worker Liang Yanping from Hubei and his workmates, after the sudden lockdown in Xi'an, were isolated in an unfinished house without heating, a stove, or any furniture. They survived three weeks of freezing during the coldest time of the year on only three boxes of instant noodles. The report commended the workers for being the "loveliest people" who did not cause any trouble for Xi'an, and only asked for a meal at the New Year festival.
The report also indirectly confirmed the difficulty of accessing medical treatment during the lockdown through another citizen's inability to go to the hospital for a sudden bone dislocation.
The Washington Post reported on Jan. 5 that a bleeding pregnant woman sat at the entrance of Xi'an Gaoxin Hospital waiting for medical treatment and finally miscarried because she did not receive timely treatment.
Ms. Le, a resident in Yangjiacun community of Yanta district in Xi'an city, told Chinese-language Epoch Times, "we can never see [vegetable delivery by the authorities] … we were given a phone number of a vegetable deliverer, but "it [the phone] was always turned off and didn't get through."
According to Le, her living community compound, after the lockdown, was only left with a QR code for a group chat and a "just for show" volunteer.
The officials are "only responsible for power, not for people," Le said. People outside of China "need to see the real life of ordinary people in Xi'an, and not be confused by the illusion shown by the authorities."
On Jan. 9, a Weibo (China's version of Twitter) account named Du Weilong posted that she lives in the Xi'an high-tech Gaoxin zone and had been locked at home for almost 20 days, not allowed to go out except to do nucleic acid tests.
"I only received vegetables once, 2 potatoes, 2 onions, one cabbage, and two white radishes" during the period and did not receive any other food so far.
"What do we eat? Are we going to be starved to death at home?"
Du questioned the authorities' propaganda about vegetables being dispatched to Xi'an from other cities of the country, saying "why can't we, the people, receive them?" She also said that everyone in her family has suffered, "it's everyone who is starving."
Du hoped that through help on social media they could get food and "not die of hunger at home."
Although Du's post was quickly censored, an Epoch Times reporter kept a screenshot of her post.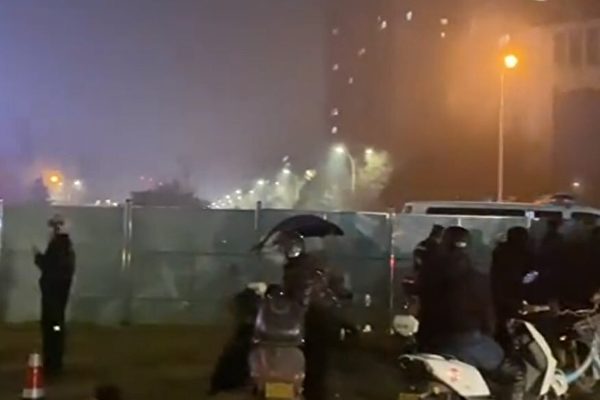 Mr. Chen, a resident of Xianyang city 31 kilometers (19 miles) from Xi'an, told the Chinese-language Epoch Times on Jan. 10 that a few days before, when he finished work and was heading home in the evening, he suddenly found his way home cut off by a tin fence erected built on Wangxian road, bordering the east of Weicheng district.
On the other side, a few hundred meters away, the defense and control officers had also set up a barrier, and those who had come out from that side were also blocked from entering or leaving.
Chen said he and more than 200 people were trapped in a nearly one-kilometer encirclement of the two borders of "an emergency blockade."
When they tried to explain that they were out to get 48-hour nucleic acid certificates and just wanted to go home for a hot meal, all they got was silence from the security officers across the fence.
In addition to the residents who could not go home, there was an ambulance and a truck with a banner reading "fight the epidemic, protect people's livelihood, overcome the difficulties together." Chen said it was "very ironic."
The crowd waited anxiously in the cold evening of 4°C (39.2 Fahrenheit) for 10 hours until 3 a.m. until they reached an agreement with epidemic prevention officers that they could finally go home, but from then on, they had to stay at home and not come out again.