WWE Smackdown returns on February 28, with a host of matches following Elimination Chamber 2014. There are spoilers involved in this article.
The event will begin at 8 p.m. ET on WWE Network and SyFy.
Batista vs Dolph Ziggler
Batista is looking to gain momentum ahead of his match with Randy Orton at Wrestlemania XXX, especially after a loss to Del Rio on Monday's Raw. It's also his first time wrestling at Smackdownf or years. Ziggler asks via WWE.com "What will the No. 1 contender to the WWE World Heavyweight Championship have to say to the WWE Universe?"
Spoiler: Batista wins
The Usos and Daniel Bryan vs The New Age Outlaws and Kane
The Usos are looking to keep convincing people that they deserve another title shot while Bryan has beef with Kane and the Outlaws. The Usos won over Road Dogg and Billy Gunn at Raw, but only through an ambush. 
Spoiler: The Usos win
Big E and Mark Henry vs The Real Americans
Cesaro is coming off a match at NXT Arrival where he beat Sami Zayn, and a loss at the six-way bout at Elimination Chamber. His partner Jack Swagger interrupted his match with Big E on Monday's Raw, seeming to need to outshine his own partner.
The pair they're forcing are formidable. 
Spoiler: The Real Americans win
Cameron vs AJ Lee
These two just fought at Elimination Chamber, with Lee retaining her champion belt. Storylines leading up to Wrestlemania could be introduced here.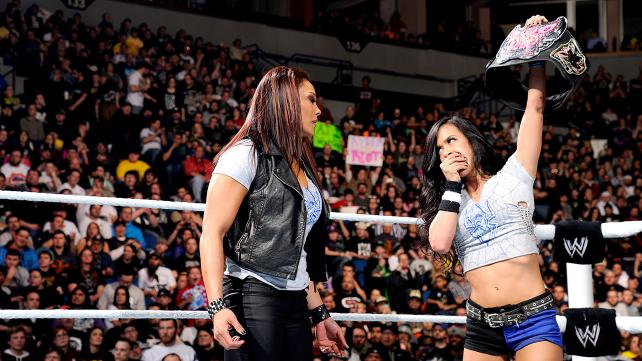 Spoiler: Lee wins
Sheamus vs Alberto Del Rio
These two battled in 2012 for the world title for much of the year. Del Rio just beat Batista and Sheamus just beat Christian.
Neither wrestler is set up with an opponent for Wrestlemania, so they're looking to gather momentum to make it into the big event.
Spoiler: Sheamus wins