Worst US Airline of 14 Leading Airlines: United
April 9, 2013 9:09 am Last Updated: April 9, 2013 6:19 pm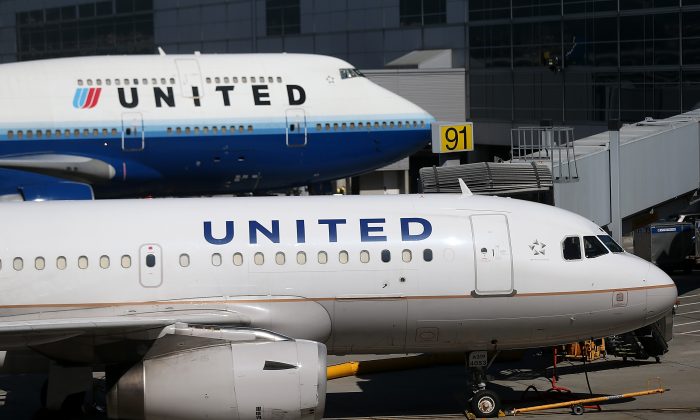 Worst US airline: An annual report on airline quality named United the worst out of America's 14 leading airlines in 2012.
United airline was named the worst out of the top 14 U.S. airlines, and Virgin America was named the best, in an airline quality report released April 8.
Wichita State University and Purdue University have been evaluating airlines annually since 1991 based on several factors, including on-time arrivals, involuntary denied boardings, mishandled baggage, and a combination of 12 customer complaint categories.
United had the most customer complaints, with 4.24 per 100,000 passengers. Complaints increased across the industry as a whole compared to 2011 data. Most complaints were for flight problems, followed by problems with reservations, ticketing and boarding, and customer service.
Annie and Perry Klebahn filed a particularly high-profile complaint against United last summer. They sent their 10-year-old daughter, Phoebe, off as an unaccompanied minor on a United flight from San Francisco to Traverse City, Mich. with a layover in Chicago. She was going to summer camp.
The airline lost the child. The Klebahns spent hours on the phone with customer service representatives in India. Airline staff had ignored the child's reminders that she had a connecting flight to catch and her requests to call her parents as she sat for hours in the Chicago airport.
The Klebahns wrote in their complaint letter to the airline, posted on USA Today's travel webpage: "We have never in all our collective years had such an unbelievably terrible customer service experience—not ever. We estimate that we spent around 18 hours collectively on the phones, on hold, trying to track down Phoebe, her bags, and our peace of mind."
"We have flown Untied for 40 years, my husband is a Premier member and flies all over the world with United, we have a United credit card, and we were very loyal United followers," Annie Klebahn wrote. 
Phoebe made it to camp late at night, albeit without her luggage. At the time the Klebahn's filed a complaint, two weeks after the incident, they had not received an apology from the airline. 
United was ranked 12th the previous year, dropping two places in the 2013 report. ExpressJet is rated the second worst airline.
American Eagle was named the worst in last year's report, but has shown the greatest improvements of all airlines, though it still had the worst baggage handling rate (5.80 mishandled bags per 1,000 passengers). It now ranks 11th.
Virgin American, the overall best airline, had the best baggage handling rate (0.87 mishandled bags per 1,000 passengers).
JetBlue came in second place overall. JetBlue and Virgin American had the lowest number of involuntary denied boardings.
Dean Headley, associate professor of marketing at Wichita State University, said that as more people choose to fly, the infrastructure and capabilities of airlines may simply be unable to accommodate.
"When you look at the past 13 years, you find that the airline industry performs most efficiently when the system isn't stressed by high passenger volume and high number of airplanes in the air," Headley said, according to a university press release. "Every time there are more planes in the sky and more people flying, airline performance suffers."