He is known to the Uyghurs, Falun Gong practitioners, and other oppressed minorities in China for his battle against the regime's human rights violations and courageous investigations into brutal organ harvesting.
David Matas, a Canadian lawyer and human rights defender, has become the first to be awarded the Global Humanitarian Leader of the Year award by the human rights group Canadians in Support of Refugees in Dire Need (CSRDN).
The CSRDN works with the Canadian government to bring relief internationally and provide an opportunity for a new life to those in desperate need. This award is given to individuals or organizations for distinguished contributions in promoting the values of integrity, equality, and respect for international law.
"We want to recognize David's tremendous contributions to saving lives and justice by speaking out against the horrific crimes of forced organ harvesting in China. Killing people for their organs is a most cruel and barbaric practice and must be stopped," CSRDN co-chair Dr. Aliya Khan 
said in a press release
 on Jan. 6.
In his effort to end this brutality in China, Matas co-founded the
International Coalition to End Transplant Abuse in China
, a not-for-profit company that consists of lawyers, academics, ethicists, medical professionals, researchers, and human rights advocates who are dedicated to the cause.
Organ Harvesting in China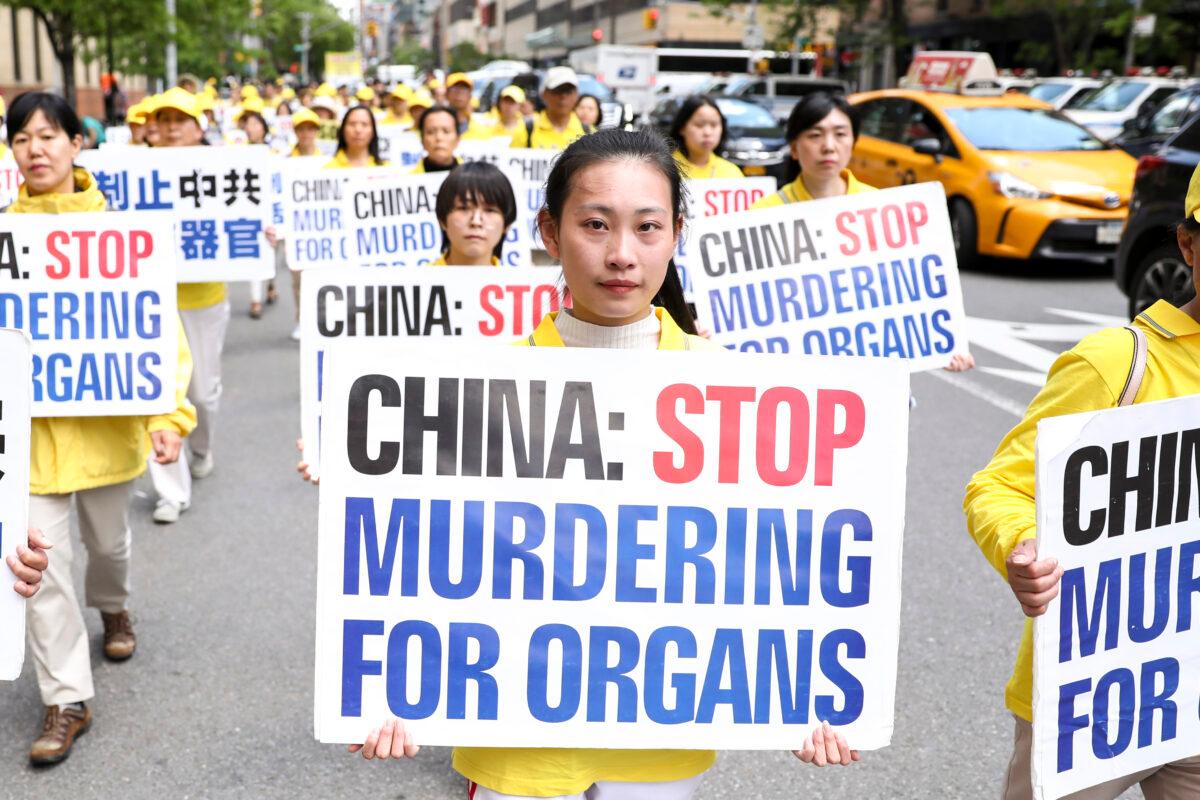 Matas, along with former Edmonton MP David Kilgour, were jointly nominated for the 2010 Noble Peace Prize for their investigation of the Chinese regime's persecution and forced organ harvesting of practitioners of Falun Gong, a type of spiritual cultivation from the Buddhist tradition.
"I value the award because it gets publicity to the issues that I am concerned about and it also give credibility to the positions that I've taken," Matas told The Epoch Times.
The Matas-Kilgour report was later published in the 2009 book "Bloody Harvest: The Killing of Falun Gong for Their Organs" 
(pdf
).
"The government of China and its agencies in numerous parts of the country, in particular hospitals but also detention centres and 'people's courts,' since 1999 have put to death a large but unknown number of Falun Gong prisoners of conscience. Their vital organs, including kidneys, livers, corneas and hearts, were seized involuntarily for sale at high prices, sometimes to foreigners, who normally face long waits for voluntary donations of such organs in their home countries," the report wrote.
The Evolution of Atrocity: From Falun Gong to Uyghurs
Today, fifteen years after the report was released, the Chinese Communist Party (CCP) has continued and even accelerated such acts, Matas says.

"It's accelerating because the transplant capacity in China keeps on increasing, and with a real obvious increasing [in] alternative resources besides prisoners of conscience," Matas said.

He said that although the CCP still uses Falun Gong practitioners for organ harvesting on a mass scale, the population of the group has "depleted" over time and the CCP has been looking for additional sources, such as the Uyghur population.
The organ harvesting industry in China has developed more sophisticated technologies and supply chains for distributing the extracted organs.
"In 2006, there wasn't an organ distribution system nationally, and everything, all organs are being sourced locally. That really made the Uyghurs who are in Xinjiang not that easily accessible," Matas said.
"There's also a development in transplant technology. Organs can last longer outside the body today than they used to. So organ harvested today in Xinjiang can be shipped around in China."
The Magnitsky Act, a Global Human Rights Effort
The
Global Magnitsky Human Rights Accountability Act
, a bipartisan bill that expanded on the Sergei Magnitsky Rule of Law Accountability Act of 2012, has been used to address human rights violations around the world. Sanctioned offenders can be banned from entering the United States and their assets can be frozen.
On July 9, 2020, the
United States sanctioned
one Chinese government entity and four current or former government officials who are reported to have committed serious rights abuses against ethnic Muslims in the Xinjiang Uyghur Autonomous Region.
Huang Yuanxiong, a police chief at the Wucun police station in Xiamen city, Fujian Province, who interrogated and abused Falun Gong practitioners, was also named as a human rights offender in a 
list of offending officials
 released by the U.S. State Department on Dec. 10, 2020.
Canada also enacted its version of the Magnitsky Act in 2017, but it has not been used to address any human rights issues in China.
Matas said the use of this legislation is an encouragement for victimized communities and can show that the Canadian government cares about what is happening to them.
"Identifying perpetrators is a step towards bringing them to justice. Once named, they cannot be unnamed. Naming under the Magnitsky legislation is a signal that justice awaits the perpetrators, whether it comes sooner or later," he said.
"Naming disincentives the crime. Others will think twice to avoid their also being named. Not naming has the opposite effect, giving perpetrators a free ride, telling them that mass criminality has no adverse consequences. That is not a message we should want to give."
Countries and international entities are joining the cause with similar precautionary legislations. The
European Union
passed the "Global Magnitsky Human Rights Sanctions Regime" on Dec. 7, 2020.
Australia
and the
United Kingdom
have also introduced similar Magnitsky-styled bill or legislation.
Although the Magnitsky Act listing has not yet been used against offenders of organ harvesting, similar precautionary legislation has been developed in a number of countries, such as Taiwan's
Human Organ Transplant Act
, all of which would discourage atrocities.
"I would encourage people to get informed, get involved," Matas concluded.