Attempting to further sequester Russia's economy U.S. President Joe Biden announced on March 8 the ban of all
 Russian oil
 imports as part of a multi-faceted response to the eastern nation's military invasion of Ukraine.
While strict sanctions on Russian exports remain a cornerstone of Western efforts to stop President Vladimir Putin's attack, it comes with a hefty price tag already felt by global consumers.
US oil prices have risen more than 30 percent since Russia began its war in Ukraine on Feb. 24, hitting their 
highest price 
since 2008 this week at $130 per barrel due to shortage fears, sanctions against Moscow, and looming uncertainties of the role of Iranian crude in future energy markets.
Projections from analysts at Rystad Energy say oil prices could climb as high as $200 per barrel this year based on the elimination of 4 million barrels per day of Russian crude due to Western sanctions.
Economist Roman Sheremeta told The Epoch Times that countries heavily dependent on energy price stability and imports are poised to be hit the worst in the months ahead.
Regarding the historic decision, a White House press release
stated
, "The United States is able to take this step because of our strong domestic energy infrastructure and we recognize that not all of our Allies and partners are currently in a position to join us.
"But we are united with our Allies and partners in working together to reduce our collective dependence on Russian energy and keep the pressure mounting on Putin, while at the same taking active steps to limit impacts on global energy markets and protect our own economies."
Within hours of Biden's announcement, the United Kingdom (UK) declared solidarity with the United States on the Russian oil ban.
Business secretary for the UK Kwasi Kwarteng 
said
 the plan was to phase out Russia's resource imports by the end of the year.
European Union officials aligned their energy interests with the United States and the UK and said they plan to cut the region's dependence on Russian gas imports by two-thirds in the span of a year.
Supply And Demand
Russia is one of the world's top oil producers, creating 10.5 million barrels per day as of 2020, which accounts for roughly 11 percent of the world's production.

The United States remains the world's primary 

oil generator

, producing over 18 million barrels per day, but it's also the largest consumer of the resource, using nearly 21 million barrels on a daily basis.

Petroleum imports from Russia constitute only 7 percent of the total U.S. demand.

A representative from the Chevron Corporation told The Epoch Times, "Our [U.S.] commercial exposure to Russian energy products is limited and we are in the process of evaluating existing supply agreements."

Both Chevron and Exxon Mobil are boosting their production at the mammoth Permian Basin field in West Texas and New Mexico. Yet officials have warned this isn't an overnight solution to the surge in prices consumers are seeing at the pump.
Canada is the United States' largest supplier of imported petroleum, representing
 52 percent 
of the total amount.
President of the Explorers and Producers Association of Canada, Tristan Goodman, said there's a possibility of increasing resource exports through established pipeline networks or sending crude by railway, but emphasized there are limitations.
"There's an immediate ability to add some degree of production, and I do mean immediate—weeks to months. It will be a small amount, but it will be noticeable," Goodman said.
He explained Canada could realistically supply an extra 400,000 barrels per day.
Goodman clarified, "Can we help? Yes. Will it be the silver bullet to replace the entire production of Russian crude going into the United States? No."
An Economic Shock Wave
While Russia's gas and oil imports to the United States are marginal, relatively speaking, European countries receive 45 percent of their natural gas from Moscow, amounting to 155 billion cubic meters in 2021.

"I think Europe is going to be in for a shock," Sheremeta said.

He added that manufacturing-heavy nations like the United States will suffer a substantially lighter economic blow than those with smaller industrial sectors.

"Things will be ok [in the United States] but not so much in other countries."

Anticipating inflated energy costs, on March 3 the International Energy Agency (IEA) of Europe 

unveiled

 a 10-step plan to reduce reliance on Russian gas imports.

"Nobody is under any illusions anymore. Russia's use of its natural gas resources as an economic and political weapon shows Europe needs to act quickly to be ready to face considerable uncertainty over Russian gas supplies next winter," IEA executive director Fatih Birol said.

The IEA plan to shift Europe's energy dependence away from Russia focuses on gradual reduction while transitioning into renewable energy initiatives.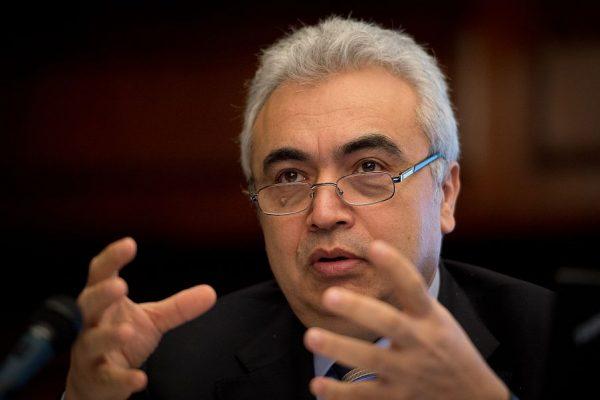 The UK is less reliant on Moscow imports than Europe, but Russian oil still accounts for 8 percent of the country's energy imports, according to government estimates.
Discussion of scaling back Russian gas is also on the table for Britain as the nation seeks to increase oil imports from Norway to help fill the gap.
Meanwhile, some Latin American countries are already feeling the pinch from the ban on Russian oil.
Gas prices in Argentina are projected to increase by 20 percent for residential users, which is a critical blow to a country already dealing with record-high inflation and existing economic challenges.
The former head of the United Nations Economic Commission for Latin America and the Caribbean, Isaac Cohen, explained that skyrocketing oil prices will have a drastic impact—both positive and negative—on the region.
"Countries that produce oil and those that do not: for those that do not produce it—such as the Central American countries, some Caribbean countries, and for some South Americans—the blow will be very hard because this means that the oil bill will become more expensive and more foreign currency will have to be used to pay," Cohen explained.
However, Latin American countries like Brazil, Mexico, Venezuela, Ecuador, Colombia, and Bolivia, produce and export oil and stand to benefit from the inflated market prices.