Ukrainian troops are being trained on UK soil to use British armoured vehicles, UK Prime Minister Boris Johnson has confirmed.
"I can say that we're currently training Ukrainians in Poland in the use of the anti-aircraft defences and actually in this country [the UK] in the use of the armoured vehicles," he said on Thursday to reporters travelling with him in India.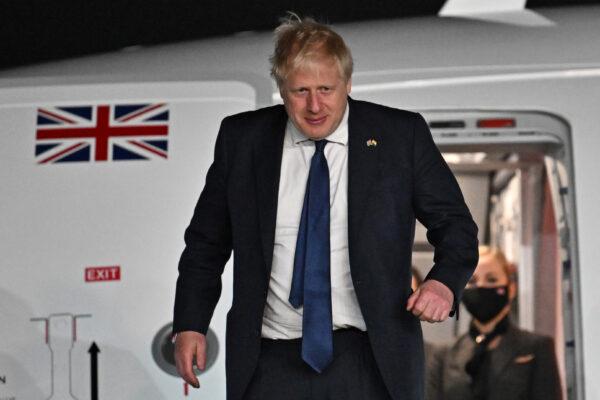 Johnson's press secretary said "a couple of dozen" Ukrainian soldiers are currently in the UK for training.
"We are moving in conjunction with our allies providing new types of equipment that perhaps the Ukrainians wouldn't have had previous experience on. So it's only sensible that they get the requisite training to get the best use of it," said the prime minister's official spokesman.
The spokesman downplayed concerns the move could be seen as escalatory by Russian President Vladimir Putin.
"We're always conscious of anything that's perceived to be escalatory but clearly what's escalatory is the actions of Putin and his regime," he said. "We're simply working together with our allies to give Ukraine the tools to defend themselves."
Also on Thursday, UK Defence Secretary Ben Wallace said the UK is helping Ukrainians develop new capabilities with NATO weaponry.
Speaking during a visit to The Hague for the Invictus Games, Wallace told reporters: "The Ukrainians need, first and foremost, they need long-range artillery and artillery shells.
"They use currently Russian Soviet stocks and the calibres are different from what the West holds, so not only are we trying to help them source those calibres so that they can immediately be used, but at the same time helping them explore developing new capabilities with what would be called NATO calibres so that if they choose to shift to that we can all help them with supply."
The UK on Thursday announced new sanctions against Putin's "war leaders," who Foreign Secretary Liz Truss said had "Ukrainian blood on their hands."
The "key leaders in Russia's army" targeted as part of the new wave of sanctions include Lt. Colonel Azatbek Omurbekov, a commanding officer with involvement in the alleged Bucha massacre, the Foreign Office said.
He has been dubbed the "Butcher of Bucha," as his unit occupied the Ukrainian city where they have been reports of war crimes, with the death toll reaching almost 350, it added.
Also sanctioned by the UK are Colonel General Andrey Serdyukov, commander of airborne forces; Major General Valery Flyustikov, commander of special operations forces; and Colonel General Nikolay Bogdanovsky, first deputy chief of the general staff.
PA Media contributed to this report.