A swan attacked and killed a dog in a park in Dublin, Ireland, after it went for a swim in a duck pond.
The Irish Times reported that a swan broke away from a group of cygnets and adults when the cocker spaniel got too close as it swam through the lake at Bushy Park on June 29.
According to witnesses cited by the paper, the dog was killed with just a few blows from the swan's wings.
One witness told The Times that they started to scream at the swan to distract it.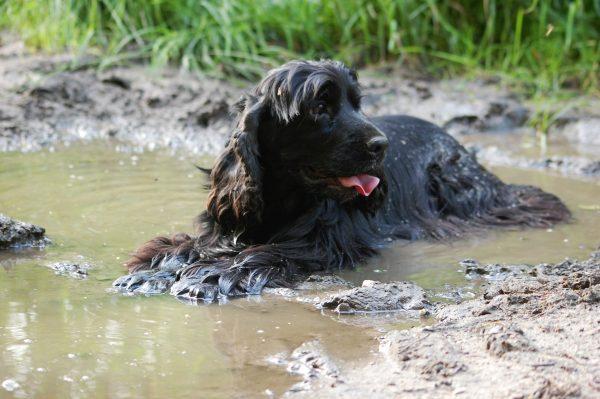 "The poor dog didn't realize what was going on and swam straight for the swan," the man said.
He said the swan lifted up its wings and beat down on the dog "with one wing and then the other."
The attack lasted only a few seconds.
Niall Hatch of Birdwatch Ireland told
The Journal
such attacks are rare.
"I have come across the reverse, so it's not surprising that the swan would see the dog a threat," he said.
"What happened, in this case, was one of the parents would have seen the dog swimming in the water—an unusual occurrence. He would have seen this as a direct threat to his chicks.
"Obviously, the cygnets can't fly and it's just a natural instinct that kicks in."
A spokesperson for the council told The Journal that temporary signage will be put up "to alert people of the danger of dogs entering the pond."
"Swans are wild birds and while it was only protecting its young, it led to an unfortunate outcome due to the dog swimming in the pond."
According to the
BBC,
a swan killed two dogs in separate attacks in 2004 in a park in Nottinghamshire, England.
One of those dogs was also a cocker spaniel. They both drowned in a mill pond after being attacked.
In 2012, a father from Chicago drowned after swans attacked him while he was out kayaking.
According to the Chicago Tribune, Anthony Hensley, 37, was an athletic highly-experienced kayaker, but was drowned after being circled and repeatedly attacked by a nesting female swan.
Swans are often said to be strong enough to break your arm. But is the saying just an old wives tale?
"If a wing in full span and velocity were to hit a weak-boned person (such as a child or an elderly person) then it is theoretically possible," according to the sanctuary. "In reality it is almost unheard of and is never used as a form of attack as swans are a defensive bird."
"The only time they become aggressive is when they are protecting their nesting ground or cygnets when they will chase off intruders, be they other swans, geese, or humans who get too close."