Former racing greyhounds will be spreading joy inside nursing homes, including residents living with dementia, in an Australian first program.
"Dogs can have a wonderful, calming effect for someone with dementia. I have seen how quickly they can calm agitation," Susan Kurrle, senior research fellow of HammondCare, said.
The independent Christian charity is collaborating with Greyhound Rescue, the only greyhound rescue facility of its kind in Australia, on a pilot program aimed at improving aged care residents' quality of life through decreasing loneliness and depression, increasing physical activity and improving socialisation.
The hounds received not only training to prepare them for the sights, sounds, activities, and equipment such as wheelchairs and trolleys but also communication techniques to facilitate meaningful connections between them and the residents.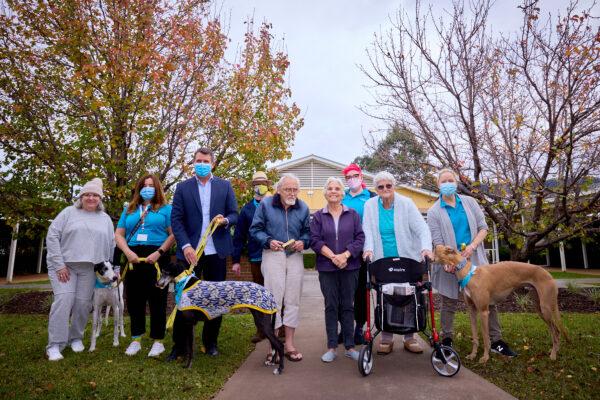 HammondCare Chief Executive Mike Baird said the program was launched to evaluate how animal engagement and support can improve the quality of life for residents.
"What a wonderful outcome if rescued greyhounds can be given a new purpose providing happiness for those who are older in the community," Baird said.
Greyhound Rescue President Nat Panzarino said greyhounds were well-suited for assisting aged care services due to their calm nature and tall height, which meant that they were more accessible to people in wheelchairs or confined to beds.
"We know all too well the magic that these incredible hounds can bring to people's lives," Panzarino said.
"What better way to share this magic with more people than bringing greyhounds to where they are really needed—to brighten the lives of people who are craving connection and companionship."
A Spanish study from 2017 found that after receiving dog-assisted support, 100 percent of the residents with Alzheimer's disease showed an
improvement in quality of life
, including physical, behavioural, and psychological aspects.
An earlier Australian study also found that residents in aged care homes with dementia significantly reduced their levels of depression after receiving canine-assisted therapy relative to human-only intervention.
Resident Thelma Connaughton, 83, spoke affectionately about greyhound "LB", short for Long Black, after spending time with her at the launch of the program.
"She is just so lovely, so beautiful—absolutely beautiful," she said.
The majority of the greyhounds will be former racing hounds, but occasionally they may also be hounds saved from shelters where they are at risk of being euthanised.