Australian Defence Minister Richard Marles met his Chinese counterpart, Li Shangfu, on the sidelines of the Shangri-La Dialogue in Singapore after Li refused to meet U.S. Secretary of Defense Lloyd Austin.
Marles confirmed the meeting on
Twitter
, calling the meeting another "important step" towards stablising the relationship between the two countries.
In a speech to the Shangri-La Dialogue Plenary Session Seven on June 4, Marles said Australia has sought to stablise this relationship after a "difficult period," where high level talks between Australia and the Chinese Communist Party (CCP) had completely frozen for over two years during COVID-19.
But he also highlighted that the Chinese regime is currently carrying out the "largest conventional military build-up" since World War II.
"And this build-up is happening without an explanation of its strategic purpose. China is not providing our region or the world with any strategic reassurance," he
said
.
"With this in mind, last year, I underlined that the purpose of Australia's investment in new defence capability, including through AUKUS, was a prudent and necessary contribution to a sustainable and inclusive balance of power that both deterred conflict but also reassured states that they never needed to resort to force."
According to
The Guardian
, in his meeting with the Chinese defence minister, Marles reiterated Australia's commitment to supporting peace and stability in the Pacific brought up the importance of ensuring safe and professional interactions in the air and sea.
Marles said the mantra of how Australia has navigated the relationship has been "to work with China where we can … disagree with China where we must."
"In terms of the way in which we engage with China, you can make this happen—it is possible to walk and chew gum at the same time," he told Sky News Australia on June 4.
However, Alan Kors, the co-chair at Washington-based advocacy group Victims of Communism Memorial Foundation, has reminded Western governments that the CCP "will kill as many as it has to kill, to preserve its power."
"When it faces a choice between further prosperity, further liberalization of an economy and the loss of political power, [the CCP] will place everything on the preservation of political power," Kors previously told EpochTV's "China Insider" 
program
.
Loss of Communication
The meeting between Marles and Li occurred as the CCP continues to refuse dialogue with the Pentagon.
Austin once again invited his Chinese counterpart to the table for talks, saying that open lines of communication were "essential"—particularly between military leaders.
"For responsible defense leaders, the right time to talk is anytime," he said. "Dialogue is not a reward. It is a necessity."
Austin said he was "deeply concerned" over Beijing's unwillingness to meet with him and engage in a more serious manner.
"I hope that will change, and soon," he said.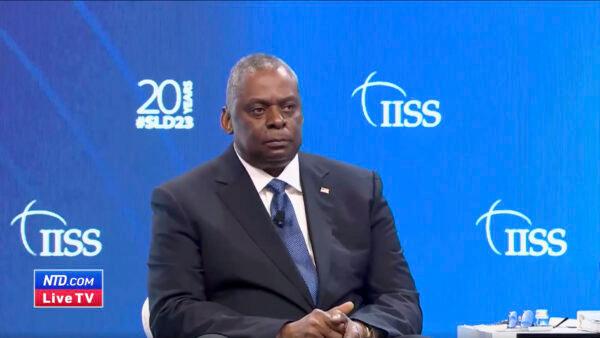 Since then, the CCP has 
refused numerous requests
 for meetings with Austin, regional military commanders, and even civilian Department of Defense employees, according to Assistant Secretary of Defense for Indo-Pacific Security Affairs Ely Ratner.
"We've had a lot of difficulty," Ratner said during a May 25 talk with the Center for Strategic and International Studies think tank. "We have repeatedly had those requests rejected or not answered."
Australia has been on the receiving end of a similar freeze in talks by the CCP following the former Morrison government's push for independent investigations into the origins of COVID-19.
In 2020, the Chinese regime cut off all ministerial contact and slapped arbitrary trade sanctions on a number of Australian goods in response to the COVID-19 request, as well as Australia's banning of China-based companies Huawei and ZTE from involvement in Australia's 5G infrastructure.
Tensions appeared to thaw after the Albanese Labor government was elected and ministerial talks resumed.
PM Gives CCP Crystal Clear Warning Against Use of Force
Australian Prime Minister Anthony Albanese also attended the dialogue in Singapore. In the
keynote address
, he expressed the Australian government's strong support for renewed efforts by the Biden administration to pursue more open channels of communication with Beijing.
"We should be doing everything we can to support the building of that first and most fundamental guardrail," he said, adding that the Australian government has put "dialogue at the heart of our efforts to stabilise our relationship with China."
Biden on May 21, at the G-7 summit in Japan, said that he expected a "thaw" in relations with China in the short term. It has since been revealed that CIA director William Burns visited China last month for talks with Chinese counterparts seeking to boost intelligence communications with Beijing.
Burns "emphasized the importance of maintaining open lines of communication in intelligence channels," an unnamed official told Reuters on June 2.
In Singapore, Albanese gave Beijing his sternest warning on record, informing the regime that they must be "crystal clear that when it comes to any unilateral attempt to change the status quo by force: be it in Taiwan, the South China Sea, the East China Sea or elsewhere, the risk of conflict will always far outweigh any potential reward."
The U.S. Secretary of Defense
backed
Albanese's comments, saying that every country had a role to play in achieving the vision of a free and open Pacific.
"The choices made by countries across the region reflect a deepening commitment to these shared principles," he said.
It comes after the Chinese defence ministry reportedly expressed concerns over Taiwan seeking "foreign support" during a closed-door meeting between Li and the Singaporean defence minister, Ng Eng Hen.
According to China's state media, a spokesperson said that Li told Ng that Beijing would not tolerate Taiwan's ruling Democratic Progressive Party to "solicit foreign support" in pursuit of "independence." The island of Taiwan has been a self-governing democracy since 1949.
Andrew Thornebrooke and Reuters contributed to this report.