The Ottawa Police Service announced on Feb. 1 it made its first arrests related to the "Freedom Convoy" protest that has taken place in Ottawa since Jan. 29.
For the two arrests related to separate incidents, Ottawa Police revealed the names of the individuals charged and the type of infractions but released few other details in its
press release
.
Matthew Dorken, a 29-year-old man from Ottawa, was arrested for mischief under $5,000. Police said the arrest was not made on the day of the infraction, Jan. 29, to avoid a larger confrontation.
Andre J Lacasse, a 37-year-old man also from Ottawa, was charged on Jan. 30 with carrying a weapon to a meeting.
It is unknown what the mischief involved and what type of weapon was carried, nor if the individuals were known to police.
The Epoch Times reached out to Ottawa Police to obtain further details but were referred back to the press release.
Ottawa Police also said in its release that it currently has 13 ongoing investigations in relation to the protests.
Ottawa Police Chief Peter Sloly 
provided an update
on Jan. 31 of his service's work during the protests and said some of the investigations relate to bribery, threats to assault, and dangerous operation of vehicles.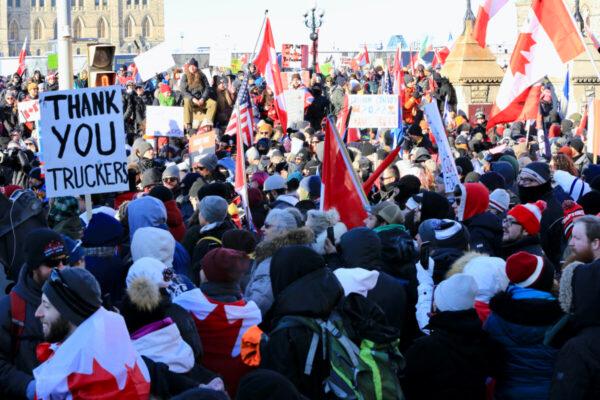 Sloly also said there have been no injuries, deaths or riots despite the scale of the protest, and indicated that reports of denial of service were not true.
"We have verification from ambulance services, fire services and police services that while they were delays in responses and, in some instances, gaps in services delivery, nobody was directly affected regarding ambulatory service requirements or emergency services requirements."
The protests in Ottawa started as a cross-country convoy to demand the end of restrictive pandemic measures such as vaccine mandates and passports. The organizers have said they would not leave the city until mandates are lifted.
While numbers have dwindled in recent days after tens of thousands protested over the past weekend, some social media posts say that more protesters will be converging in the nation's capital this weekend.
A pro-freedom demonstration was initially set to take place in Montreal on Feb. 5, but a post on Facebook now directs would-be participants to gather in Ottawa at noon instead.