As candidates vie for leadership of Ontario's Liberal party, they're looking for what will make them the strongest competitor against Progressive Conservative Premier Doug Ford, who has easily defeated the Liberals in the past two elections.
Mississauga Mayor Bonnie Crombie is in the running and she has taken jibes from fellow candidates over campaign donations she has accepted from developers.
The biggest political challenge currently facing Mr. Ford is controversy over his government's decision to open land in the Greenbelt for housing development. The province's integrity commissioner has found the deal improperly favours a few developers.
"I don't know how Bonnie Crombie can say you will bring ethics back when your style of politics has a lot of similarities to Doug Ford when it comes to the donors," Liberal MP Yasir Naqvi, another candidate, said at a
debate
hosted by the Toronto Metropolitan University's Democracy Forum on Sept. 20.
It's the second of five debates to be held, and the first one held in Toronto. Ms. Crombie said she's proud of her fundraising.
"We need a leader who can raise money and I'm raising a war chest and we're going to need it to get past these guys," she said.
The Greenbelt
Ms. Crombie said the Greenbelt is "sacred" and opening land there isn't needed to satisfy the province's housing needs.

Mr. Ford has said opening the Greenbelt land is necessary to meet urgent housing needs. He says previous housing plans for the province did show needs could be met without opening Greenbelt land, but those plans became obsolete when the federal government announced new immigration targets. The province is now expecting a greater influx of home-seekers.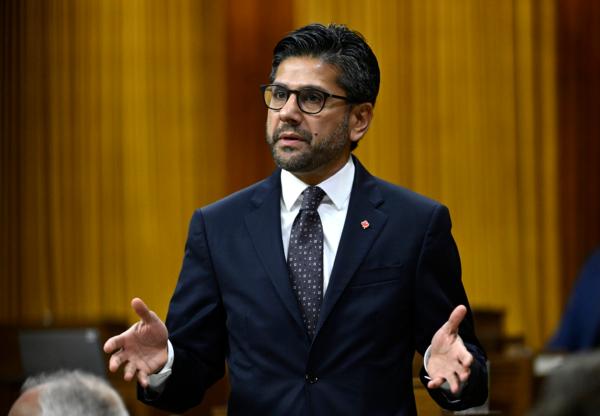 Ms. Crombie said her housing policy includes "deeply subsidized, purpose-built rental for students, seniors, and for families." And, she noted that Mississauga has focused on density.
"We have embraced density and urbanism and densification and unrestricted heights and density in our downtown," she said.
The other three candidates are Liberal MP Nathaniel Erskine-Smith, and Liberal MPPs Ted Hsu and Adil Shamji, who is also a physician.
"The only way that Greenbelt boundaries will change under my leadership is when the Greenbelt gets expanded," Dr. Shamji said.
Debate moderator Martin Regg Cohn, of the Toronto Star, said Ford won the last election after cutting gas taxes and cancelling licence plate fees as ways to make life more affordable for Ontarians. He asked candidates what they will do to address affordability.
Affordability
Mr. Erskine-Smith said he would increase disability support payments, which haven't been raised in decades. Mr. Hsu said his economic plan would increase prosperity in the province; it includes increasing work productivity by supporting training, technology, and more.
All candidates said they would end the
appeal on Bill 124
. The Ford government's Bill 124 capped public servant salaries, but the Ontario Superior Court of Justice struck it down in November 2022, saying it unduly infringed on workers' rights. The provincial government is currently appealing that decision.
Mr. Navqi said the education system needs improvement, as Ontarians are having to pay private tutors to supplement public education.
The candidates commented on the "
1 Million March for Children
" and counterprotests across the country on Sept. 20 focused on parental rights and LGBT issues in schools.
LGBT in Schools
On the Million March side are parents and others worried about the age-appropriateness of gender and sexuality discussions in schools. They worry about policies that hide information from parents, including if their child is transitioning genders at school.
On the other side, that of the counter-protesters, are people who have called such questioning "hateful" and "transphobic" and say it creates a negative environment for LGBT students and infringes on LGBT rights.
The candidates stood on the side of the latter. Mr. Erskine-Smith said he attended a counter-protest. But he noted that many on the other side, including Muslim families, were there "in good faith," and he would try to open "meaningful dialogue."
Ms. Crombie said "divisive" U.S. politics are being exported to Canada.
"I'm grateful to all of our candidates who spoke out against those hate rallies that are occurring today," she said.
Against Private Health Clinics
Regarding health care, many candidates spoke against the use of private clinics. Mr. Ford announced in January a plan to tackle the province's backlog of routine surgeries. It involved allocating a larger number of those surgeries to private clinics. All private clinic surgeries would, however, still be paid for by the province.
"Ontarians will always access health care with their OHIP [Ontario Health Insurance Plan] card, never their credit card," Ford
said
at the announcement Jan. 16. "A lot of people out there, they want to have the endless debates about who should provide care. All I care about … is that you get the care quickly and safely."
"Stop the private health clinics, I think we all agree," Ms. Crombie said. Many also agreed that drug addiction should be considered "a health issue." Ms. Crombie said mental health should also be covered by OHIP.
Mr. Navqi spoke about the loss of young health-care professionals.
"I want to stop the bleeding of our Canadian students going abroad to get their health-care education because we haven't made appropriate investments in our medical schools," he said.
'Take Down Doug Ford'
Mr. Regg Cohn said if the Liberals were to win the next provincial election, which is three years out, it's likely Mr. Ford's Progressive Conservatives would still have the largest number of seats. Recent polls have shown his
party well ahead
of the others, despite having slipped amid the Greenbelt controversy.
He asked whether the Liberal candidates, if elected premier, would prop up the Progressive Conservatives' power or ally with the New Democratic Party (NDP) or Green Party. All said they would do all they can to take down Mr. Ford.
"I will work with anyone who will work with me to take down Doug Ford," Dr. Shamji said.
Liberal party members are set to cast their ballots on the weekend of Nov. 25 and the winner is to be announced on Dec. 2. The leadership election was called when former leader Steven Del Duca resigned after the last provincial election. He had failed to win his own riding and the party overall had fared poorly.