More than 1,000 Australians are ready to join the naval workforce as shipbuilders after the Naval Shipbuilding College (NSC) reached a major milestone in preparing them for their careers.
Minister for Defence Industry Melissa Price said the achievement demonstrated how the Morrison government has been working to deliver a generation of jobs in the sector.
The college was established by the federal government in 2018 out of the 2017 Navy Shipbuilding Plan partnering with education and training providers to grow Australia's shipbuilding workforce.
The college operates a hub-and-spoke model that enables students to undertake courses through NSC-approved registered training organisations or higher education providers across Australia, its website states. It feeds into the Naval Shipbuilding Enterprise that was 
expanded
under the government's 2020 Force Structure Plan. The plan outlines Australia's response to the increasingly complex security and strategic landscape unfolding in the Indo-Pacific, which some 
analysts say
leads back to the Chinese regime challenging basic principles of international law.
"With more than 3,000 Australians having joined the National Workforce Register, 1,000 are now employment-ready for cutting-edge jobs," Price said in a
media release
on Wednesday.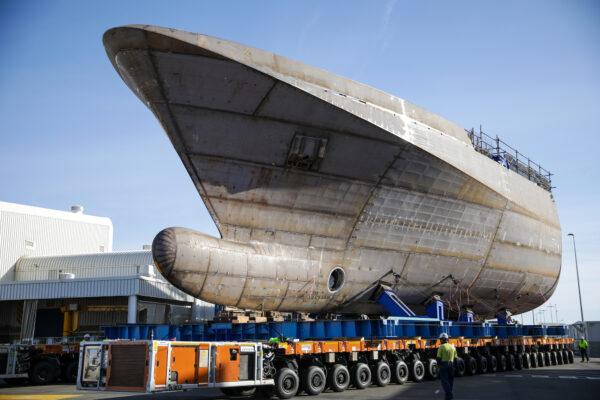 "The Naval Shipbuilding College has achieved a significant milestone in developing a skilled workforce to support the National Naval Shipbuilding Enterprise.
"In these challenging times, the college is working hard to provide tailored advice for each candidate, including advice on career pathways or how to upskill and become employment-ready.
"If you are interested in a career in Australia's naval shipbuilding industry, I strongly recommend you connect with the college and join the National Workforce Register," Price said.
Price said Australia's National Naval Shipbuilding Enterprise would employ more than 15,000 people across the nation, from trades to PhDs.
"This industry offers exciting careers in engineering, program management, supply chain management, and operations," Price said. "If you are a young person thinking about your future career path or someone looking for a change in careers, the opportunities in our growing defence industry are enormous."
Naval Shipbuilding College Chief Executive Ian Irving said he was proud of the college's achievement.
"This shows we are committed to growing the naval shipbuilding workforce to ensure the government can deliver on its ambitious shipbuilding program," Irving said. "The 1,000 employment-ready candidates are now poised to secure stable and meaningful careers as they become available across the enterprise in the coming years."
The college is already helping people develop their skills and enter into careers in Australia's naval shipbuilding industry.
This comes as the Queensland government announced $30 million (US$22.6 million) to upgrade the infrastructure around the Cairns Marine Precinct in Far North Queensland, a hub utilised by the Royal Australian Navy for maintenance of its vessels.