VANCOUVER—Starting from the Terry Fox Plaza in downtown Vancouver with his sights set on the Tomb of the Unknown Soldier in Ottawa, Warrant Officer James Topp began his 4,300-kilometre journey on foot across Canada Feb. 20, as he takes a stand against government COVID-19 mandates, including mandatory vaccination requirements.
And he knows firsthand. After serving 28 years in the Canadian Armed Forces, Topp is about to be released from the reserve force because of his COVID vaccination status.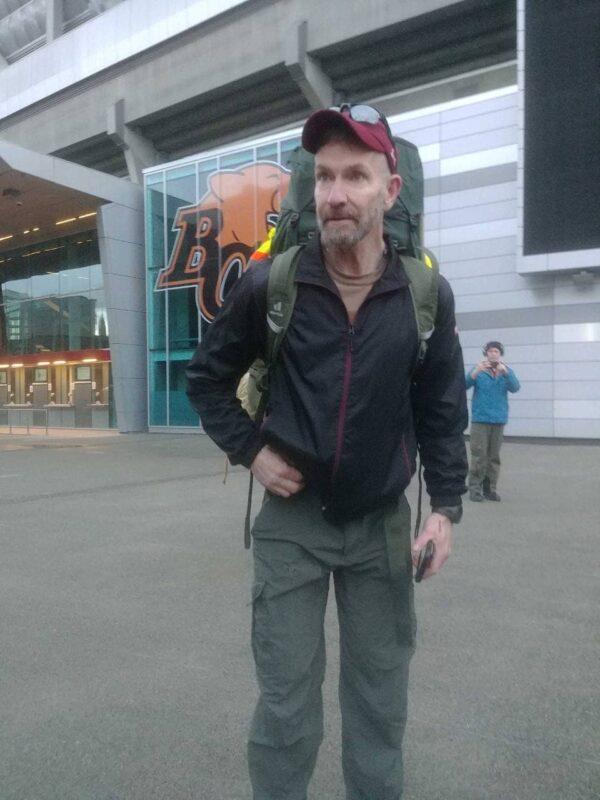 With his movement titled Canada Marches and carrying the hashtags
#CanadaMarches and #MarchToFreedom
, Topp and his team began their trek early on a frigid Vancouver morning, destined only for more cold weather as they cross the Prairies, as well as plenty of uncertainty.
The idea to walk across Canada came recently to Topp, who said he felt compelled to do something to stand up for the people and the country he served and loved.
"I'm not here for profit, and I don't want to be a celebrity, but I need to do something," Topp told approximately 100 supporters who braved the cold to see him off on his march.
"We need to do something to repair us because we've been deeply fractured by what has happened over not just the last couple of years, but it's been kind of ongoing."
On his website,
CanadaMarches.ca
, Topp expands on his view by saying, "We rise to serve Canadians with honesty, respect and compassion, for the purpose of reuniting our people. We do this, with the intention of ensuring our government upholds the laws that support Canada's Charter of Rights and Freedoms."
Only the first few days of the march are planned so far, but Topp and his crew are looking for help creating a route from Hope, B.C., to Lethbridge, Alta., with considerations to safety, current and potential road closures, and extreme weather conditions.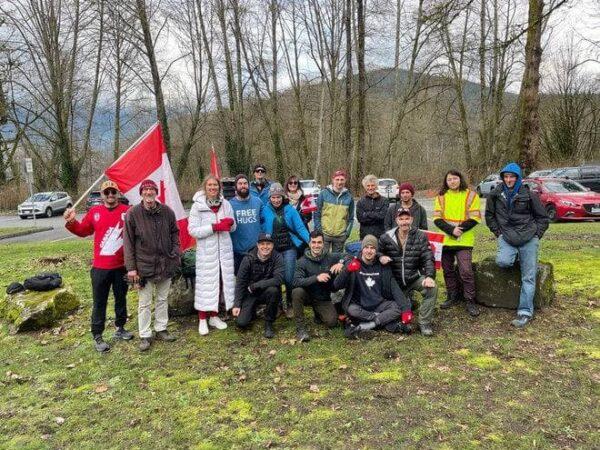 For Dan Jones, the logistics and details of the march are secondary. He joined Topp and intends to partner with him all the way to Ottawa, unsure if his body is capable even though his heart is.
"I feel like I have to. I can't stand around and do nothing," Jones told The Epoch Times.
"Not everybody can actually walk to Ottawa to have their voice heard, so I'm standing up for everybody that can't. I don't know if I'm prepared for this march to Ottawa, but I'm going anyway."
Wearing a high-visibility jacket and waving a large Canadian flag, Artur Rewers came to Terry Fox Plaza to shake Topp's hand and show his appreciation. Rewers immigrated from Poland almost 40 years ago when the country was still communist, and he said he appreciates Topp's conviction to keep Canada free.
"His journey is very impressive, and I stand for all his values," Rewers said in an interview. "In Poland we say, 'God, honour, and country,' and we live by the book. You can't hesitate. ... Every day when you get up, you [need to be able to] look in the mirror."
Monique Van de Plas came early to Terry Fox Plaza. She said she's struggled seeing Canadians suffer from job losses, bullying, and scapegoating because of their decisions regarding vaccination. But with people like Topp taking a stand against government-imposed mandates, she says she is feeling hopeful.
"I was so disheartened for a while thinking nobody is standing up for this, but then, in the last little bit, here come the patriots," Van de Plas told The Epoch Times, referring to the Freedom Convoy movement started by truck drivers. "I was always proud to be Canadian, but in the last couple of years I've seen that dwindle with all the people just letting their charter rights be stomped on. But now people are standing up for it, and I'm so proud."
Van de Plas led the singing of "O Canada" as a tribute to Topp, his march, and the motivation behind it.
A team member for the march will be driving a 1976 Vanguard motorhome alongside Topp and all others who join him for a block, a kilometre, or the entire trek to Ottawa. It will carry supplies, act as a first-aid centre, and give respite if weather conditions temporarily prevent the team from walking. The plan is to cover 40 kilometres a day.
Topp said his decision to initiate Canada Marches is his alone and he is not representing the military. He is also not raising money for Canada Marches, nor is he accepting donations. Instead, he's encouraging people to treat others kindly and help the less fortunate. For people who want to donate, he's endorsed the charity
Wounded Warriors Canada.
"It's going to start off a little bit shaky, but we'll build momentum as we go," Topp told his supporters on Feb. 20.
"We are going to start marching here and the sounds of our footsteps are going to carry on in front of us, and they will hear our feet out east."