BANGKOK–Humanitarian workers and journalists should be given free access to Burma's Rakhine State, where violence has prompted some 650,000 Rohingya to flee to Bangladesh, the head of a new international advisory panel on the crisis said.
Surakiart Sathirathai, a former Thai foreign minister, also expressed concern at the arrest of
two Reuters reporters
in Burma last month and said he hoped the case did not lead to broader restrictions on the international media.
"I think press and humanitarian access to Rakhine are important issues as well as free access to other stakeholders," said Surakiart in an interview in Bangkok. "Legitimate press coverage is something that should be enhanced."
Burma, also known as Myanmar, has severely curtailed access to Rakhine, after 
Rohingya Islamist insurgents
 attacked 30 police outposts in the Rakhine region, leading to an army operation that has been condemned by the United Nations as ethnic cleansing - an accusation rejected by the Buddhist majority country.
Surakiart, 59, was chosen last year by Burma's leader Aung San Suu Kyi to head a 10-member board that will advise on how to implement the recommendations of an earlier commission headed by former U.N. secretary-general Kofi Annan.
Allowing free media coverage was one of the specific recommendations in the 63-page report from Annan's commission, which was appointed by Suu Kyi in 2016 to investigate how to solve Rakhine's long-standing ethnic and religious tensions.
Reuters reporters Wa Lone and Kyaw Soe Oo, who had worked on coverage of the crisis in the western state, were arrested in Yangon on Dec. 12 on suspicion of violating Burma's Official Secrets Act.
Surakiart said he had raised concerns about their case with Suu Kyi's national security advisor Thaung Tun. He said he had asked for the case to be dealt with transparently and been assured that proper legal procedures would be followed.
"I hope that this would not snowball in adverse directions for both the international press and the Myanmar government," Surakiart added. "I hope the case will not lead to the Myanmar government not welcoming the international press. I want this to be a specific case and hope for a quick resolution to it."
Bridging the Gap
The Annan-led panel delivered its recommendations - which also included a review of a law that links citizenship and ethnicity and leaves most Rohingya stateless -
just before
insurgent attacks on security posts on Aug. 25 triggered the latest crisis.
Surakiart said there were concerns over the
repatriation
of those who had since fled to Bangladesh and that the advisory board would need to find an approach to ensure people could return without fear, even if they were not recognized by existing law as Burmese citizens.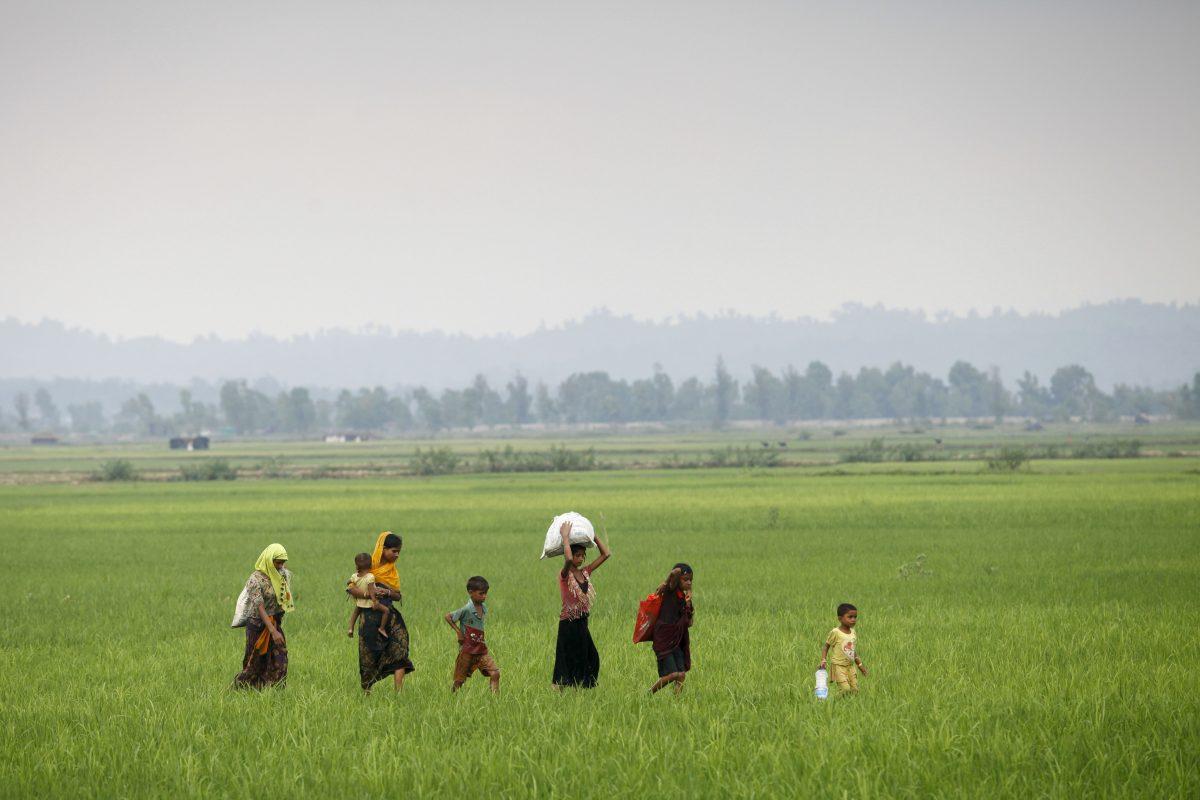 Suu Kyi has faced international criticism for perceived inaction over the crisis in Rakhine, but Surakiart said she was constrained by domestic politics.
Buddhist nationalism has surged in Burma in recent years, and the army campaign has wide support.
"Aung San Suu Kyi tried to address the issue by trying to build consensus from within rather than finger-pointing," said Surakiart.
"There is a big gap between domestic and international interpretations of the situation in Rakhine. If we can't bridge this gap then it will be an obstacle for all of us who want to improve the situation."
The former Thai foreign minister also said his advisory board would seek to engage with all groups in Rakhine, including the military.
"The advisory board is not a mouthpiece to anyone," Surakiart said. "We are not a spokesperson for Myanmar or the international community."
The board, which is made up of five members from Burma and five international appointees including veteran former U.S. politician and diplomat Bill Richardson, will meet the Burmese government on Jan. 22 in the capital Naypyitaw before making its first trip to Rakhine on Jan. 24.
"I do not want the advisory board to be just a talking shop," Surakiart said. "We want to help bring about tangible progress."
By Panu Wongcha-um
Recommended Video:
Sumatra's Mount Sinabung Spews Smoke and Ash in 'Biggest' Eruption in 2017