The European Union must call out the Chinese regime's human rights abuses and must make decisions on sanctions more efficiently, the EU's chief executive said on Wednesday.
The European Commission, the EU's executive body, will come forward with a proposal for a European Magnitsky Act, which will enable the bloc to impose sanctions on human rights abusers around the world, said European Commission President Ursula von der Leyen in her first "
State of the Union
" speech.
"We must always call out human rights abuses whenever and wherever they occur—be it on Hong Kong or with the Uyghurs," she said.
"But what holds us back? Why are even simple statements on EU values delayed, watered down, or held hostage for other motives?" she asked.
Currently, the EU's Common Foreign and Security Policy requires unanimity among all member states. As a result, EU policy on China has been repeatedly blocked by some small EU countries, such as Greece, Hungary, and Portugal, which can be easily swayed by Beijing's influence.
Von der Leyen called for change to the decision-making process. "When Member States say Europe is too slow, I say to them: Be courageous and finally move to qualified majority voting—at least on human rights and sanctions implementation."
Divide and Conquer
Under the proposed "
qualified majority
" rule, EU foreign policy proposals can be passed if 55 percent of member states vote in favor and it is supported by member states representing at least 65 percent of the total EU population.
This will prevent a small number of member states from blocking EU foreign policy, and address the EU's concerns over the Chinese regime's divide-and-conquer tactics.
In May, EU foreign policy chief
Josep Borrell
accused Beijing of "playing on" differences among EU member states.
Divisions within Europe have made it hard to adopt a unified strategy and response to challenges posed by China, according to a
recent report
by the Royal United Services Institute (RUSI), a London-based think tank.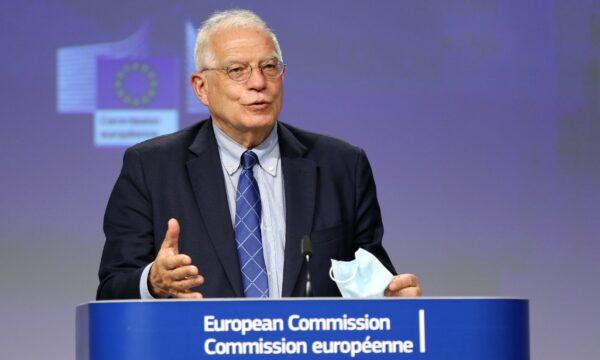 'Completing Our Toolbox'
Von der Leyen made clear what she intended to achieve on the human rights front once the decision-making gridlock is solved.

"This House has called many times for a European Magnitsky Act—and I can announce that we will now come forward with a proposal," she said.

EU officials and parliamentarians have long called for a

European version

of the Magnitsky Act, a U.S. law that punishes foreign officials suspected of human rights abuses by freezing their assets in the United States and banning them from U.S. soil.
The calls have grown significantly
louder
this year due to the worsening human rights situation in Hong Kong and Xinjiang.
Beijing's national security law for Hong Kong and the suppression of ethnic and religious minorities in Xinjiang and Tibet were among the
issues
discussed at an
EU-China summit
held on Monday, which was attended by von der Leyen, German Chancellor Angela Merkel, EU Council President Charles Michel, and Chinese leader Xi Jinping.
There have also been calls for the EU to impose sanctions on those responsible for the brutal crackdown of protesters in Belarus and the poisoning of Russian opposition leader Alexei Navalny.
"We need to complete our toolbox," said von der Leyen, referring to the available means by which the EU can punish human rights abusers.
"Be it in Hong Kong, Moscow, or Minsk, Europe must take a clear and swift position," she said.
Nicole Hao contributed to this report.