Disney's "Mulan" has come under fire for being partly filmed in Xinjiang region, where more than a million Uyghurs are detained in internment camps.
In the end credit, Disney offers "special thanks" to the Chinese regime's agencies in Xinjiang, including the Publicity Department of CPC Xinjiang Uyghur Autonomous Region Committee.
This has drawn criticism from human rights activists, think tanks and politicians.
"Disney's Mulan film credits include a special thank you to the Turpan Public Security Bureau (PSB), a Uyghur region where the movie was filmed sometime after 2015, meaning likely between 2016-18, when Uyghur mass detentions were ongoing," Adrian Zenz, a Senior Research Fellow in China Studies at the
Victims of Communism Memorial Foundation
,
wrote
in his twitter post on Sept. 7.
He also added that the Turpan police bureau was the first agency to brainwash Muslim minorities in another post.
https://twitter.com/adrianzenz/status/1303162157169889282
The live remake film, an adaptation from Disney's 1998 animated version, is loosely based on a historical tale of a young Chinese woman who disguises herself as a man to serve in the imperial army in place of her ailing father after he is conscripted. It was released in Disney+ over the weekend.
The film's production designer, Grant Major, told 
Architectural Digest
 that he and the production team "spent months in and around the northwest province of Xinjiang to do legwork research before the cameras rolled." He added that "Chinese academics were consulted as well."
The film's director, Niki Caro has also posted in her
Instagram
in 2017 a photo of desert dunes and tagged the image "Asia/Urumqi"–the capital of Xinjiang.
Disney
did not respond
to a request for comment.According to a
report
by the Council Foreign Relations, a non-partisan think tank in the United States, the Chinese regime "has imprisoned more than one one million people since 2017 and subjected those not detained to intense surveillance, religious restrictions, and forced sterilizations."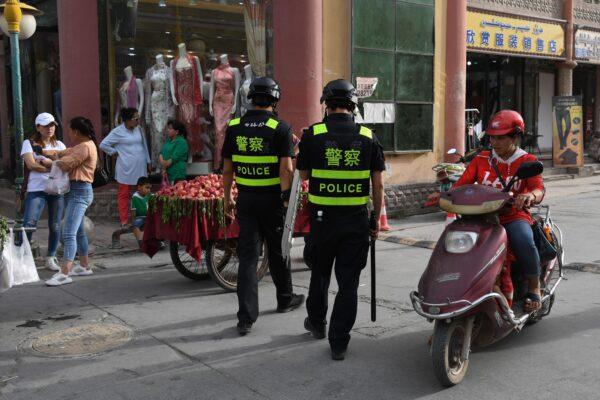 For those who are detained, they are forced to renounce Islam, and are "re-educated" to pledge their loyalty to the Chinese authorities. Survivors recount being monitored by cameras and microphones constantly. Women are subjected to rape and forced to undergo abortions.
The Chinese police in Xinjiang regularly scan identification cards, and take the photographs and fingerprints of Xinjiang residents through a network of checkpoints and surveillance devices.
In an open letter to Disney's CEO Bob Chapek, prominent Hong Kong pro-democracy activist Joshua Wong questioned the company's motives.
"What kind of values Disney advocates for, especially when the company's target market is the children worldwide," Wong
wrote
in the letter, published in a series of tweets on Sept. 9.
"It casts more doubts on whether Mulan is the propaganda masterpiece that Disney works hand in hand with the CCP government to whitewash the cultural genocide and human violations on ethnic minorities in the region," Wong
added
.
Iain Duncan Smith, a conservative member of parliament in the United Kingdom condemned Disney for working with the Xinjiang security agency in a Twitter post on Tuesday.
"The film #Mulan was already the target of a boycott after its lead actress backed a crackdown on #HongKong protesters. It is shameful that companies appear to turn a blind eye and shameful that they seem to act as the apologists for a regime now that brooks no dissent," Smith
wrote.
Last year, lead actress, Chinese-born Liu Yifei, posted on 
Weibo
, a Twitter-like Chinese social media, that she supports the Hong Kong police. Hong Kong police have faced international criticism over the use of violence against pro-democracy protesters in the city.