Chinese state-owned enterprises were found to be recipients of Canada's COVID-19 wage subsidy benefit.
In an effort to push for
transparency
, the Canada Revenue Agency (CRA) launched a
search registry
on Monday to help Canadians track employers who have been receiving the Canada Emergency Wage Subsidy (CEWS) amid the COVID-19 pandemic.
Among the recipients, Chinese state-owned companies and non-profit organizations with close ties to the Chinese Communist Party (CCP) were found to be receiving the Canadian wage subsidy. Some of them include the Canadian arm of PetroChina, Bank of China (BOC), Industrial and Commercial Bank of China (ICBC), China Mobile, and Canada China Business Council (CCBC). 
When asked by The Epoch Times why these firms would receive the CEWS, Etienne Biram, media relations officer of the CRA, said that they have met the eligibility
criteria
required of an employer for this benefit, adding that "the wage subsidy can only be claimed for employee remuneration by eligible organization that have experienced a drop in revenue."
CEWS was launched by the federal government to help companies who experienced a
drop in revenue
due to the COVID-19 pandemic cover their employee wages.
However, "if, when conducting post examinations, it is determined a business was not entitled to CEWS payments, it will be required to pay them back," Biram said. 
Due to the confidentiality provisions of section 241 of the Income Tax Act, the agency is prevented from discussing specific taxpayer files, according to Biram.
PetroChina Canada
(PCC) is a wholly-owned subsidiary of
PetroChina
, the largest oil and gas producer and distributor in China listed in the stock exchanges in New York, Hong Kong, and Shanghai. In Canada, the PCC
acquired
the MacKay River oil sands and Dover oil sands in the region of Fort McMurray, Alberta, to produce bitumen. 
PetroChina's sole controlling shareholder is 
China National Petroleum Corporation (CNPC), one of China's largest oil and gas state-owned enterprises, and has been a subject of security threat warnings from the Canada Security Intelligence Service (
CSIS
) due to its acquisition of significant stakes in Canada's energy sector. 
In its April
annual report (pdf)
, the CSIS warned about how companies with close ties to foreign governments and intelligent services pose security risks to Canada. 
"Corporate acquisitions by these entities pose potential risks related to vulnerabilities in critical infrastructure, control over strategic sectors, espionage and foreign influenced activities, and illegal transfer of technology and expertise," the report says.
In addition, the CNPC issued a directive in August—recently obtained by The Epoch Times—to its overseas offices in more than 10 countries, including Canada, to "urgently destroy or transfer sensitive documents" relating to "overseas [Chinese Communist] Party-building activities." 
"Overseas Party-building activities" refer to efforts by the CCP to expand its global influence by directing overseas Chinese companies to carry out activities outside their legal operations, such as collecting intelligence, stealing sensitive information, and influencing local officials, according to New York-based China commentator Qin Ping.
This is in line with the CCP's 2015
National Security Law
which states that citizens and enterprises "shall have the responsibility and obligation to maintain national security," and its 2017
National Intelligence Law
which declares that "any organisation and citizen shall, in accordance with the law, support, provide assistance, and cooperate in national intelligence work, and guard the secrecy of any national intelligence work that they are aware of [emphasis added]." 
Another recipient, BOC, one of
the four biggest
state-owned commercial banks
in China, was alleged of facilitating
fund transfers
for terrorist organizations such as Hamas and Palestinian Islamic Jihad to carry out their bombing and rocket attacks in Israel between
2003 and 2007
through its New York branches. 
In January, BOC agreed to
pay
a 3 million euro fine and 900,000 euros in damages to French tax authorities to drop charges of its alleged involvement in an aggravated money laundering scheme. It was suspected that the bank had facilitated fund transfers by 28 business owners and intermediaries worth nearly 40 million euros from its Paris branch to 168 accounts mostly in the Zhejiang province between 2012 and 2014, without paying the European taxes, according to a Bloomberg report.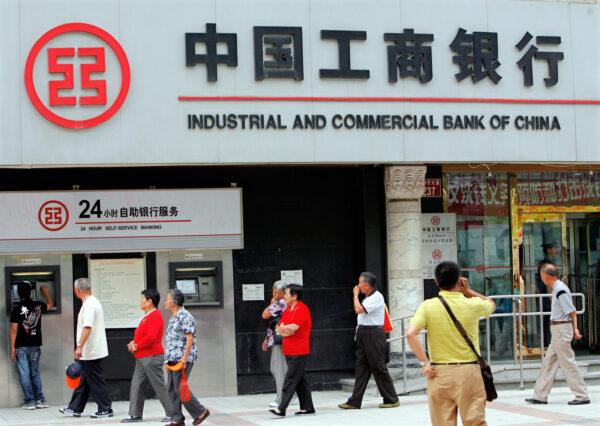 The next recipient, ICBC,
another state-owned Chinese bank
, was also mired in money laundering scandals in Spain in recent years. In June,
four
ex-employees and executives of the bank's Madrid branch reached a plea deal with Spanish prosecutors in their involvement in laundering hundreds of millions of euros from Spain to China between 2011 and 2013, most of it for suspected criminal networks. They accepted prison terms from three to five months and paid a fine totaling 22.7 million euros as part of the deal to settle the case. 
In a May 2016 statement, Spanish prosecutors
said
ICBC was a conduit used by the "Chinese criminal organizations" to launder their illegal funds from tax fraud and smuggling. 
China Mobile International (
Canada
) Inc., the
Canadian branch
of Hong Kong-based China Mobile International Limited (CMI), is another recipient of the wage subsidy. CMI is
wholly owned
 by China Mobile Ltd, whose
ultimate parent
is
China Mobile Communications Group Co., Ltd, which is
owned
by the CCP.
In May 2019, the U.S. Federal Communication Commissions (FCC)
denied
China Mobile Ltd's bid to provide phone services in the United States on grounds that the company poses "substantial and serious national security and law enforcement risks" due to the CCP's control and ownership over it.
"The Chinese government could use China Mobile to exploit our telephone network to increase intelligence collection against U.S. government agencies and other sensitive targets that depend on this network," FCC Chairman Ajit Pai wrote 
in a written statement (pdf). "That is a flatly unacceptable risk."
CCBC
, a non-profit organization founded by
eight
major Canadian corporations and Chinese state-owned company CITIC in 1978 for the purpose of advocating strong relations between Canada and China, is also at the receiving end of the
COVID-19 wage subsidy. 
The CCBC continues to receive
funding
from CITIC, a
conglomerate enterprise
set up in 1979 under the direction of CCP de facto leader Deng Xiaoping to bring foreign investment to China, but has since expanded to multiple subsidiaries with investments all over the world. 
The CITIC has a
reputation for having close links to the Chinese military and China's espionage apparatus. 
A
2019 report (pdf) by the U.S. congressional U.S.-China Economic and Security Commission
cites a Wall Street Journal article reporting that CITIC co-owned AsiaSat, which rents satellite bandwidth to Chinese state-owned telecom companies, which in turn give their available bandwidth to Chinese military and intelligence agencies. 
In his 2019 book "Chinese Spies," veteran French journalist Roger Faligot wrote that the CITIC, since its inception, was known to have among its rank a large number of Chinese secret agents. 
"CITIC, one of the most powerful state-owned enterprises in China, was swarming with secret agents," Faligot writes.
With files from The Canadian Press and Reuters, and contribution from Omid Ghoreishi.