The Sandals resort in the Bahamas where three American tourists were found dead earlier this month confirmed it has installed carbon monoxide detectors in its rooms after officials said their cause of death was due to the odorless gas.
"Despite initial speculation, Bahamian authorities have concluded the cause was an isolated incident in one standalone structure that housed two individual guest rooms and was in no way linked to the resort's air conditioning system, food and beverage service, landscaping services or foul play," Sandals said in a
statement
to news outlets this week.
Authorities said that Michael Phillips, 68, and Robbie Phillips, 65, along with 68-year-old Vincent Chiarella died of carbon monoxide poisoning several weeks ago. Chiarella's wife, Donnis, was hospitalized, family members have said.
"Ensuring the safety and wellbeing of our guests and team members is and will always be paramount. It is for this reason that we have taken additional measures such as engaging environmental safety experts for a comprehensive review of all systems across the resort," Sandals' statement continued.
"In addition, CO detectors have now been placed in all guest rooms at Sandals Emerald Bay and although not mandated in any Caribbean destination where we operate, detectors will be installed in all guest rooms throughout the portfolio," it added.
None of the three Americans who died showed any signs of trauma, according to the Royal Bahamian Police in a statement earlier in May. Officials have also ruled out foul play.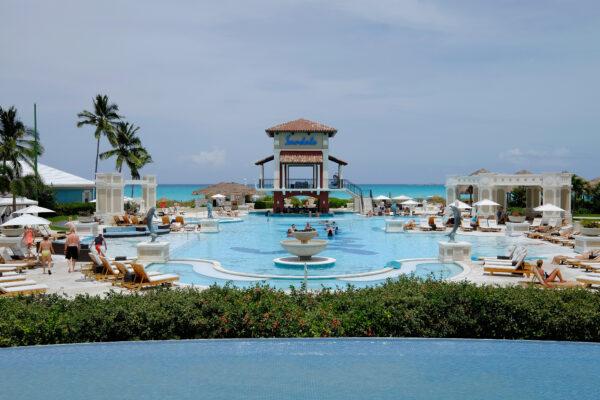 "There's still some investigations ongoing at the Sandals resort. We also have the pathologists in-country who have done their job and samples were sent to a very reliable lab in the United States," Dr. Michael Darville, the minister of health for the Bahamas, told Eyewitness News.
Authorities in the archipelago nation "are willing to assist anyone who wants to get to the bottom of their loved one's" death, said Darville.  "And so, those requests are being entertained. I'm not sure exactly where they are at this point."
The U.S. Department of State said earlier in May that it is monitoring the investigation.
The son Chiarella couple told local media that they were in the Bahamas to celebrate their wedding anniversary. On the day Vincent Chiarella was found dead, Donnis Chiarella had woken up to discover that "she couldn't move" and that her husband "was laying on the floor," Austin Chiarella said.
His mother's "legs and arms [were] swollen and she couldn't move and she screamed to get someone to come in the door," he added.
A spokesperson for HCA Florida Kendall Hospital in Miami, where Donnis Chiarella was being treated, told Fox News that she was discharged earlier in the week.