About 6,500 people, young and old, entered a popular concert and sports venue in Taipei, Taiwan on Dec. 6 to share how they improved their minds, bodies, and spirits amid a difficult year.
Though the COVID-19 pandemic continues to ravage many countries, Taiwan has successfully contained the spread of the disease and recently allowed large-scale gatherings.
On Sunday, thousands of adherents of the Falun Gong spiritual practice attended an eight-hour-long conference where they shared about how they tried to live by the movement's core principles of truthfulness, compassion, and tolerance.
The founder of the practice, Mr. Li Hongzhi, also sent a greeting letter to the conference.
First introduced in mainland China on May 13, 1992, the practice spread rapidly, with 100 million—about one in 13 Chinese—taking it up by 1999. In July that year, then paramount leader of the Chinese Communist Party, Jiang Zemin, fearing that Falun Gong's popularity would threaten the Party's rule, ordered a persecution campaign aimed at exterminating the practice.
Since then, Falun Gong practitioners have sought to end the persecution by telling people inside and outside China about what Falun Gong is and how it has been persecuted.
Several speakers at Sunday's conference shared their stories about calling into mainland China and telling citizens about the Chinese regime's censorship and coverup of the COVID-19 outbreak.
Huang Jui-e called into Wuhan, the epicenter of China's outbreak, earlier this year and told them about the authorities' concealing of information.
"When I called Wuhan cell phone numbers and the system automatically said that the numbers were suspended, I worried that those people have passed away because of COVID-19," Huang said.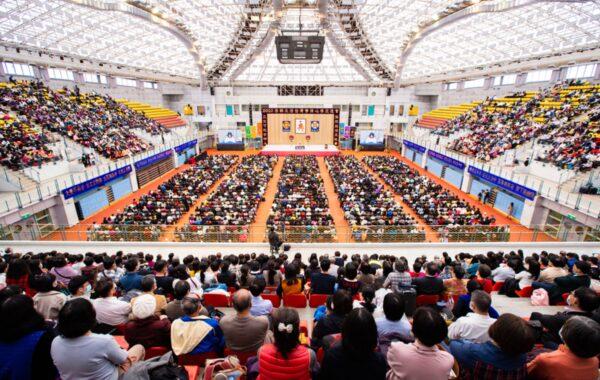 Liao Tan-miao, who has made phone calls into China every day in the past 15 years, said many people have expressed their appreciation after learning the truth about the Falun Gong persecution.
"One mainlander told me: 'You risk your life to give us light in the dark night.' A former media commentator told me that ... he feels sorry that he didn't do what a journalist should do on the Falun Gong issue," Liao said, referring to his compliance with Beijing's propaganda apparatus, which sought to vilify the practice in an effort to justify the regime's persecution.
Others shared about the physical benefits of learning the practice.
Tseng Li-chin has practiced Falun Gong for nine months.  After entering menopause, Tseng suffered symptoms such as pain in her knee joints and ankles that made it difficult for her to stand. She also had pain in the joint connecting the jawbone to the skull, causing her teeth and facial muscles to become so sore she couldn't sleep at night.
A friend introduced Falun Gong to her.
"After one month [of doing Falun Gong exercises], I suddenly found that I could walk, even for half an hour!" Tseng said. Witnessing her changes, her family members also started to practice Falun Gong too.
Lin Hsiu-e from Miaoli county shared a similar story. She and her brother-in-law suffered many diseases, but became healthy after practicing Falun Gong.
Chen, 15, said that after adhering to Falun Gong's teachings, he changed his bad temper and got rid of his video game addiction.
He explained that the Falun Gong books taught him how to face conflicts and how to treat people with kindness from the bottom of his heart.